Ubisoft continues to back VR with new IP Werewolves Within
Ubisoft takes early adopter approach to VR, while other AAA publishers sit on the sidelines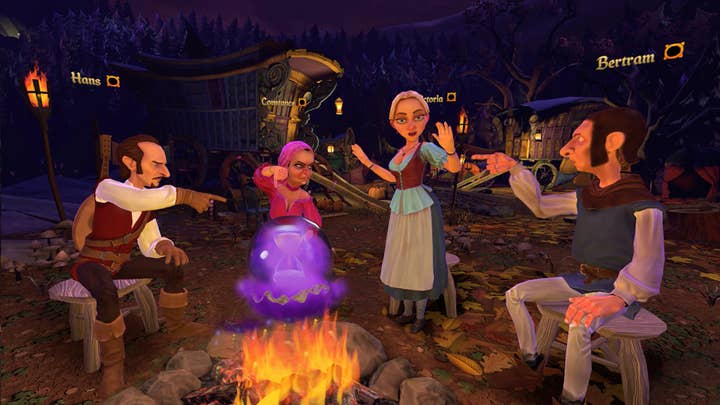 While AAA publishers like Electronic Arts have said they're taking a wait-and-see approach to virtual reality and Take-Two boss Strauss Zelnick questioned the appeal of VR gaming, Ubisoft continues to be a company that isn't afraid to back new technologies. Ubisoft was fully supportive at the start of both the Wii and Wii U, and even Microsoft's Kinect, and the French publisher today made it 100 percent clear that it's taking the VR plunge. At a GDC press event, Ubisoft unveiled its second made-for-VR title, Werewolves Within - the publisher had previously announced Eagle Flight for VR from its Fun House studio (which handled Child of Light, Valiant Hearts and other smaller, experimental efforts).
Unlike Eagle Flight, however, Werewolves Within is in development by one of Ubisoft's main AAA teams - Red Storm Entertainment, which is best known for its work on Tom Clancy games and has contributed to Far Cry and more recently The Division. Werewolves Within is an interesting experiment as it takes VR in a direction that many believe it's ultimately headed in anyway: social interaction. It's a social deduction game that can be played online with up to eight people and asks them to figure out who among a group is actually a werewolf and should be killed. Players are randomly assigned roles at the beginning of each game, and some of these roles provide players with special abilities to help them deduce who is a werewolf in disguise. For the sake of brevity, the game features timed rounds, with the roles changing each time.
Werewolves Within, built in collaboration with Ubisoft Barcelona, uses positional tracking technology and voice inflection analysis so that players' real-life actions and body language will be reflected through their VR character in-game.
"VR is proving to be an amazing platform for social interaction, moving toward truly feeling like you are there with other people," said David Votypka, Sr. Creative Director at Red Storm Entertainment. "Werewolves Within gives players a taste of how VR can generate strong social connections, allowing you to get together to have a great time with others no matter how near or far they are."
Votypka was asked about the budget for the game, but declined to provide any figure. It's clearly not something that costs anything on a scale with Far Cry or Assassin's Creed, however, so to the extent that Ubisoft is experimenting in VR while other publishers have not (thus far), the company is placing smaller bets and mitigating some risk. It'll likely be a few years before VR headset installed bases reach a level that would embolden Ubisoft to put its biggest franchises on the major VR platforms.
We'll be bringing you a full discussion with Votypka on VR in the near future.