Twitch sees viewership increase of 23% for July
Facebook Gaming sets a new record with 522 million hours watched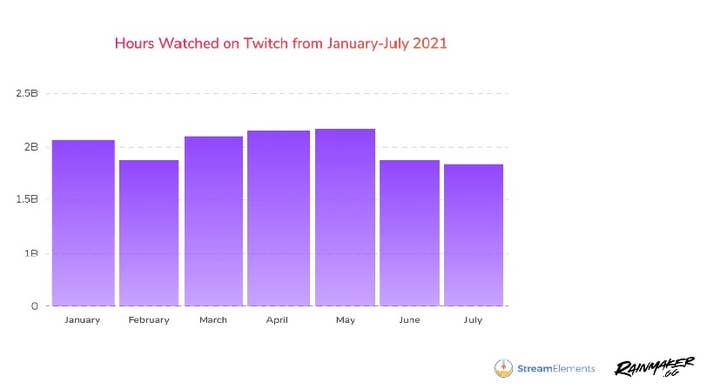 People watched 1.75 billion hours of video on Twitch last month, according to StreamElements analytics partner Rainmaker.gg.
According to StreamElements monthly State of the Stream report (complied with the help of analytics partner Rainmaker.gg), overall viewership hours on the platform in July were up 23% year-over-year.
At the same time, Facebook Gaming's viewership reached a new record with 522 million hours watched for the month.
Earlier this week, StreamElements released a report with analytics partner Streams Charts specific to Trovo, which had the upstart streaming platform posting a new high of 22 million hours watched for the month.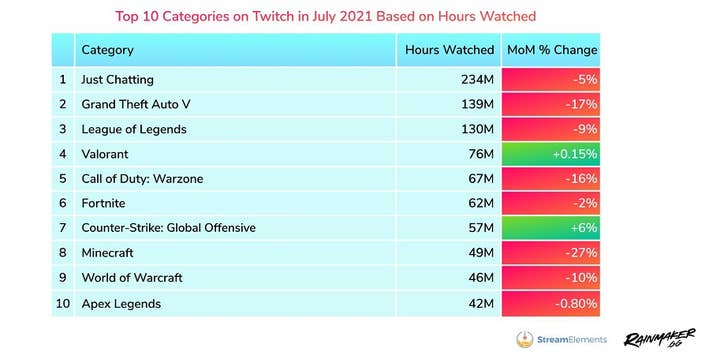 On Twitch, Grand Theft Auto V was the most-watched game for the month at 139 million hours despite a 17% month-over-month decline in viewership.
Just Chatting continues to remain the most popular category as it saw nearly 234 million hours watched within the month.
"Summertime has made a dent in hours watched impacting most of the top games and Twitch overall, but New World's closed beta managed to have a strong launch while Twitch is still 23% larger than a year ago" said co-founder of StreamElements Doron Nir.
"Most of the non-gaming categories on Twitch have also seen significant growth this year and remain far above their pre-pandemic viewership even with the summer dip."