Twitch sets new record with over 2bn hours watched in March
Grand Theft Auto V becomes the number one game watched for the first time as sleeping streamers gains popularity
Twitch set a new monthly viewership record in March with 2.06 billion hours watched, according to StreamElements analytics partner Rainmaker.gg.
That figure represents a year-over-year growth of 105% for Twitch.
Facebook Gaming's viewership for the month was nearly 400 million hours, which was an increase from its viewership in February.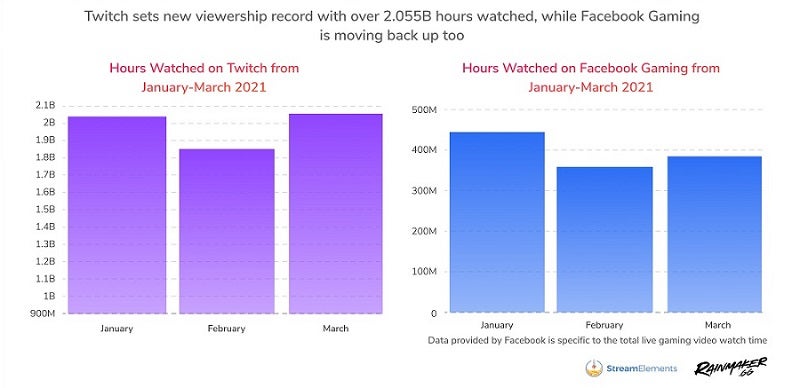 Grand Theft Auto V was the most-watched game for the month at 181 million hours, followed by League of Legends at 143 million, Fortnite at 107 million, Call of Duty: Warzone at 85 million, and Minecraft at 82 million.
This month marks the first time that Grand Theft Auto V has topped StreamElements' list of the most watched games on Twitch, although the company's data only goes back to 2016. StreamElements notes that in-game role-playing by streamers has generated new interest into the title.
StreamElements also identified a growing interest in viewers watching sleeping streams. During the month, Twitch users spent over 2 million hours watching streamers sleep. A single streamer accounted for most of those, with viewers watching ludwig sleep for a combined 1.5 million hours.
"In 1964 Andy Warhol released a controversial film called Sleep which featured edited clips of his lover sleeping for 5 hours. The appeal among its fans were those rare moments where something happened, like a simple change in position," said CEO of StreamElements Doron Nir.
"This same fascination is happening on Twitch, whether it be the abundance of sleep streams, Winter yule log marathons, or a camera on a street's frequently ignored stop sign. Because these seemingly mundane things are happening live, anything can happen at any time and communities have rallied around supporting these streams and celebrating both frequent and infrequent occurrences during them."