The impact of COVID-19 on mobile games in H1 2020 and beyond
Sensor Tower's Craig Chapple analyses changes to downloads and revenue in key markets as the pandemic has spread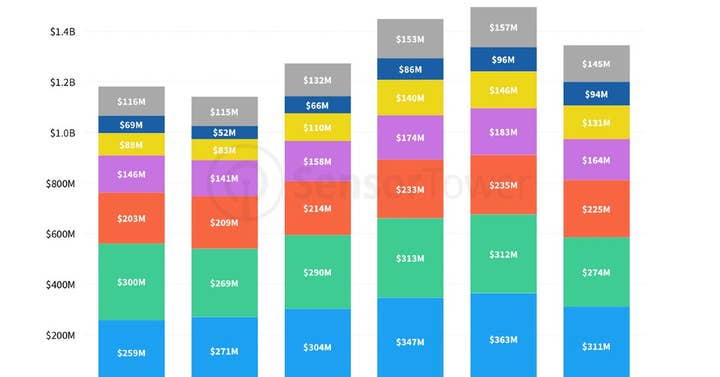 When we previously analyzed how the COVID-19 pandemic had impacted the mobile games market in Q1 2020, there was a clear rise in the number of installs and revenue was also on the up.
Game downloads surged in Q1, up 21% quarter-over-quarter, and 39% year-over-year to 13.4 billion. Player spending, meanwhile, saw a smaller increase, rising 6.6% quarter-over-quarter and 16% year-over-year to $17.5 billion.
But for many countries around the world, Q1 was the start of the pandemic as it swept across the world.
Starting with China in January, other countries would follow suit in enacting lockdowns, particularly throughout March. While there was a clear jump in Q1, Q2 2020 saw an even sharper increase in both new installs and revenue, with the latter playing catch-up.
We discussed the latest data on the mobile games market in the first half of 2020 in our GamesIndustry.biz Live: State of Games presentation, entitled 'The State of Mobile Gaming in 2020', which you can watch below:
In Q2, downloads shot up once again by 12.2% quarter-on-quarter and 44.4% year-on-year. Downloads finally peaked in April 2020, at some 5.5 billion for the month, coinciding with the peak of the global pandemic and lockdowns, which would begin easing in multiple countries over the following months. Many countries are now utilising lockdowns at local, rather than national, levels.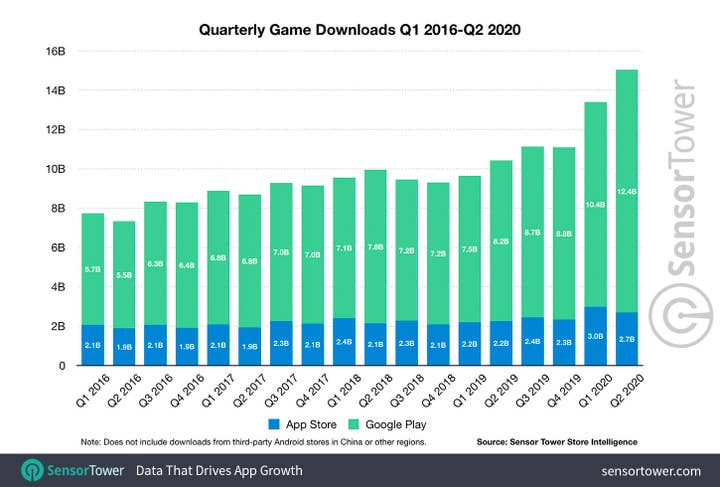 Player spending saw a faster rise in Q2 2020, with revenue up 10.7% quarter-on-quarter, and 28% year-on-year to $19.4 billion. The quarterly growth was much larger than seen in previous years, and strong revenue has continued into July 2020, with the global mobile games market generating $6.8 billion last month.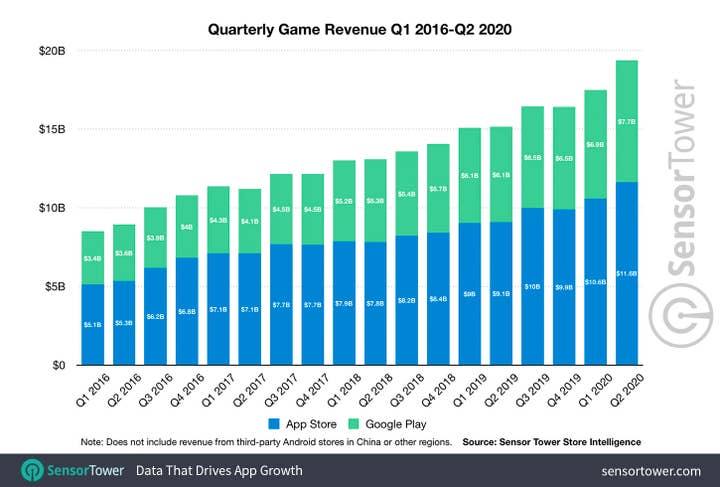 Category Breakdown
Taking a look at the U.S. market and breaking down games market growth by genre, we can see that downloads spiked in March 2020 amid shelter-in-place orders, resulting in an increase in installs across the top genres, including hypercasual, puzzle, simulation, and lifestyle.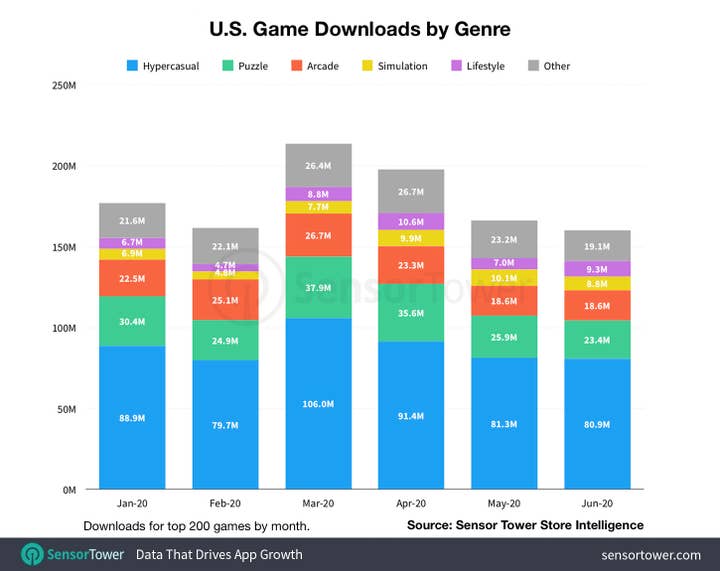 By June, downloads for hypercasual, puzzle, and arcade games had fallen below their respective totals in January. Simulation and lifestyle games, meanwhile, were able to maintain most of the increase from earlier in the year. Overall, game category downloads in the U.S. fell below January levels by June, but were above February at 445.7 million.
Revenue in the U.S. mobile games market peaked a couple of months after the increase in downloads. The top 200 games combined for nearly $1.5 billion in U.S. user spending in May, though revenue decreased across the top genres in June.
Similar to downloads, revenue growth was also distributed across the top genres, and was especially high for simulation and shooter games, which each saw quarter-over-quarter growth of nearly 50% in Q2 2020.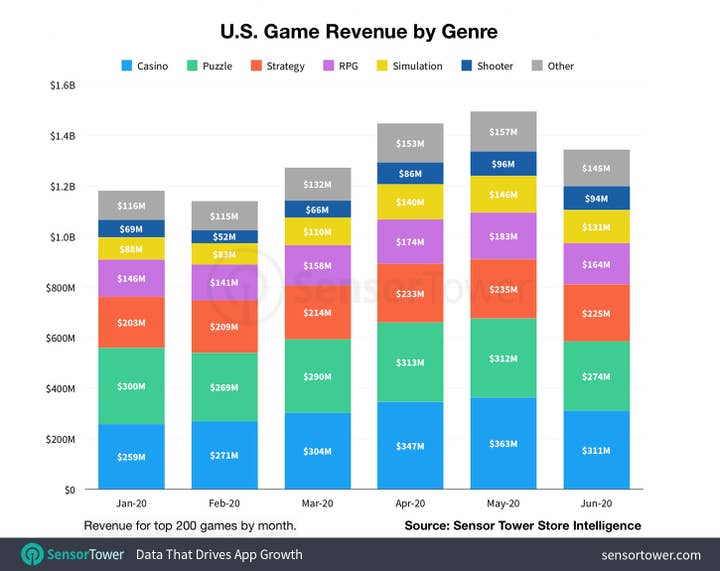 Overall, revenue peaked in May 2020 at $1.9 billion, lagging behind downloads and coinciding with states across the country easing lockdown measures.
The top five grossing games during Q2 2020 in the U.S. were Roblox, Candy Crush Saga, Coin Master, Fortnite, and Gardenscapes.
Growth Forecasts
The question everyone in the industry will be asking right now is: How will the mobile games industry look after lockdowns and the pandemic?
It's a tricky question, but we ultimately revised our five-year forecasts based on what we saw in the first months of the pandemic, anticipating a rise in downloads over the next few years while revenue would remain flat when compared to our previous projections.
Downloads are expected to increase by 35.7% year-on-year in 2020 to 57 billion, a significant jump from 2019. Over the next few years, mobile games are forecasted for higher growth than apps in terms of downloads, and the boost in installs is likely to be persistent as consumers turn to their phones more than ever.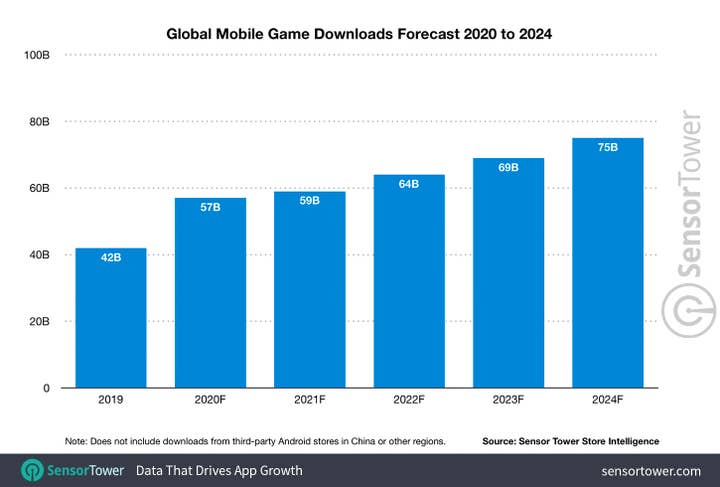 As for player spending, we expect 2020 will see the largest revenue jump over the next few years, rising by 14.3% year-on-year to $72 billion.
App Store game revenue is projected to grow 51% by 2024, or a compound annual growth rate (CAGR) of 8.5%, while the Google Play games category will have a CAGR of 10.2% between 2019 and 2024.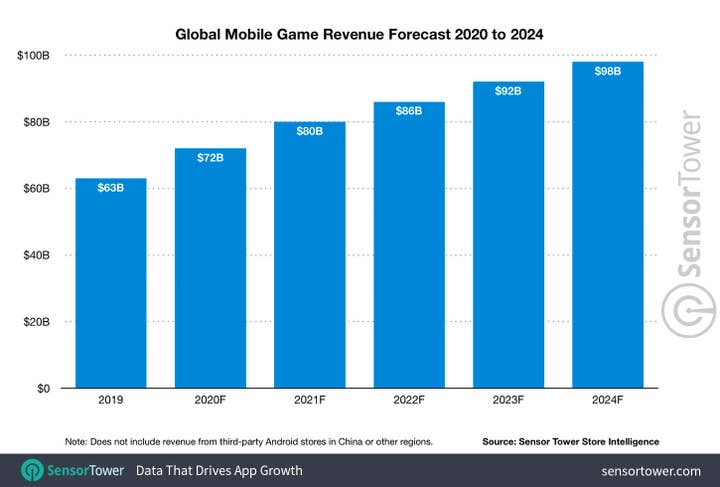 Although downloads will experience a rise compared to our previous forecasts prior to the pandemic, our revenue predictions are similar, in part due to a worsened economic outlook globally.
Upcoming Headwinds
The COVID-19 pandemic has greatly impacted all industries, and mobile gaming is no different in that respect. But despite all the challenges, unlike many other sectors, it has been able to continue thriving as consumers were left stuck at home, looking for entertainment and ways to connect to others.
It's difficult to effectively forecast the next few years, as there are so many unknowns, not least including the economic outlook and when, or even if, a safe and effective vaccine will be found. So far, though, the mobile games sector has been remarkably resilient.
But there are further headwinds ahead, not least how economies around the world will recover and how long this will take. There's also a toughening of regulations in China, with Apple removing tens of thousands of mobile games from the App Store in August already, as well as the upcoming changes to the App Store's IDFA, which will change how mobile games companies acquire users.
The industry has experienced a boon in recent months, but developers and publishers will need to stay on their toes for what's to come in the months and years ahead.
Craig Chapple is Mobile Insights Strategist, EMEA, at mobile intelligence firm Sensor Tower, provider of data and insights needed to master the mobile app ecosystem. He has previously served as senior editor at PocketGamer.biz and has worked in the games industry for over eight years.