Team Asobi: "We want our games to feel like they're made in Japan"
The PlayStation studio's Nicolas Doucet on the success of Astro's Playroom, growing to 100 employees, and the importance of a dedicated R&D team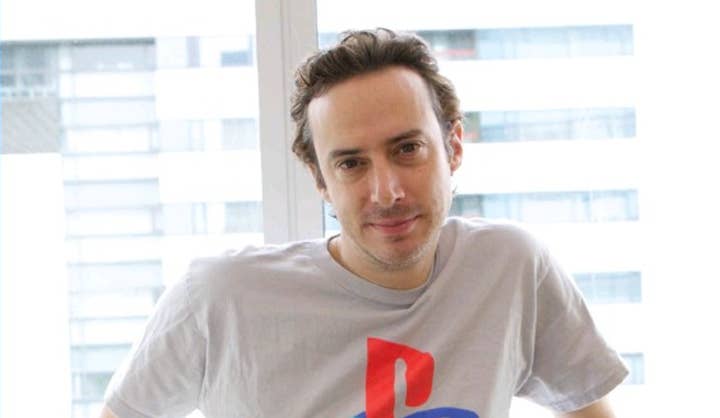 Astro's Playroom was quite the surprise package at the launch of PS5.
It was easy to dismiss the game before release as a short 3D platformer that acts as a tech showcase for Sony's new DualSense controller. We've seen plenty of these things before: a mildly diverting demo of the new hardware you've just bought.
But Astro's Playroom turned out to be a genuinely delightful little game that was crammed with nostalgic references to PlayStation's past, while representing what we might get from its future. The Verge dubbed it 'PS5's Wii Sports' and Eurogamer said it is one of the best launch titles of all time. I have to agree.
Perhaps we shouldn't have been so surprised. Astro's Playroom was the latest creation from Team Asobi, the small development unit behind the acclaimed Astro Bot: Rescue Mission for PlayStation VR. And in creating Astro's Playroom, the team was eager to prove it could make something great outside of virtual reality.
"Of course [Astro's Playroom] was a showcase of the DualSense, and a love letter to PlayStation, but one of the goals was: can we live up to making a TV game? A classic non-VR game? And do character controls and all that? Are our skills sufficient?" asks Team Asobi creative and studio director Nicolas Doucet.
"Making a VR game for PS4 means doing PS3 quality-levels in terms of assets, because you're on a tight [technical] budget. But when you jump to PS5... are we able to go to that level? So we got some confidence out of this.
"It's very nice to know that whenever a PS5 is bought, Astro is going to get played. It was a big responsibility, because if you make something that's a little bit without flavour, then you run the risk of making the console feel that way."
"We are not limited by any money or time. If we could double the studio just like that, we would find work for everybody"
At the time of Astro's Playroom launch, Team Asobi was a development unit within the wider Japan Studio. But in 2021, Sony closed the developer, and spun Team Asobi out as its own company.
Back then, Team Asobi was around 35 employees, and has since grown to more than 60, and Doucet expects that number to reach around 100 people.
"We have a current production, and that's going fine," he says. "But we want to have another group for R&D, and we want enough in this group to explore as many areas that are interesting. And to potentially start other projects.
"But we're not giving ourselves any limits. If good people want to join Team Asobi, then we will be willing to talk to them. There is always stuff to do. There is always new projects to begin. We are not limited by any money or time. If we could double the studio just like that, we would find work for everybody."
This R&D team is something that's crucial to Team Asobi. The developer's games are known for continually introducing new gameplay ideas, and that requires a lot of trial and error.
"We always have this extra team on the side," Doucet explains. "Probably like 90% of the studio is on production, but there is this small pocket of people in the background that are already touching the technologies of tomorrow, or trying things with the technologies we have today, but taking them into a new direction.
"In order to keep this freshness, this R&D team needs to be rotated quite often. People go into production, and then after that maybe go into R&D for some time."
Team Asobi's next project will follow in the footsteps of the games it has done before, but will be a full-blown commercial title, "and our biggest to date," says Doucet.
And it's not too hard to work out what to expect. For one, it's likely to continue the company's penchant for playing with hardware. Doucet says the DualSense – with its haptic feedback and adaptive triggers -- has become a "special weapon" for the team, and they're continuing to play around with the controller.
"Any new technology, we like to take it for a spin," he adds. "There's the obvious way to use it, which is the first thing we are going to try, and then we are going to try to use it in ways you're not supposed to. That leads us to interesting places.
"Some of the team members we recruited a few years ago, we recruited them because as a hobby they would take a VR headset, a motion sensor, and they'd grab like an eye detection thing, and then they'd put those together and create a demo... And they'd become famous on the hobbyist scene and within the programming community for doing this. We'd approach these people and say: 'what you're doing in your days off, it's exactly what we do for work. And you get to work with engineers who are still building the stuff you're using, so you get to input into something that will become a product'. We've had a few people come through with that past. So this interest in hardware is anchored in the team."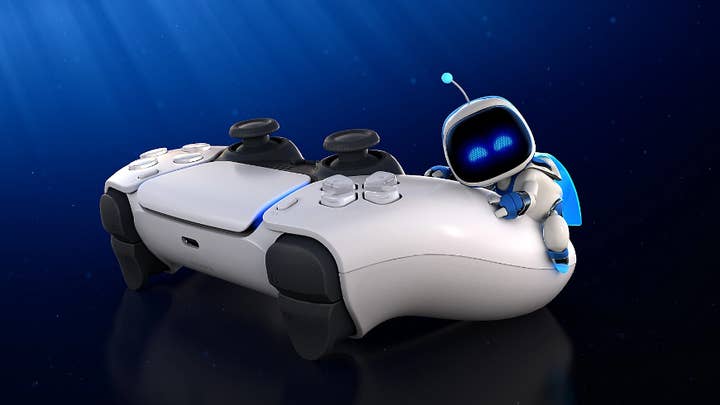 Doucet says that Team Asobi has been making the most of its proximity to PlayStation's hardware team in Japan.
"We are one of the first people to get our hands onto prototypes. Even the DualSense, at the time we got it, it didn't look anything [like it does now]. It was a massive controller with boards and cables sticking out. But the features, the adaptive triggers, the haptic feedback... it was there. So we experimented with it."
All of this ties into the company's 'five key values' of Magic, Innovation, Playful, Universal and Quality. All of these, Doucet tells us, can be applied to everything its team is doing, from creating a sound effect to putting together a PowerPoint presentation.
Magic can relate to the technology aspect, which is the notion of discovering a mechanic that can make the hardware – whether it's a controller or a VR headset – feel magical. Innovation, Playful and Quality are self-explanatory, and Universal applies to the studio's desire to create games that appeal globally.
"We are in Japan, but we make games for a global audience. So we have to be clever about taking what's great about Japan... there's so much about the local culture and the culture of making games that's really unique, and adapting that for an international audience. For example, we work in Japanese and in English. So Japanese people learn English, and foreigners learn Japanese. We make sure there is this dual language and it's supported by the company. Having this international mindset is important."
Doucet – who is French himself -- says that around 75% of the studio is Japanese, with a growing number of people coming from around the world.
"There is a love story amongst a certain generation for Japan and what it represents. And developers are still very interested to come over and experience that. It's not for everyone's taste, but for those who like it, it's a particularly nice lifestyle."
For Doucet, what makes a game 'Japanese' isn't so much the genre, or the visual style, but rather it's around how a game feels.
"We want to make sure that when people play our games that there is a feeling, and you can't quite put your finger on it, that it's made in Japan.
"This perfection of controls really runs through the veins of Japanese game developers. It's been that way forever"
"I remember talking to the team about character controls, I think it was for Astro Bot: Rescue Mission, and we were talking about how things didn't feel right. And some of the engineers understood perfectly why it didn't, because they visualise the code, and when the input happens, they can see why it might not feel good. It might be because there's a delay there due to an animation being played.
"This perfection of controls really runs through the veins of Japanese game developers. It's been that way forever. There is something unique about moving a character in a Japanese game. The feeling that you have, the pleasure that you take... I look at developers like Platinum Games, when you play Bayonetta, that movement is perfected. They're second-to-none on that perfectionism. That's the local culture."
Team Asobi has just moved into new offices, although much of the team currently work from home. Even so, everyone comes together every two weeks to show what they've been working on, and to go hands on with the game. That's why the new office space is filled with areas for playing, rather than working.
"We realised that with the hybrid way of working that an office space — for us anyway — is a way to get together and actually play the game. To have these hands-on moments where we sit down, play and discuss. We've created a studio that matches that.
"Face-to-face time, passing the controller, asking people if it feels right... you can have those conversations remotely, but it's not the same as being on the same sofa in the same room."
This process of the various developers spending two weeks on something before showcasing it to everyone else is something Doucet took with him from his time at PlayStation London Studio — another Sony team that likes to work with new hardware.
"When you're trying to do innovation, you need to find out very quickly if you're on the right track. If you spend six months and then you realise that it was the wrong approach, it can be very costly. So this quick iteration approach, it works really well for anything that requires heavy prototyping. Because of the field we are in, we tend to make games that have lots of small innovations. We need to test those rapidly."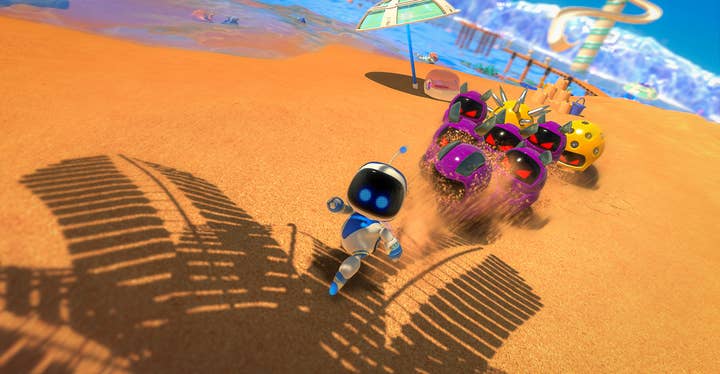 But another key influence comes from outside of PlayStation.
"I used to work at Lego before PlayStation, and Lego also had five key values. But slightly different ones, like Creativity, Imagination, and so on," explains Doucet. "And whatever Lego experience you made really fit to these values. So when I arrived in Japan, I sat down with the founding members and we had this discussion around building the team around similar golden rules."
Lego's name comes from the Danish 'leg godt' meaning 'play well', whereas Team Asobi's name comes from 'Asobu', which is the Japanese verb 'to play'. And that cuts to the heart of what the studio is all about. This isn't one of those PlayStation studios looking to deliver a powerful narrative experience, or even one of the company's new service-based teams. Team Asobi, from its name down to the games it wants to make, is about something far more fundamental.
"[With our name] it was decided that we should have a reminder that everything that we do, we do it for the fundamental fun of play," Doucet concludes. "It's not just games. It's bigger than that. It's 'play' with a capital P. It's that thing where everything you do gives you pleasure, and makes you feel good."