Star Wars: Battlefront, Mirror's Edge headline EA E3 showing
Publisher's event sees new next-gen games from DICE, extended look at Battlefield 4, first trailer for Dragon Age: Inquisition.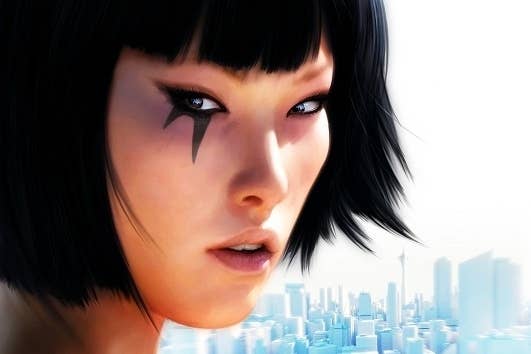 Microsoft kicked off E3 2013 with a barrage of new games, setting the bar for the rest of Monday's big media briefings, starting with Electronic Arts.
EA COO Peter Moore opened the show, welcoming the audience at The Shrine Auditorium to "The Download." Everything in the show will be brand new code created for the PlayStation 4 and Xbox One, Moore said, promising that the games EA is showing will define the new consoles. He name-dropped the return of Dragon Age, which got a smattering of applause.
The first game to be shown was Plants vs. Zombies: Garden Warfare, a return to the popular multiplatform Popcap franchise. PopCap's John Vechey came out to introduce the third-person action title, which is separate from Plants vs. Zombies 2. It will arrive first on Xbox One, and then come to PS4. He promised it "wouldn't just tickle your funny bone, it'll gnaw the whole thing off."
The game's developers came out to demo a level of the game where the player controls a lowly Peashooter and a cactus fending off multiple waves of zombies in an approximation of the original game's tower-defense gameplay.
Just prior to leaving the stage, Vechey enthusiastically announced that Peggle 2 would be arriving later this year.
Respawn's Vince Zampella came out next to introduce Titanfall, which capped off Microsoft's media briefing just hours earlier. Zampella introduced a video clip featuring sound bytes from a number of Respawn employees, explaining the premise of the sci-fi shooter and a variety of the design decisions they embraced.
EA Labels president Frank Gibeau was out next to talk about EA's investment in next-gen engines Frostbite 3 and EA Sports Ignite. Gibeau said the publisher has been working on them for two years, and added that the development teams are still getting used to them, so they should only get better.
He then introduced a sizzle reel leading off with Star Wars: Battlefront running on the Frostbite engine, which gets a round of applause in the auditorium. Need for Speed: Rivals was also shown, which Ghost Games executive producer Markus Nilsson comes out to talk about. The game will be online in ways the series has never been before.
"All-drive destroys the line between single player, co-op, and multiplayer," Nilsson said, adding that players would be able to start a race in single-player, but finish it in multiplayer. Nilsson also introduced a gameplay demo that suggested the game would be another open-world affair.
Nilsson also said he wanted to "switch gears" a bit, and introduced actor Aaron Paul (Breaking Bad), who will star in the upcoming Need for Speed movie. He showed off a clip with behind-the-scenes looks at the movie, which is set for theatrical release next spring.
BioWare GM Aaryn Flynn came out next to introduce Dragon Age: Inquisition, which comes out in the fall of 2014. Flynn promised a "deep, captivating" experience, then introduced the first trailer for the game. The clip started with the dwarf Varric from Dragon Age II, standing over a dead comrade, and culminated with Morrigan predicting dire things for the game's world.
Next up was the EA Sports section, with EA Sports head Andrew Wilson taking the stage to talk about how the EA Sports Ignite engine will change artificial intelligence, animation, and online connectivity for the publisher's new games. First up was a bit of spoken word performance to hype NBA Live 14, followed up by Kyrie Irving from the Cleveland Cavaliers and executive producer Sean O'Brien taking the stage.
Irving explained how dribbling was important, and O'Brien lamented how no other game has captured the importance of ball-handling. O'Brien brought up "BounceTek," the game's new dribbling animation system, which treats the ball as a separate entity from the player. O'Brien also talked about NBA Live World, constantly updated stats for the game to capture the state of the league within hours of events happening. A pre-rendered trailer brought the NBA Live section to a close.
Cam Weber, EA's VP and GM of American football, came on next to introduce Madden 25. He talked about the new animation system and "player sense" AI that will make common sense adjustments as plays unfold. Finally, Weber said the line of scrimmage action between linemen has been overhauled, and of course there's been a graphic overhaul as the game goes to the next-generation systems.
The sports block rolled on with FIFA 14 and a clip contrasting shots of the game with soccer players talking about the sport. Recording artist Drake was next on the stage, talking about in his globe-trotting tours, wherever he goes, people play FIFA. He then introduced FIFA group GM Matt Bilbey, who talked about the benefits of Ingite. He promised the stadiums in the game will feel more alive, and reiterated improvements to AI and animation similar to those touted for NBA Live and Madden. FIFA is due this fall on Xbox One and PS4, and will be playable at E3 this week.
"This is the future of football that our fans have dreamed of," Bilbey said.
Ring announcer Bruce Buffer was out next to hype up the Ultimate Fighting Championship game, and brought out UFC champions Jon Jones and Benson Henderson. UFC president Dana White also came out to talk about fighting as the first sport in history, calling it a truly universal sport.
"Before someone picked up a ball and a stick, or put a ball through a hoop, someone threw a punch and people ran over to watch. We're all human beings, fighting's in our DNA," White said.
Wilson talked about the game's features, promising strong AI and "full body deformation," allow players to see and feel each strike. The game launches worldwide on Xbox One and PS4 next spring, and White promises it will be the best fight game ever made.
With the sports section over, Battlefield 4 executive producer Patrick Bach DICE GM Karl Magnus Troedssson came out to talk about Battlefield 4. Bach touted the next iteration of Battlelog and environment destruction (which he called "levolution"), while Troedsson talked about the game's commander mode, which players can enjoy in their living room or from tablets on the go.
The Battlefield 4 section culminated with a live demo of the game's multiplayer mode featuring 64 players, all on stage. That clip followed players throughout a city, from a subway to streets to waterways and up to skyscrapers. All the while, a player on a tablet in commander mode offered air support and tactical direction for the rest of the players. In the climax of the sequence, a squad of players base jumps off the skyscraper, then turns around to see it collapse.
To wrap up the briefing, EA showed a clip for a new Mirror's Edge, the oft-requested sequel to 2008's parkour-inspired action game. The clip had no release date attached to it.