Stack Up awarded CDC grant to assist US veterans
Military gaming charity to use grant to evaluate and improve mental health and suicide prevention program initiatives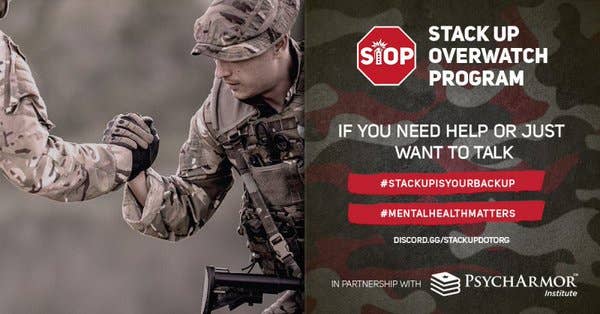 Military gaming charity Stack Up has announced today it has received the US Center for Disease Control and Prevention (CDC)'s Program Evaluation Grant to help it evaluate and improve its mental health outreach program for veterans.
Stack Up is a charity that uses gaming to find ways to support US veterans and current service members through a variety of programs, including sending gaming-focused care packages to deployed service members and helping build gaming PC for veterans so they can connect with friends more easily. One of their programs, the Stack Up Overwatch Program (StOP), offers 24 hour support and crisis management volunteers to veterans suffering from PTSD, depression, and other emotional struggles. A second program, Air Assault, sends veterans to gaming events around the country.
The CDC Program Evaluation Grant will be used to evaluate the effectiveness of both programs and offer professional training and certifications to those working in the program.
"I'm excited to see the continued development in the merging of the gaming community and mental health," said Stack Up program manager Mat Bergendahl. "We feel our programs are doing tremendous good for our veteran community, and this generous grant from the CDC will allow us to put solid data against our feelings. It will reinforce the confidence our supporters and donors continue to show us."