Square Enix: 'Games as a service' doesn't resonate with players
FFXIV has focused the whole company during period of overhaul, says CEO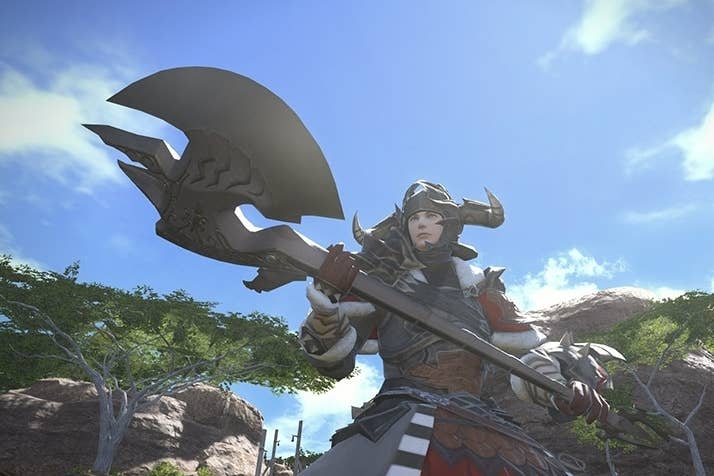 As Square Enix continues to overhaul its business, the publisher has told GamesIndustry International that projects like the relaunch of Final Fantasy XIV have helped bring together the US, European and Japanese businesses.
The publisher of Tomb Raider and Deus Ex is focusing on online components for all games, but unlike other companies, CEO of US and Europe Phil Rogers isn't rolling out the 'games as a service' cliche.
"The hardest part has been getting the right people into leadership positions to take our business forward - hard because it is such a critical thing to get right"
"There's lots of talk in the industry about games becoming services - to be honest, as an expression this doesn't always resonate with people, especially gamers," he said. "For us online is a way to facilitate how we're looking at the word service to build on a game. So we're focusing on regular content updates, engaging gameplay mechanics, replayability and deep community."
During last week's financial results, the company iterated that all games from Square Enix will prioritise online play and components, from established brands to new projects like the Legacy of Kain spin-off Nosgoth and Heroes & Generals, in development by ex-Hitman developers Reto-Moto.
"The emphasis in the financials was specifically to point out some new online games we're working on, Nosgoth was called out and Heroes and Generals would be another worthy mention. Now these are very particular types of games being free-to-play and PC based, but there are core principles here which apply to all our games, whether we're looking at our AAA console games which are a major part of our future strategy, smartphone and tablet games and PC games," said Rogers.
The publisher seems to be following a similar route to Sega by investing in new online ventures and supporting PC, tablet and mobile formats, so will that also mean less emphasis on console games despite the imminent release of new hardware - especially in light of recent underperforming titles in the Hitman and Tomb Raider franchises?
"That is a great question and I'm sure the question every company is asking themselves," said Rogers. "You have to stand by what you believe in and we have to believe in quality and engagement as two key measurements to succeed, so we take comfort in the fact that we can develop critically acclaimed games which deliver a deep level of engagement."
Rogers points to Avalanche's Just Cause 2, released in 2010, as evidence of engagement. "We've got to look at how people are actually playing our games - it totally amazes me that with Just Cause 2, which is over three years old now, we still have half a million active, unique players each month.
"That's a lot of people still engaged in the game, and some of the players have been there each month for the past six months. We couldn't have seen this when the game was originally designed. It's something Christofer Sundberg from Avalanche and I talk about a lot. So it's incredible to look at facts like that and to challenge our teams building new games to think about long-term engagement."
With new Tomb Raider and Deux Ex titles for the Xbox One and PlayStation 4, Rogers said development will need to be quicker than it was for the most recent releases on current gen hardware.
"There is the practical side of development, how we work quicker to lessen the time from development to release, whilst still delivering a great game experience. We're more focused on how we build and plan for success, we have some great games coming in the next six months, the recent Tomb Raider and Deus Ex next-gen announcements are something really exciting for the studio teams, the business teams and I hope our consumers too."
But again, it's the online business that has helped unite the company after a period of disruption, according to Rogers. While the publisher overhauls its operations, he claims the re-release of troubled online RPG Final Fantasy XIV: A Realm Reborn is an example of the whole company working together on one product.
"600,000 paying subscribers is a good start, that's what we called it in our financials and that's exactly what it is," he said. "There are many positives we can take from what has been achieved and we have the PlayStation 4 version still to launch in 2014, so it's a good start.
"It has been great as a business to see how we have oriented ourselves around FFXIV - to see how work has flowed, almost seamlessly, seven days a week across Japan, America and Europe. It's probably the most power I have felt in the Square Enix business with the business really working as one.
It's also a title where Square has worked closely with the fanbase, with plans to continue to support the game to increase subscriptions and increase interaction through other formats.
"The direct relationship that [producer Naoki] Yoshida and the development team have forged with the players is superb, especially through the beta programs where we really worked with the players to shape the game they wanted.
"The industry is going through a massive overhaul right now. I'd argue this is something we're seeing, as consumers, across all media and entertainment"
"This level of interaction and support is important to us and we are welcoming new players to the community all the time. With regards a shift to mobile, I think gamers are playing and experiencing games in so many different ways today, some use mobile for an additional gameplay experience and for those we launched our Libra Eorzea app, to support the players' gameplay experience. We know that an MMO is all about the content and FFXIV is no exception, and we have a robust content update plan in place to ensure we are offering huge updates on a regular basis, with the first scheduled for this December."
For Rogers, Square Enix is coming out the other side of a tough couple of years, and while it still has to prove itself with new products influenced by a different way of thinking, he's confident the business is on track in a media landscape that has changed dramatically.
"The industry is going through a massive overhaul right now with an unprecedented amount of choice for consumers, more people playing games than ever before but with that more competition for people's' time and money. And that's not something just for the games industry, I'd argue this is something we're seeing, as consumers, across all media and entertainment," he said.
"With that backdrop I feel we've been right to look at how we change ourselves and look for ways to learn, improve and win, and we've made changes which we've been pretty upfront about publicly. Perhaps the hardest part has been getting the right people into leadership positions to take our business forward - hard because it is such a critical thing to get right.
"But there are rewards too and some of the most rewarding things have been getting our business in the west working together as one team and seeing new people in new positions really grasping the challenge and bring new energy, new ideas and new motivation. We talked last week as part of our financial update that we've more than doubled our digital sales year on year in the west so this is a good example here of this point; we are much more co-ordinated and better aligned.
"So overall I think I would say I am comfortable with the decisions taken, but there's no complacency."