Slitherine introduces new indie label and fund: K-Project
Strategy developer and publisher seeks "riskier" indie projects in the genre for funding, co-development support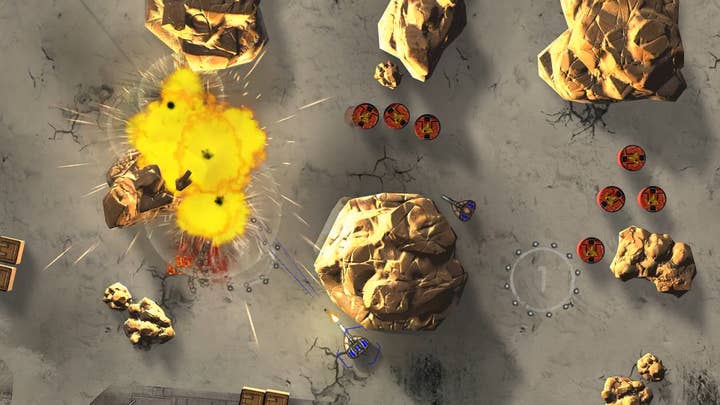 Twenty years ago, strategy game developer and publisher Slitherine was made up of "three guys in a basement," says marketing director Marco Minoli.
But since then, they sold their first game to Paradox Interactive, gained independence, became self-funded, and now have a storefront with pages and pages of strategy titles -- some internally developed, some published for partner studios.
Now, Minoli says, the studio wants to help other small studios do the same.
"We've learned a lot, but the market's completely different [now]," he says. "We feel like now it's time to say, 'What can we do to help others in the same situation we were 20 years ago to build their own dream?' We were lucky. We're still here [after] 20 years. So it's time we take this opportunity to give something back. We feel like it's the right time for us as directors of this company to take it a step further."
Like many game companies, Slitherine is seeing increases in revenues as more people stay inside and play games due to COVID-19. That bolster, combined with its desire to give back to indies, has resulted in Slitherine's latest initiative: K-Project.
K-Project is a new publishing fund and label under Slitherine for indie strategy game developers, conceived and led by Minoli. Through it, the publisher hopes to find "riskier" new indie projects to take under its wing and grow according to the needs of the developer, with K-Project titles able to receive funding, marketing, publishing services, or even co-development help with aspects such as art or programming if needed.
"We never ever signed a game where we own the IP as a publisher. We've been a developer and we know what it's like"
Once those games are published, Slitherine has pledged 5% of all its own earnings from those titles to return to a pool that will then fund more K-Project games -- it's already promised $100,000 to the pool to get it started.
And regardless of the developer's needs, Minoli is adamant that all titles published through K-Project (and, in fact, all of Slitherine) will continue to belong to the developers that created them
"We're not taking anything from them," he says. "We're just helping them put the game on the market. That's actually one thing that's valid for all our contracts. We never ever, ever signed a game where we own the IP as a publisher. We've been a developer and we know what it's like."
Already, Slitherine has three K-Project titles in its pipeline. The first is Tactical Troops: Anthracite Shift from QED Games, while the other two are unannounced. It's planning to host a Twitch stream on May 14 to share more info on both Tactical Troops and K Project itself.
And with the official launch of K-Project, Slitherine is hoping to find more games. Ideally, the publisher is after around four or five K-Project titles to release per year, or one every two to three months.
Of course, it's a bit tricky to meet new developers with COVID-19 shutting down networking and pitching events. So at K-Project's launch, Slitherine has put together a fully digital pitching process that it hopes will at least somewhat replicate the kind of meetings it would normally have in-person.
"The idea is that we set up these monthly recurring meetings that we do like in shows," Minoli says. "Half an hour meetings, back to back, you book your slot, and then you show us the game, have a chat, and then the next one, all with the whole greenlight team. So everyone's sitting in a room and we can give honest and immediate feedback to the developers."
And while there doesn't seem to be a consensus as to when COVID-19 shutdowns will be able to lift, Minoli says that he thinks their digital meeting strategy is one that will prevail even when physical events resume.
"Our greenlight committee has people from development, production, and marketing, who all have different opinions about what can sell a game"
"People will be going back to shows, but it will be different. I think the idea is that we keep it because going to shows is extremely expensive for developers...We're doing meetings now with our developers to assess progress in their games that we already have in the pipeline, and we're seeing this is working very well. It's not the same thing as meeting in person, but it's really cool to see everybody in the room trying to give feedback.
"And in our greenlight committee, we have people from development, people from production, and people from marketing. When you put all these three together, usually they all have very different opinions about what can sell a game and what can't. And for an indie game it's even harder because indie games mostly rely on clever gameplay mechanics, and in marketing, you see clever gameplay mechanics from a completely different perspective compared to a producer or somebody fully into development. So having that debate live with the developers is proving really beneficial to the progress of the projects. We're likely to keep this going for quite a long time after COVID is gone."
On its website, Slitherine has outlined a few pitching guidelines. Teams should approach them with something "moving" -- be it vertical slice, demo, video, or proof of concept. They should also have a plan for the game's milestones in place. And the publisher, per its existing catalog, is only looking at strategy games.
It makes sense, as Slitherine has a reputation as a hub for strategy game enthusiasts, and Minoli specifically feels that indie strategy games face challenges unique to their genre that make it harder for them to stand out -- something Slitherine hopes its platform can help with.
"Indie games are by definition easy to pick up and play, right? You've got your adventures, your walking games, your platformers, and they're all simple to learn. Strategy, by definition, is something you've got to sit down and think about. It's very hard to find indie games that have the strategic depth to be a real strategy game, but that also have the indie feel. And I think that's really the challenge."
Minoli says he isn't sure what kind of reception K-Project will get, whether it will see ten pitches or hundreds. But he does have a vision of success for the program: in three to four years, he says, he wants to see "90% of the teams we work with release game number two."
"Success is not selling 100 million copies," he adds. "It's creating good, solid business for the future."