First Singapore Games Week highlighted the market's successes and challenges
We speak to the organizers about launching a new event during a pandemic, and changing the perception of the games industry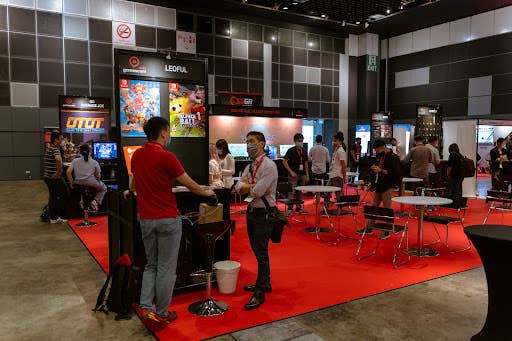 The inaugural Singapore Games Week wasn't what its organizers originally envisioned it to be.
Held in October 2021 as a series of events that celebrated Singaporean developers, SGW occurred under strict COVID-19 safety measures and limited attendance for its few in-person activities. Like many other events in the past two years, it had to settle for a mostly online presence, which included live workshops and the first Asia Game Awards.
Despite the pandemic-related obstacles, the Singapore Games Association (SGGA) considered its event a success, and a big step forward for the country's talented creators. SGGA chairperson Gwen Guo told GamesIndustry.biz she also hoped that Singapore Games Week showed their local community that the industry can be a welcoming place, and that games can encompass a wide variety of experiences.
"I want people to not be so intimidated by the games industry, [and show that's it not] just about crunch, bad pay and bad working hours, [or] all about violent video games and addiction," said Guo, who's also the creative director at Imba Interactive. "We really want people to see that we have a very friendly, supportive community here."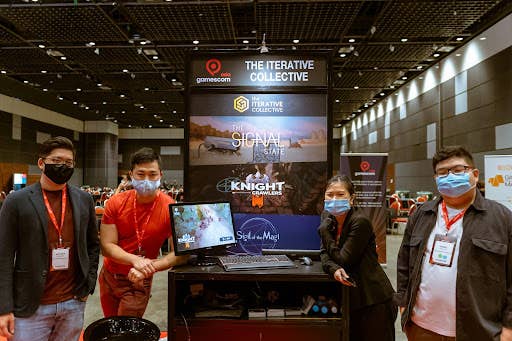 When SGGA first started planning Singapore Games Week, the group looked at similar events around the world for inspiration. One model it was eager to replicate was Melbourne International Games Week, which is one of the biggest gaming events in Australia. It's known for having a jam-packed schedule of conventions and conferences every year.
SGGA wanted to follow in Melbourne's footsteps so that it could increase awareness of Singapore-made games and studios, both to its own country and to the world at large. It would be attached to another fledgling event: Gamescom Asia, the first satellite trade show under the Gamescom brand. But once the pandemic started, SGGA had to scrap any plans of having a huge cluster of in-person events.
Eventually, Singapore Games Week evolved into a hybrid physical and digital showcase, with Gamescom Asia following a similar format.
"I want people to not be so intimidated by the games industry, [and show that's it not] just about crunch, bad pay and bad working hours"

Gwen Guo, SGGA
"We needed a nice, big event to anchor Singapore Games Week, and working with Gamescom Asia has been great," said Guo. "We really wanted to support each other in that sense. So we leverage on the Gamescom Asia name, and the reason they leverage on our Singapore Games Association name is to attract the locals in as well."
Singapore Games Week was a big part of Gamescom Asia thanks to the SGGA's Singapore Pavilion, which had a series of small booths from developers, publishers, and other gaming-related companies. For those who couldn't go to the show, the association had Lionfish Studios create the SGW Virtual Village, a free game-like interface where anyone could make an avatar and walk around a fantastical recreation of the show floor.
Online attendees were able to visit the virtual booths of companies like Ubisoft Singapore and Riot Games, learn about upcoming releases, explore career opportunities, and even go on a treasure hunt to win prizes.
"The main aim of Virtual Village is to show people, especially the public, that gaming can be about everyday life," Guo said. "Singapore is still conservative in the sense that there's still a lot of bad press about games, that it's about addiction or gambling.
"When Genshin Impact came out, there was a whole flurry of articles about how gacha is bad, how kids are spending disgusting amounts of money on games. So that public image is a bit warped and we want to, as a games association, try to educate the public that games can be more [than that]."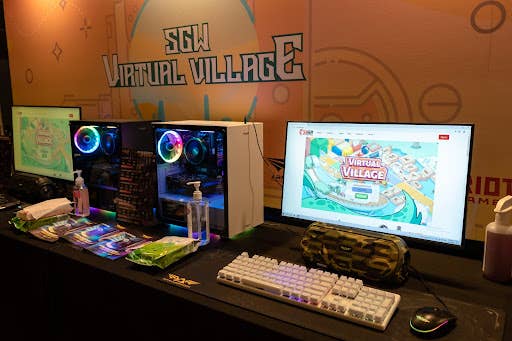 The booths in the Pavilion and the Virtual Village represented only a fraction of Singapore's industry. The city-state has about 220 developers and publishers, ranging from AAA studios to smaller indie outfits. Some Singapore-made games have gained international attention, like the multimillion selling Cat Quest series from The Gentlebros, or made it onto big platforms like Apple Arcade (Mighty Bear Games recently released Disney Melee Mania on the subscription service).
Yet even with its successes -- Singapore is also the home of various esports tournaments -- it's not well known on the global stage. So as with its Melbourne counterpart and others like Brazilian Games Week, Singapore Games Week is meant to bring more visibility to developers, and to help ensure that the community continues to thrive and attract new talent.
"It's been a pretty interesting journey for developers in Singapore. ... [There is] AAA presence like Ubisoft and Tecmo Koei, enough spaces for developers to cut their teeth and learn what it takes to assemble an interesting game and polish it," said Brian Kwek, founder of publisher Ysbryd Games and the treasurer at SGGA.
"[The perception is] you need to study hard so you can get a good job, [not] wasting your time like gaming or playing soccer"

Jimmy Lin, Junkfish
"And Singaporeans in particular, [we have people who are] super talented, and not just in terms of level design and mechanics and art or engineering. There's also just a lot of untapped vision to put interesting concepts together."
However, one major issue that hampers creators, Kwek explained, is the high cost of living. That makes it difficult for developers to take a chance on unproven projects or with starting a new company from scratch. According to Guo, the pandemic has only compounded that problem, making people more risk-averse. The Singapore government also doesn't provide any funding for such endeavors.
She said this has all led to a "slight slump" in the creation of new indie studios.
"The government here doesn't support [the games industry] in terms of IP development," said Guo. "They don't give you money -- they used to, but that sort of dwindled after a while. And it is only recently that the government stepped back in to support in many other different ways outside of providing funding for IPs. So they do it through our association instead, where we run our initiatives. It's not like the government hasn't been helping. They have, but it's just evolved into something different."
SGGA has the backing of three government agencies: Enterprise Singapore, the Media Development Authority, and Singapore Tourism Board. As a non-profit organization, SGGA uses the funding to help promote collaboration between Singapore creators and their overseas colleagues, run networking events, and provide seminars for people interested in a career in games. The association frequently speaks to its government partners about what kind of initiatives are needed to help the industry grow.
Guo mentioned that Singapore does have a few incubators as well, like The Iterative Collective and Cargo Studio, that can help offload some of the risk for developers.
"I really like incubators because they give the new indie studios a stepping stone and a safety net so that they can take risks," she said. "And it's not just about providing a free space [to work in] or funding for them; they also get mentorship, which is very important."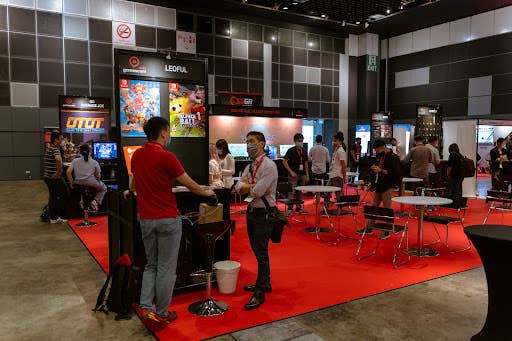 Another tricky issue is one that Guo pointed out earlier: the stigma around games. The medium is generally looked down upon as both a hobby and a job. During a talk at Gamescom Asia about the state of the local industry, one of the panelists mentioned how competitive it can be growing up in Singapore, that parents tend to compare their children's achievements with one another. Since gaming isn't considered a viable career path, the panelist said he's seen cases where family members or spouses discouraged their loved ones from taking a development job.
Jimmy Lin, product manager at indie developer Junkfish, said the stigma isn't as bad as it used to be when he was younger. His best guess as to why it continues to persist is because of Singapore's heavy emphasis on academics.
"I'm super excited to unlock the potential that we have here -- I want the next Final Fantasy to come out of Singapore"

Brian Kwek, Ysbryd Games
"As far as I can remember, my grandma's and even my friend's parents were thinking, 'Oh you need to study hard so you can get good pay and get a good job. Don't do things that are wasting your time like gaming or playing soccer,'" said Lin.
"Even regular sports in Singapore [have that problem]. It's starting to improve sports-wise. ... We're so academically driven to be engineers, lawyers, doctors. I would say it's a very Asian thing. It's not a Singapore thing, but Asian thinking."
The high cost of living plays into this negative reputation as well. Lin said that because working at a video game studio might not pay as much as other jobs in Singapore, parents worry that their child won't be able to sustain themselves or even support a family. The hope is that the stigma will lessen over time as more people grow up with games and understand what they're about. But that kind of shift in cultural attitudes can take decades.
"I don't think this will be such a big problem in 20 years, but I don't want to wait 20 years for growth in our sector, right?" said Ysbryd's Kwek.
That's why SGGA is focused on more active solutions. In addition to attracting international attention, one of the goals of organizing events like Singapore Games Week and partnering with Gamescom Asia is to increase the public's awareness of the art form of games and the viability of the industry. Should the pandemic subside, the team hopes that future editions of these shows will be bigger and bring in more people, and thus more exposure for the games.
Kwek would also love to see some sort of collaboration with Steam for Gamescom Asia and SGW, like a store page that highlights games made in Singapore or ones that incorporate Singaporean culture (similar to the way Valve works with conventions like Tokyo Game Show and the Germany-based Gamescom). He said that kind of visibility would be huge for local PC developers.
Until then, SGGA is brainstorming additional ways it can help studios succeed and mitigate the risks that come with living in an expensive city. The latter will be a long process because of the different government agencies and socioeconomic factors involved. But the committee believes it's vital to keep championing locally made games and the creation of new IP.
"That interests me both from the association perspective and as a publisher: I want to publish more Singaporean content." Kwek said. "I'm super excited to unlock the potential that we have in Singapore -- I want the next Final Fantasy to come out of Singapore, you know what I mean? But it's going to be a journey."
GamesIndustry.biz attended Singapore Games Week with support from the organizers