Senior management blamed for RTW collapse
Former staff allege bosses at fault, while final month's wages remain unpaid
While the precise events that led to Dundee studio Realtime Worlds going into administration last week remain unclear, various former staff have been telling their side of the story.
Former employee Luke Halliwell, who worked on procedural generation technology for Crackdown, APB and Project: MyWorld, has revealed that many staffers were not paid for their last month's work.
"It felt like we were being let go decently," he wrote on his personal blog, "and then BOOM – not getting paid anything, owed last month's wages, our notice periods, redundancy pay and unused holidays. A substantial amount of money, all told."
Halliwell's wife Lucy later appeared in the post's comments thread, claiming that Realtime Worlds senior management should and could have done more to help.
"Dave Jones and Ian Hetherington have pissed away millions, they are getting away with not paying over 200 employees for the work that they have done and have fiddled their way to being able to buy back Project: MyWorld for cheap," she alleged.
"Moreover these very people have enough personal wealth to pay the money owed to the individuals and families whose lives they have left shattered, heck Dave could probably pay them all just by selling one of his beloved cars."
The situation was worse for American staff who had emigrated to Scotland, claimed her husband, who now found themselves forced to return home within a month without assistance.
While Luke Halliwell was careful not to lay blame at any specific feet himself, he claimed that the studio's problems were not purely financial.
"We made a lot of other mistakes too, most of them more interesting and deserving of analysis than a failure to count how much money we had left in the bank – and at many different levels in the company. You don't get to burn through $100m without, shall we say, some opportunities to have done things differently."
Comparing APB's high cost and long development cycle compared to the fast, cheap turnaround of social games, "It started to feel like Realtime Worlds was a massive dinosaur, building these massive things that nobody wanted."
However, he had nothing but praise for the staff themselves. "You couldn't wish to meet a more intelligent, fun, warm-hearted and open-minded group of people."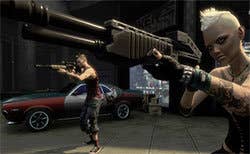 Halliwell has now left the games industry, and is moving to an undisclosed new role in the US. Lucy Halliwell was distraught about the effect the impending emigration might have on her children, such as parting them from their pet horse.
"So Dave Jones, if I end up having to put a bullet in my own horse's head because no welfare charity has space for him," she wrote, "I am going to barter my last possessions to have a fork lift driver dump his 800kg bloody carcass on the top of your favourite car."
An anonymous poster purporting to be a former Realtime Worlds employee shed further light, if less anger, in a comment on gaming blog Rock, Paper, Shotgun.
Claiming that decisions about the game's divisive business model were made too late in the day, he or she alleged that "Many of us within RTW were extremely nervous at APB's prospects long before launch, and with good reason, as it turns out.
"The sheer time spent and money it took to make APB is really a product of fairly directionless creative leadership. Certainly Dave [Jones] has great, strong, ambitious ideas for his games. But he's a big believer in letting the details emerge along the way, rather than being planned out beyond even a rudimentary form."
While the alleged employee levelled "a huge part of the blame" at Jones for not lending APB his full attention until later in development, "I can't emphasise enough how nice a man he is personally."
Claiming that APB's failure to scrape the top 20 in the UK charts was a death knell, the poster felt that the game "torpedoed the company, and it failed largely under his creative leadership. It has other issues (technical, for instance), but the design and the business plan are largely down to him and the board, and they are what have failed so irrevocably for the rest of us."
Despite the criticisms of Jones' business, GamesIndustry.biz received further suggestion today that the GTA co-creator had good intentions even when faced with difficult redundancy decisions. "Dave Jones told us in person in the canteen area, with every single member of staff present."
APB continues to operate for the time being, while at least 23 staff have been re-hired to work on Project: MyWorld.