Remedy pushes for shorter dev cycles
Incoming CEO Tero Virtala talks about Quantum Break studio's move to multi-project development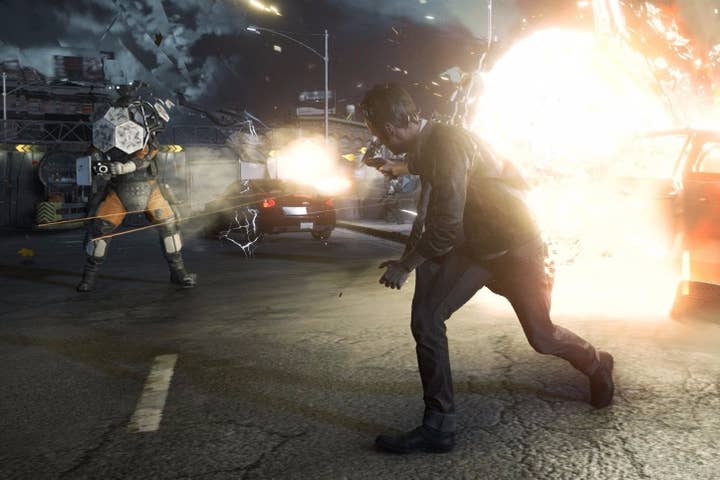 Last week, Remedy tapped Tero Virtala to be its new CEO and said he would guide the Quantum Break studio's move to developing multiple projects simultaneously. Virtala recently spoke with GamesIndustry.biz to flesh that idea out a little more and provide other details about his vision for the company's future.
To start with, Virtala acknowledged that Remedy had intended to make a move into multiproject development for a while.
"This idea has lived for such a long time, but naturally, Quantum Break being such an ambitious and big project, it took most of the resources, people, the energy, most of the money the studio has been using for a long time," Virtala said. "Now Quantum Break has been made and there is a new phase clearly starting for the company. As this strategic path has been discussed, it's a commonly shared view that going for multiple projects is the way the people at the company want to go. And it also makes a lot of sense."
Even though Remedy managed to put out the digital release Alan Wake's American Nightmare and free-to-play mobile game Agents of Storm while Quantum Break was in the works, it's clear much of the studio's focus was on its Xbox One title. As Virtala explained, Quantum Break was an immense task for the studio: a new IP on a new platform with new gameplay mechanics and new tech, all paired with a new transmedia approach that would see a four-episode live-action serial created alongside the game.
"You start the project with certain assumptions of the market, and in four or five years' time in this type of creative, technology-driven industry, it changes so fast."
"You take so many new things at one time and it made sense to focus on just one big project at a time," Virtala said. "Now when we fast-forward to this moment, there's so much more experience and skills, competencies that we can use with what we've learned. Also, the technology and tools we've developed are much further along and much more reusable than they used to be. So that built a base we can utilize, and then you take what else is needed for two projects."
The studio's old method of focusing on one big game for as long as five years at a time just isn't sustainable in the long run, particularly when Remedy prides itself on cutting edge technology and envelope-pushing creativity.
"The industry's developing so fast," Virtala said. "On the one hand, there are so many great games out there, so when you're bringing your game out, it has to stand out. It has to be unique. It has to be [high] quality. And if our studio is focusing on one project only, we're putting all our people there. It usually means the length of the project grows, and if you take four or five years to develop a game, it's a very risky game. You start the project with certain assumptions of the market, and in four or five years' time in this type of creative, technology-driven industry, it changes so fast."
That approach was also limiting the partners Remedy could work with. Virtala had nothing but great things to say about long-time partner Microsoft, but a relationship like that with a single-project studio would necessarily keep the company from collaborating with other publishers. And of course, Remedy fans would probably like more than one new game every five years or so.
Virtala wants Remedy to make more games, and he wants a shorter development cycle for those games. At the same time, he stressed, "We stay loyal to the strengths we have in this industry," which he interprets as excellent games with a distinctive quality, visually impressive and immersive worlds populated with compelling characters.
"We learned it wasn't in the main Remedy DNA--at least at that time--to make those types of mobile games."
As for how Remedy can deliver content to the same quality on a much shorter time scale, Virtala didn't give many specifics. The company has a headcount of 125 people with another 15 open positions, but Virtala declined to say if there were plans to dramatically expand the staff size. As for doing more with the same amount of people, he did note that the technology and tools that have been developed for Quantum Break over the past five years can be used in future games, so "we are definitely able to provide AAA quality in a shorter time than we have before."
He was similarly careful when talking about whether the shorter development cycle would be achieved by changing the types of games Remedy makes. The company is exploring "new game mechanics" that might extend the average user's playtime on a Remedy game, but Virtala wouldn't say if that meant a shift to more multiplayer-focused experiences.
One area the company isn't focused on is mobile. Remedy has tried mobile game development in both premium (Death Rally) and free-to-play (Agents of Storm) flavors, and found neither to be to its liking.
"We learned it wasn't in the main Remedy DNA--at least at that time--to make those types of mobile games," Virtala said. "So at the moment, we don't have a focus in mobile. And most of all, we're focusing on where we're strong, and that's definitely in the core games, basically. We know the PC and console side. For the moment, that's the area where our people are passionate about and the most experienced.
"But of course, we always follow where the different markets go. It seems like the market's changing so fast and there are new platforms coming, so no one can say how the market will be in two or three years' time and what opportunities that might give us."