Press Play: Selling up and staying indie
Being acquired by Microsoft should be the end of independence, but Rune Dittmer and Ole Teglbjaerg believe it needn't be that simple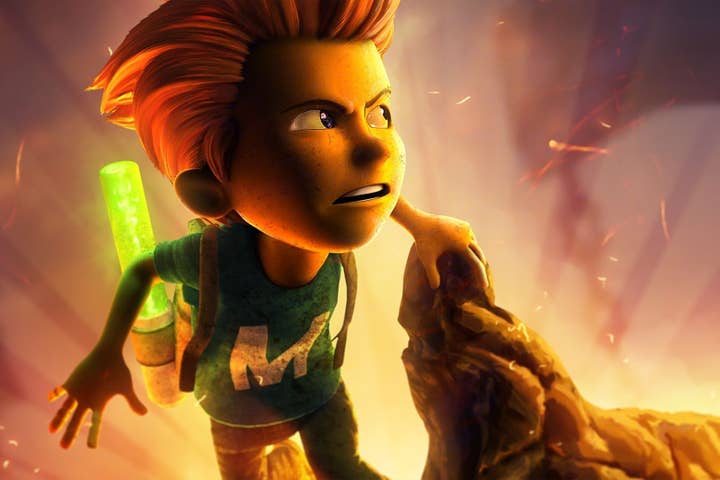 When GamesIndustry last spoke to Press Play, it was on the cusp of reinvention. It was 2010, and the Danish studio's small team was attempting to push beyond the goals it had set at the time of its founding four years before. Max & The Magic Marker, its first original IP, had just been released, and it had the potential to unlock an entirely different future to, "building better Flash games."
Of course, viewed today, the fact that "building better Flash games" could be a fundamental part of any startup's identity seems almost quaint - a stark reminder of just how much has changed since 2006 - but Press Play's desire to evolve and transcend had nothing to do with staying on-trend. It was about breaking the cycle of public grants and work-for-hire on which the company had come to rely. It was about risking it all to create a future based on its own ideas, in which it had ownership of its destiny.
"It was super hard, but also a very deliberate decision," admits Ole Teglbjaerg, Press Play's co-founder and game director. "Looking at our company in around 2008, or maybe 2009, we realised that we couldn't scale up our vision within that set-up. We could hire more people and get more contract work, but it would all be the same. In order for us to break that 'work-for-hire loop', as we called it, we had to start developing some value inside of the company - our own IP - and then at some point just take that jump and say, 'okay, no more work-for-hire'."
"If we had a second team that did work-for-hire on the side while our A-team pursued our own IP, I think that would end badly from the get go"
The complexity of that transition - when a creative enterprise chooses to succeed or fail entirely on its own merits - should not be underestimated, and not simply because it's difficult to develop and release new IP. Indeed, according to Rune Dittmer, Teglbjaerg's fellow co-founder (the third is Mikel Thorsted) and Press Play's studio director, succeeding as a work-for-hire studio is hugely challenging in its own way, a crucial fact that many developers tend to neglect. Effective IP creation and effective contract work are very different disciplines, and attempting to tackle both simultaneously is only likely to dilute quality across the board.
"Maybe it's because of lack of knowledge, but It's easy for developers to disregard the amount of work you need to put in to be a good work-for-hire studio," Dittmer says. "Becoming the best work-for hire studio in Denmark would have been super-hard. Every time you go to a new pitch you have to put your best resources behind it. If we had a second team that did work-for-hire on the side while our A-team pursued our own IP, I think that would end badly from the get go. There is really no alternative but to break completely out of it."
Ultimately, it came down to a simple question: if working on another company's project and working on your own are both fraught with unique difficulties and dangers, which would you rather pursue? For Press Play, the answer was equally simple, and the inevitable anxiety over sacrificing those regular cheques soon evaporated. The independent scene in Denmark was thriving, inspired by the towering achievements of developers in its neighbouring Scandinavian countries - specifically Finland and Sweden. At one point, Press Play was sharing an office in Copenhagen with Playdead, the developer of Limbo, and Full Control, the studio behind last year's Space Hulk.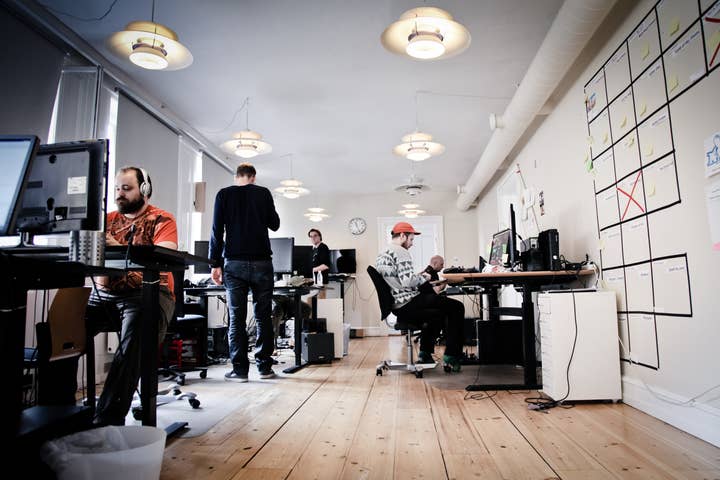 "Obviously, we can't speak for everyone, but a lot of us have been able to benefit from speaking to each other," Dittmer says of the close-knit community in Denmark. "Compared to other countries' industries, I think we have a high degree of openness and helpfulness towards each other. We have never seen each other as competitors. It all goes back to the fact that Denmark is such a small audience. We can't see the Danish part of the audience in our titles; it's one per cent, maybe two per cent if it's high. There's enough players out there for both Limbo and Max & The Magic Marker."
Then Microsoft came calling, and Press Play's quest for autonomy took a very different turn. In addition to its release on PC and WiiWare, Max & the Magic Marker was a launch title for Windows Phone 8. It marked the start of a working relationship that would also lead to the release of another Press Play game, Tentacles, on the Windows Phone 8 platform, and culminated with Microsoft's acquisition of the company in June 2012. At first glance, it's an odd decision: a studio that had only just realised its dream of creative freedom choosing to become a part of one of the largest tech companies in the world - and a tech company not generally noted for its generosity towards the independent spirit.
In fact, the middle of 2012 was a period when negative reports about the difficulties independent developers faced when working with Microsoft and releasing games on its platforms weren't difficult to find. Both Dittmer and Teglbjaerg were acutely aware of the discussion, but Press Play's dealings with Microsoft Studios had allayed any fears before they even had a chance to surface. Whether it was squashing bugs, passing cert or just the everyday need to converse with the Microsoft team, Press Play had found little cause for complaint.
"Compared to some of the other publishers we worked with on Max & the Magic Marker, Microsoft, to us, had proven to be worthy and honest"
"Quite the opposite, actually," says Teglbjaerg. "Compared to some of the other publishers we worked with on Max & the Magic Marker, Microsoft, to us, had proven to be worthy and honest."
"There was a great deal of that [negative] conversation going on, but we had never had any personal experience with that," adds Dittmer. "We always had a healthy relationship with the producers working with us. We failed our share of submissions, too, but it never felt unfair or out of place. We had already put two games through everything, so we kind of knew how it worked and our experiences didn't scare us away."
Over time, the idea that Microsoft was an enemy to indies gathered its own momentum, refuelled by each new disgruntled testimony but basically unmoored from what Press Play had experienced as the reality. Dittmer and Teglbjaerg speculate that it had become a virtuous cycle: good copy for the press and good exposure for the developers.
"That's just the terms of being an indie developer," says Teglbjaerg. "You need to get the attention of the press in order to get noticed, and at one point, that was one of the ways to get noticed.
"This work is difficult. Developing and launching games is very difficult. You've got to have patience. They had patience with us for having bugs, and we sometimes had patience when working with their system... Microsoft is naturally the biggest partner in any deal it does, and if it isn't 100 per cent aware of that at all times then it can easily come across as bullying."
Indeed, at that time Microsoft had an explicit strategy of bringing smaller, more agile developers into the company, and allowing them to, "continue what they were doing already" - as evidenced by its decision to buy 'Splosion Man developer Twisted Pixel only six months before. While both Dittmer and Teglbjaerg understood that MIcrosoft saw Press Play as a mobile developer first and foremost, they were offered a deal that negated any preconceptions that might restrict the studio's options in the future.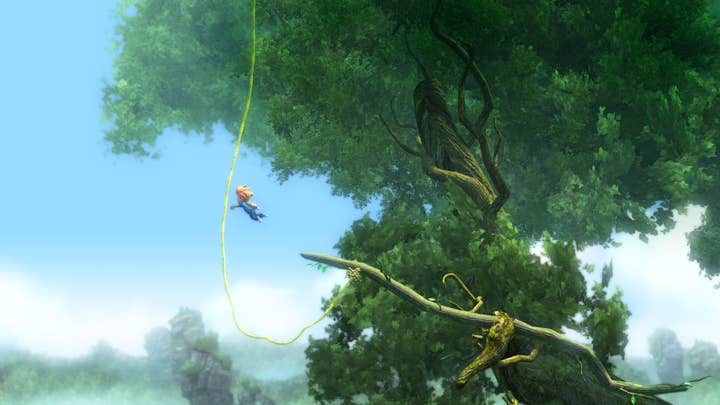 "We didn't want to do [mobile] ports for other people's games," says Teglbjaerg. "We're in this business to make great games with our own IP. That's what we were already doing, and we wanted to build on that. That was a part of the agreement, and the whole setup.
"It actually came from their side, really. In order to maintain our studio culture they had to keep their hands off, and that means they cannot dictate the type of games we work with. Of course we talk to them, but we're serious about continuing what went before, so they really have no say in the creative decisions."
Anyone who has observed the games industry over a long period of time will be familiar with studio cultures being destroyed through acquisition deals. Names are changed, brands are hijacked, vital staff members leave, and development is dictated by those with no conception of the studio's foundational values. It can take a year or it can take a decade, but as the recent dissolution of Irrational Games indicates, the security offered by those regular cheques can carry a significant risk. Even if every one of Irrational's employees finds work in a timely and convenient manner, something irreplaceable has been lost.
"Microsoft is naturally the biggest partner in any deal it does, and if it isn't 100 per cent aware of that at all times then it can easily come across as bullying"
For its part, Press Play remains confident that it will not meet a similar fate. "I think Microsoft is very much aware that, sometimes, their acquisitions end up just adding to the volume of Microsoft, and not really adding that extra value they were after in the first place," says Teglbjaerg. "It's really a matter of Microsoft being aware of what they're actually buying. Is it the ideas that the company has, or is it just more programmers? And it goes both ways. For this to be successful, we both needed to agree that this is the best way."
Certainly, there are no regrets at this point in time. Not only did Press Play confound any expectation of an ongoing focus on mobile development, it actually developed one of the launch titles for the Xbox One: Max: The Curse of the Brotherhood, a sequel to the game that started Press Play's whole process of transformation, and the IP that best symbolises its driving ambition. Teglbjaerg tells me that, at the time of the Microsoft deal, the only working version of Curse of the Brotherhood was running on a PlayStation 3. Obviously, it's now basically impossible for a Press Play game to ever appear on a Sony or Nintendo platform, but beyond the console market he insists that the studio is free to choose both its projects and its platforms.
"We like to think of ourselves as platform agnostic. We don't want to define ourselves as being an Xbox One studio or a mobile studio," he says. "We have always approached development by making a fun core mechanic and finding the platforms that suit it best. Some game mechanics work really well with a touch device, and some things are just better with a controller.
"It all depends on the game that we're working on, and we'll take the platform from that. That's one of the things that we agreed to with Microsoft. We don't want to be put in the mobile developer box. Whatever is best for the game, that's what we want to do."