Plants vs Zombies: Battle for Neighborville was the No.1 game download across EMEAA last week
The Witcher 3 and Ring Fit Adventure perform strongly at physical retail. FIFA 20 is No.1 combined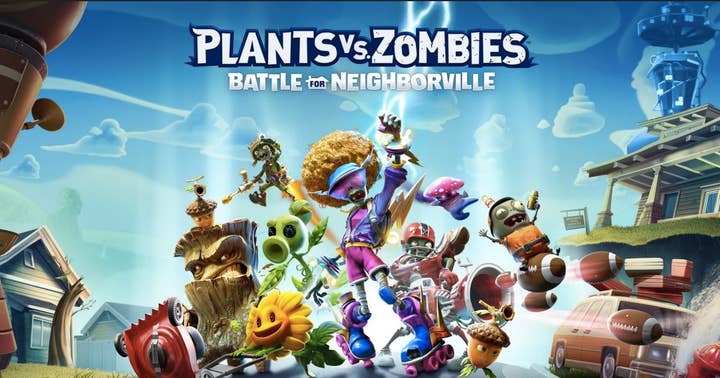 FIFA 20 is the best-selling game across Europe, Middle East, Africa and Australia for a fourth consecutive week.
The football game was the most popular physical title of the week and the second most popular download.
The nearest competitor in the combined chart is another EA game: Plants vs Zombies: Battle for Neighborville. The game was a big success in digital and actually unseated FIFA 20 as the most downloaded game of the week. It didn't perform quite so well at physical retail, only managing to reach No.9.
Indeed, behind FIFA, the big performers at physical retail were Nintendo's Ring Fit Adventure at No.2 and a resurgent The Witcher 3: Wild Hunt at No.3 by CD Projekt. The Witcher 3 was boosted by the new Nintendo Switch version of the game.
Nintendo doesn't share download figures with the charts, although Ring Fit Adventure was actually only available at boxed retail due to the need for a physical accessory. In the combined chart, Ring Fit Adventure was actually at No.4.
The Witcher 3: Wild Hunt's digital sales are not included, and so in the combined chart the game made No.6.
Typically at this time of year, the charts are flooded with big AAA releases. Yet this is a quieter year than we are used to, and there are games that are breaking into the top parts of the charts thanks to some digital discounting. Total War: Warhammer II rose 316 places to No.10, for instance. Meanwhile, Cities: Skylines is at No.13, rising up from 207th place.
Here are the best-selling games by units (combined digital and physical) in EMEAA for the week ending October 20, 2019:
| Last Week | This Week | Title |
| --- | --- | --- |
| 1 | 1 | FIFA 20 |
| New Entry | 2 | Plants vs Zombies: Battle for Neighborville |
| 3 | 3 | Grand Theft Auto V |
| New Entry | 4 | Ring Fit Adventure |
| 2 | 5 | Tom Clancy's Ghost Recon: Breakpoint |
| 217 | 6 | The Witcher 3: Wild Hunt |
| 10 | 7 | Mario Kart 8: Deluxe |
| 4 | 8 | The Legend of Zelda: Link's Awakening |
| 5 | 9 | Red Dead Redemption 2 |
| 326 | 10 | Total War: Warhammer II |
Participating companies in the GSD charts (run by B2boost on behalf of ISFE) are Activision Blizzard, Bandai Namco, Capcom, Codemasters, EA, Focus Home Interactive, Koch Media, Microsoft, Milestone, Paradox, Sega, Sony, Square Enix, Ubisoft and Warner Bros.
Digital data includes games sold in Australia, Austria, Bahrain, Belgium, Bulgaria, Croatia, Cyprus, Czech Republic, Denmark, Finland, France, Germany, Great Britain, Greece, Hungary, Iceland, India, Ireland, Israel, Italy, Kuwait Lebanon, Luxembourg, Malta, Netherlands, New Zealand, Norway, Oman, Poland, Portugal, Qatar, Romania, Russia, Saudi Arabia, Slovakia, Slovenia, South Africa, Spain, Sweden, Switzerland, Turkey, Ukraine and UAE.
Physical data includes all games, but only those sold in Belgium, Denmark, Finland, France, Great Britain, Italy, Netherlands, Norway, Poland, Portugal, Spain, Sweden and Switzerland.