Physical media is like "having a dead body handcuffed" to Xbox One
Codemasters founder and industry veteran David Darling feels physical media is a lost cause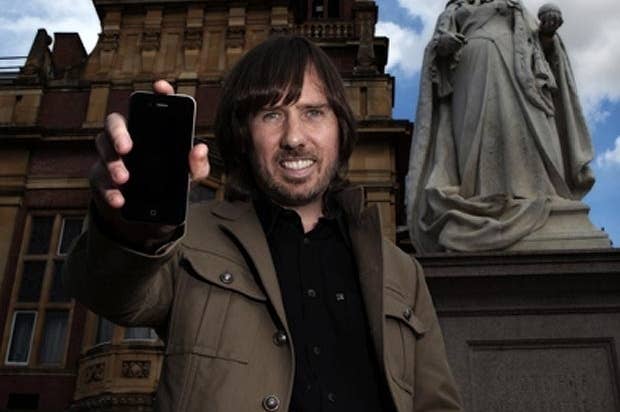 It's fair to say that David Darling has seen it all. He co-founded Codemasters back in 1986, took on Nintendo with the controversial Game Genie cheat cartridge and was awarded a CBE in 2008 for his services to the computer games industry. Having parted company with Codemasters in 2007, he's now firmly ensconced in the picturesque midlands town of Royal Leamington Spa where his new company Kwalee is hard at work on the iOS and Android title Farm Fighters, a physics-based multiplayer game which calls to mind the instantly gratifying gameplay of Worms and Angry Birds.
"It will change in six months and everybody will wonder why it never changed before. There's no point in distributing physical media when the internet exists"
Darling's depth of experience means that he is perfectly placed to comment on current events in the console arena - namely Microsoft's dramatic U-turn on its proposed DRM policies, which some viewed as a bold move towards abandoning physical games and embracing the digital future which is already earning mobile developers millions in revenue.
"It was interesting how the market did pull back with Microsoft," he says. "I don't think Microsoft sold it in the right way - they weren't strong enough. I don't think they should have had a physical drive on Xbox One - it's like having a dead body handcuffed to you. It's dragging along this dead body and it's going to slow them down. They've let the market pull them back but I think that was a mistake."
The debate regarding physical and digital distribution is considered by some within the industry to be moot at this point, with recent figures showing that sales of boxed games are falling while downloads are on the up. Maintaining physical media means that by and large, prices for games remain high - digital versions of leading PS3, Xbox 360 and Wii U titles maintain parity with their physical counterparts, despite not requiring any production or shipping costs. By stripping away the physical distribution model, there's the scope for a software price drop - something which Darling feels has to happen, especially in the face of iOS and Android's selection of low-cost games.
"The price of console games has to drop otherwise they will not be competitive with Apple and Google," he states. Despite Microsoft's backpedaling, the Codemasters co-founder feels that we're close to reaching the magical tipping point. "The industry will definitely move in that direction, and I think it will move very quickly. It's a bit like flipping a coin - at some stage it will just flip. It will change in six months and everybody will wonder why it never changed before. There's no point in distributing physical media when the internet exists."
Given his background with Codemasters - a firm which at one point during the '90s was manufacturing and assembling its own Mega Drive cartridges in the UK - Darling has a unique grasp of the logistics and limitations of physical distribution, and can see no reason to keep such an unwieldy beast alive in this age of near-instantaneous digital downloads. "At Codemasters we used to write a NES game and then send the data to Japan where they'd manufacture it. They'd put the cartridges on a ship and send them back to Europe and we'd put them in warehouse and sell some of them back to Japan. With digital downloads on a platform like iOS, as soon as you have the game you can upload it and Apple will make it available on its different servers around the world. People can access our games in seconds. For me, physical games are old fashioned. I always like embracing new technology, and I don't see the point in disks anymore."
"The shift towards digital is going to mean people losing their jobs and changing careers, but at some stage we have to say we don't need these people anymore"
However, Darling's knowledge of the industry means that he's not totally blind to the reasons for keeping physical retail in place ."Unfortunately, you're talking about people's livelihoods and careers," he continues. "At Codemasters we had salespeople and warehouse people, and their jobs depended on boxed games - if you don't have physical stock then they don't have a job. The shift towards digital is going to mean people losing their jobs and changing careers, but at some stage we have to say we don't need these people anymore. Those who resist are like the Luddites from the 1800s - we have a loom which does all of this stuff automatically so we don't need workers doing it by hand."
Darling feels that Microsoft and Sony's move to maintain physical games has opened the door for rival firms to radically alter the playing field in a similar fashion to what has happened in the mobile arena. "They've given Apple and Google a chance to get into the living room - they'll come along with new machines and take over the market," he says. "Apple's been adding channels to Apple TV and has changed the whole screen layout, and all they have to do now is release a next-generation Apple TV with a faster processor and more RAM," Darling suggests. "Apple has already announced a gaming controller so they've got developers starting to think how they can make games for that controller. If they release this new machine with a new App Store then suddenly they'll have a device in the living room which can steal the market away from Xbox One and PS4. It was only a few years ago that people were saying that the iPhone wasn't a threat to traditional handhelds, but Apple has taken over what you could call the 'pocket' market from things like PS Vita and 3DS. The same thing could happen in the home."
Darling sees Google as another threat to Microsoft and Sony's business - the company's Android operating system currently eclipses Apple's iOS in terms of activated devices and gaming-centric machines like Ouya, the Nvidia Shield and Mad Catz M.O.J.O. could be the start of a concerted effort to win the affections of players worldwide. "Apple's really good at innovating," Darling says. "They innovated with iPod, iPhone and iPad - but Google are technically amazing. They copied the iPhone very quickly with Android and they're capable of following Apple's lead very quickly. There's a lot of potential in what those two companies can do in the living room with their technology."
"Apple's really good at innovating. Google are technically amazing. There's a lot of potential in what those two companies can do in the living room"
Ironically, Darling's move away from dedicated consoles has allowed him to embrace the same principles which got him into games development in the first place. Tired of large teams and a lack of risk-taking, Darling has moved to mobile in order to rediscover the simple joy of making games.
"Fundamentally, human beings have a desire to be creative and innovative," he explains. "I think there's always been that desire in the games industry, but as the industry has grown and development teams have grown, it has gotten to the stage where creativity is stifled. You're better off doing Colin McRae Rally 2 than some game that might work, but probably won't. As the development budgets get massive, then you have to take out all the risks. If you're spending ten million pounds on a game then you want to de-risk it, and that stifles creativity. So that's what I found really exciting about the mobile games industry - it was going back to just having good ideas. Lots of the successful games have just been about good ideas, like Draw Something. That's a good idea that you could have in a minute, and only takes a few months to create."
Darling's mobile studio Kwalee (Australian Aboriginal for "wait for me" and the name of his grandfather's sailing boat) has produced two iOS titles so far - Flip the Cats and GoBang Social - both of which hark back to Darling's early days with Codemasters. "Human beings like playing games with other human beings," he says. "So at Kwalee we're focused on doing multiplayer games. Flip the Cats and GoBang Social are simple concepts which allowed us to get into the market and develop our server technology. Farm Fighters is our next project and we've been working on it for over a year; it's a physics-based shooting game with a strong multiplayer focus. At the moment we're adding single player - it goes back to my time at Codemasters developing Micro Machines, where we added a solo mode in which you can hone your skills when not playing against other people."
Like so many industry veterans, Darling appears to have turned his back on the console market, citing the massive audience, forward-thinking distribution methods and opportunity for incredible financial reward that is afforded by the mobile sector. "This industry has grown to be much bigger than the console and computer industries ever were," he concludes. "Now you've got games like Puzzle & Dragons, which has allowed creator GungHo to grow enormously in just a few years. If you hit upon something really innovative in the mobile sector then you can have hundreds of millions of downloads, and some of those people will want to spend money - but they don't all have to. It's the perfect model for games. It enables the creative people to be really innovative and to entertain bigger audiences."