Oculus Touch pushed into second half of 2016
Company confirms that Touch controller will not ship with the Rift headset [UPDATE: Rift pre-orders open on Jan 6]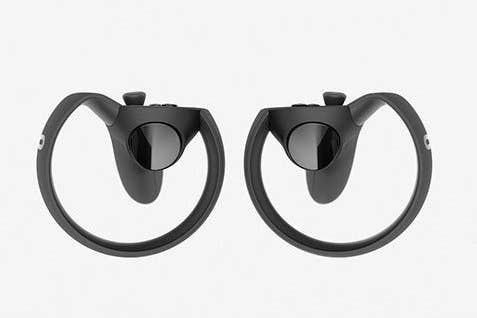 Update: Oculus has just announced that it'll officially start taking pre-orders this Wednesday, January 6 at 8 AM Pacific time. The company will be "sharing everything you need to know to order your Rift" which could possibly include a final release date and price. We'll find out soon enough.
Original story
Virtual reality is poised to finally make a splash this year following much build-up during 2015 but Oculus Rift users will have to wait a while longer to get their hands on the Oculus Touch controller. The company announced at the end of December (while GI.biz was on holiday break) that it's delayed Oculus Touch to the second half but that its Rift VR headset is still going to be shipping in Q1 with pre-orders "launching very soon."
Oculus noted that Touch needed more time to be perfected prior to release; ergonomics in particular are being tweaked by the team. "On Touch hardware, we've made significant advances in ergonomics, and we're implementing many changes that make Touch even more comfortable, reliable, and natural. We're also implementing changes that improve hand pose recognition," Oculus stated on its blog.
"We're also outputting larger numbers of pre-production runs, which means we can get a lot more Touch hardware in the hands of developers who need it... The feedback on Touch has been incredibly positive, and we know this new timeline will produce an even better product, one that will set the bar for VR input. We appreciate your patience and promise Touch will be worth the wait."
As for the soon-to-be-shipped Oculus Rift, Oculus also recently announced that VR platformer Lucky's Tale from developer Playful will be included as a free pack-in title for every retail version of the Rift headset. VR is one of those technologies that needs to be experienced to be appreciated and just as Mario 64 showed off what a 3D world could be like on Nintendo 64, Oculus hopes that Lucky's Tale can be that showcase game for its VR headset.
"We always believed there was an opportunity for platformers in VR, but it wasn't until playing Lucky's Tale and working with the Playful team that we truly realized its potential to change how people view this genre of gaming forever," said Oculus founder Palmer Luckey. "Lucky's Tale delivers on everything you want in a next-generation VR game - it's thrilling, full of adventure, and incredibly fun to play."
CCP Games' EVE: Valkyrie will be a free title for anyone who pre-orders the Rift as well.