Nintendo: eSports helped drive Smash Bros. excitement to "fever pitch"
Nintendo's Scott Moffitt says tournaments have helped marketing efforts, creating more excitement around the franchise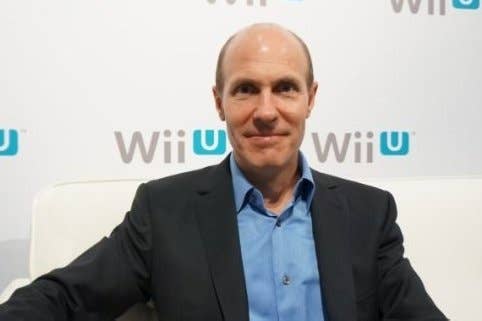 Nintendo has seen an uptick in Wii U hardware sales thanks to the recent success of Super Smash Bros. on Wii U and Nintendo 3DS. The franchise is closing in on 15 million copies sold to date. Super Smash Bros. became the most successful Wii U launch in history, selling over 490,000 physical and digital copies in its first three days.
As part of its marketing plan to bolster awareness for the first new Super Smash Bros. game in six years, Nintendo embraced eSports. The game company hosted a Super Smash Bros. tournament at E3 and utilized livestreaming to share the action with fans across the globe. The game has become popular on the gaming circuit, including at EVO (Evolution Championship Series) and Intel Extreme Masters. Scott Moffitt, executive vice president of sales and marketing at Nintendo of America, talks about the role eSports has played in the success of this super smash hit in this exclusive interview.
What role do you feel eSports has played in the success of Super Smash Bros.?
There does seem to be a ton of pent-up demand for this franchise. eSports has helped to rekindle gamers' love for this franchise and really prepare the environment for a fantastic launch. I do believe that the record sales are due to a lot of the pre-awareness activity that has gone on, including eSports. The 3DS game also helped satisfy gamers' demand temporarily before the Wii U game. ESports is one of the things that has helped drive the pre-launch excitement for this game to a fever pitch.
What marketing opportunities has eSports and livestreaming opened up for Super Smash Bros.?
The Smash Bros. franchise has been a favorite for eSports players over the years. Given the nature of the game as one of the leading, if not the leading fighting franchise, it's a natural for those kinds of competitions. At E3 we wanted to try something different and host our own tournament. We intentionally chose participants who were not the most experienced players. We wanted a broad range of players there competing and having fun. Those tournaments allow our fans to come and celebrate with one another to enjoy the game and to build their affinity for the franchise. We've had great success with those.
"If you look across all titles launched on the new generation platforms, including Sony and Microsoft, as well as portable, there are 19 games that have at least an 85 Metacritic Score and a User Score of 8.5 or better. Nintendo made 17 of those games"
The E3 tournament was one example. We also recently did a national tailgate tour, where we took the tournaments to college campuses nationwide. Those were local battles where people stepped into a battle arena at the tailgate before a college football game and allowed rival schools to compete against one another. We tallied the results of those competitions just for fun. We also had a national tournament through a partnership with GameStop for the launch of the 3DS version of the game. We had over 15 cities compete for the right to come to the National 3DS Super Smash Bros. Tournament, which was held at the Nintendo World Store in New York. We've used tournaments to help market and create some of this enthusiasm for the franchise.
How do you feel the Nintendo gaming audience differs from that of Sony and Microsoft?
There are some similarities and some differences. For certain our fans appreciate the fact that we release quality titles and showcase innovation in everything that we do. We try to be different. Our owners are often times families with kids, but it's much broader than that. Our core, most passionate Nintendo fans certainly are much older than that and are in their 20's and 30's and they grew up with our games. Our appeal is broad and quality is a big reason why. If you look across all titles launched on the new generation platforms, including Sony and Microsoft, as well as portable, there are 19 games that have at least an 85 Metacritic Score and a User Score of 8.5 or better. Nintendo made 17 of those games.
What role do you feel hardware bundles have played in allowing Nintendo to avoid a price cut and still see an increase in sales of the Nintendo Wii U hardware?
One of the four key pillars of our holiday campaign includes new value offerings like bundles. Retailers have had a lot of Black Friday bundle offerings. Bundles provide a great merchandizing tool and bring fresh product to the market and new value for parents who are considering a Nintendo gift for their kids this holiday. Value offerings are always a part of our holiday plan, but it's much broader than that. We have new IP like Captain Toad Treasure Tracker and Fantasy Life. We have a new platform in Amiibo and we have proven franchises like Pokémon and Super Smash Bros.
How early was Nintendo thinking about Amiibo given that the Wii U GamePad was built with NFC technology?
I don't have a specific day for when it dates back to, but by including NFC functionality into the GamePad that afforded us a chance to get in this category fairly easily and in a way that doesn't require a gamer to buy a separate portal or device. It provides a great value for parents and gamers of all ages, where they don't have to spend money on a portal and have another item to store underneath their TV set. There may be other uses of NFC technology to come, but this has turned out to be a great use of it.
Given that that this technology was built in from the beginning, why did Nintendo wait until this fall to introduce Amiibo to consumers?
Amiibo functionality is really strong with Super Smash Bros., so tying it to a big powerful franchise launch made a lot of sense. When you look at it, Super Smash Bros. is a perfect fit for character-based Amiibo product since there are so many characters in the game. The development team has brought it to life in a way that shows an interesting new way to play toys-to-life in one of our strongest franchises. You do have to have a great game as well as a great concept, and this has both.
What would you consider a successful holiday for Nintendo this year?
I would consider a successful holiday a strong launch for Pokémon Omega Ruby and Alpha Sapphire. A strong launch for Smash Brothers Wii U and a strong launch for Amiibo and then continued momentum on both of our hardware platforms -- 3DS and Wii U. We really have five key initiatives that we're trying to accomplish and those are the five. Certainly the rewards we like to see are smiles on people's faces, happy kids and families having fun together on Christmas and during the holidays.
Republished from the [a]list daily. For more, read the [a]list daily and subscribe to the newsletter to get the latest in game and entertainment marketing news, cool videos, incisive opinions, exclusive interviews and industry data.