Newzoo: Mobile, console install base to drive global games market to $152.1b in 2019
US will be the largest gaming market thanks to console sales, China's game license freeze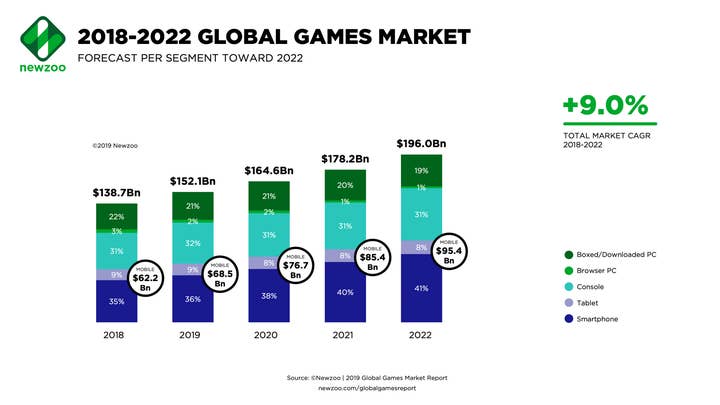 The global games market is expected to bring in $152.1 billion in revenue for 2019, largely driven by the continued rise of mobile gaming and a strong console install base as the PS4 and Xbox One near the end of their life cycles.
Newzoo has published its annual Global Games Market Report for 2019, in which it projects the state of the industry for the year, as well as issuing predictions for the industry three years down the road in 2022. The report is based on consumer research surveys of 62,500 invite-only respondents across 30 countries. Those 30 countries in total represent 90% of all global game revenue.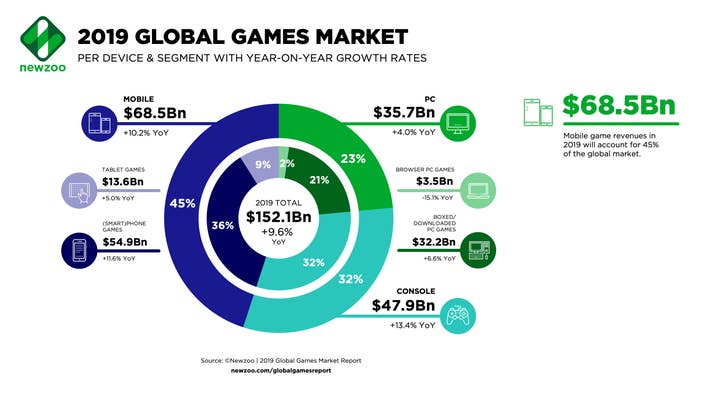 Much of the industry's growth this year (up 9.6% year-over-year), as in other recent years, will be driven by mobile. For 2019, Newzoo projects mobile will make up 45% of the global games market, bringing in a total of $68.5 billion. 80% of the total is expected to come from smartphone games, while the rest is from tablet.
Mobile will continue on its current trend of eclipsing PC revenue, and PC will begin to lose its market share as browser game revenue continues to drop. PC game revenue from 2019 is expected to decrease 15.1% year-over-year to $32.3 billion. Console, meanwhile, will retain its share of the market, growing 13.4% to $47.9 billion this year.
For the first time since 2015, the US is expected to be the largest gaming market, surpassing China in no small part thanks to last year's game license freeze. The US is predicted to bring in $36.9 billion, largely driven by console growth. Meanwhile, North America will be the second largest region, with $39.6 billion in revenue.
The largest region is the Asia-Pacific at $72.2 billion, up 7.6% year-over-year and making up 47% of the total global games market's revenue.
By 2022, Newzoo expects the global games market to reach $196 billion driven still by the mobile market, but also assisted by the coming next generation of consoles and new Nintendo Switch model. With the Chinese game license freeze slowing approvals down even now that it's thawed and continued efforts to decrease game time in children 16 and under, the Asia-Pacific will no longer be the fastest-growing region by 2022, and will instead be surpassed by Latin America.
Mobile will reach $95.4 billion in revenue by 2022, making up just under half of the global games market at 49%. Console is expected to reach $61.1 billion, and PC will continue to grow slowly to $39.5 billion.