Microsoft pro-union ad seems to seek goodwill for Activision Blizzard acquisition
Tech firm says it "isn't asking FTC to ignore competition concerns" as it partners with CWA for New Year message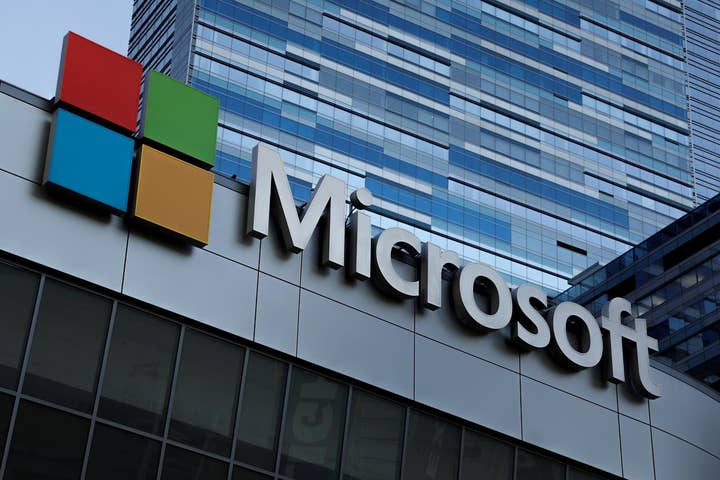 Sign up for the GI Daily here to get the biggest news straight to your inbox
At a glance
Microsoft's pro-union ad in Washington Post cosigned by union CWA
Company hopes to "bring the same principles to Activision Blizzard" in 2023
Microsoft says it's "[not] asking the FTC to ignore competition concern"
Microsoft's push for support around its proposed acquisition of Activision Blizzard continues with a new ad in The Washington Post touting its stance on recognising unions.
Shared by The Verge, the ad – headlined 'A new year opens new doors' – offers a message from Microsoft that's co-signed by Communications Workers of America, the union that recently worked with QA workers at ZeniMax Media to form Microsoft's first union.
Microsoft even refers to this union in its message, adding that its formation is "in keeping with new groundbreaking labour neutrality principles that the Communications Workers of America and Microsoft established last year."
"During 2023, we hope to bring the same agreement and principles to Activision Blizzard, which Microsoft has proposed to acquire," the ad continued.
This particular statement is likely intended to foster goodwill given Activision Blizzard's anti-union stance over the past couple of years.
In May 2022, the US' National Labor Relations Board declared that Activision had illegally threatened staff in the build-up to the unionisation vote by Raven Software's QA team.
"During 2023, we hope to bring the same agreement and principles to Activision Blizzard"
The board received a complaint claiming that employees had been threatened for discussing working conditions and wages via internal Slack channels. It was also reported in December 2021 that Activision Blizzard asked employees not to sign union cards, and in February 2022 the publisher's QA vice president said unions could "hurt our ability to create great games."
The CWA has also accused Activision Blizzard of union busting, first in September 2021 and more recently in October 2022.
Despite Activision Blizzard's efforts, the unionisation vote at Raven Software was successful, making it the first union at a major games company.
This was followed by another unionisation vote by Blizzard Albany's QA team last month, with Blizzard subsidiary Proletariat declaring its intention to unionise a few weeks later.
It's almost exactly one year since Microsoft first proposed to acquire Activision Blizzard for $68.7 billion.
While both companies previously stated the deal was expected to close by the end of June 2023, this is now likely to be delayed due to challenges posed by major regulators.
Last month, the US' Federal Trade Commission filed a legal complaint in an attempt to block the deal citing concerns about harms to competition. The trial is due to be held in August.
In its Washington Post ad, Microsoft wrote: "We aren't asking the FTC to ignore competition concerns. On the contrary, we believe it's important to explore solutions that protect competition and consumers while also promoting the needs of workers and economic growth and American innovation."
You can read more about the regulatory hurdles Microsoft faces in our extensive primer, and you can view the full Washington Post ad below.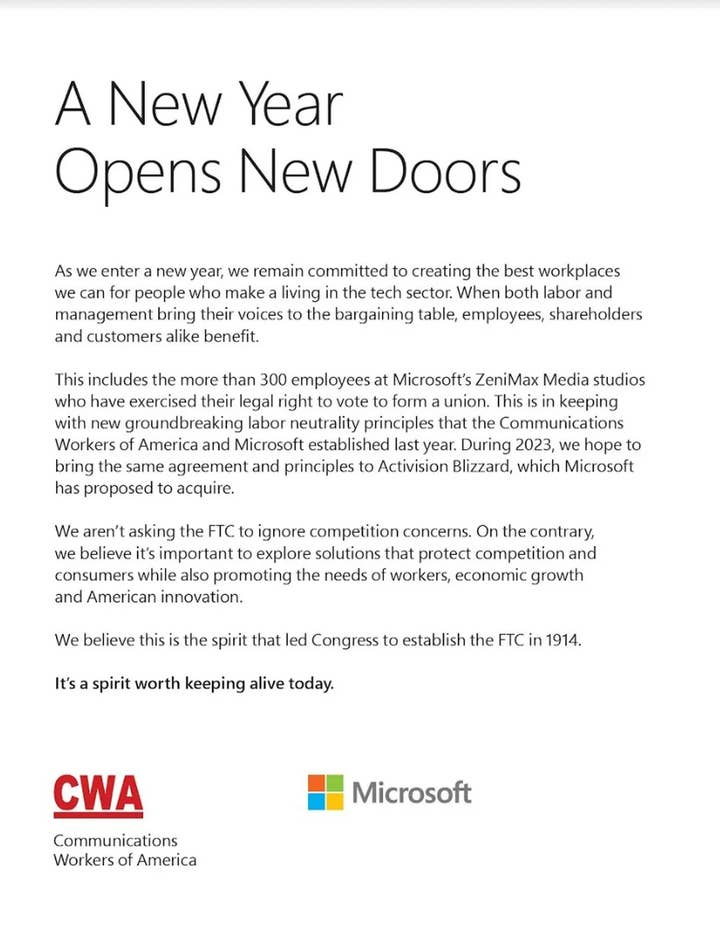 Sign up for the GI Daily here to get the biggest news straight to your inbox