Microsoft adds ESPN, CBS, Last.fm to Xbox Live advertising roster
The companies join MSNBC, TMZ, and UFC, among others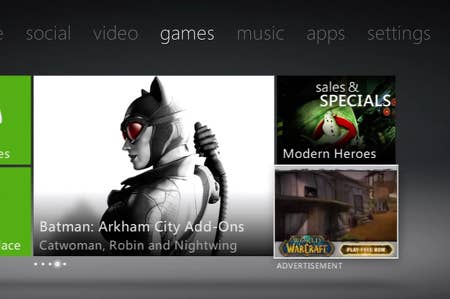 Microsoft has announced that it is adding several new partners to its Xbox Live advertising roster. Companies like CBS Interactive, Last.fm, Manga Entertainment and MUZU.TV will run 15- and 30-second spots across the Xbox Live Run of TV Apps to Xbox Live's nearly 40 million active global members.
The younger male demographics are increasingly spending time experiencing entertainment on multiple screens, with Xbox Live subscribers in the US spending an average of 84 hours a month on the service; more than half of that time being spent is using entertainment apps rather than online multiplayer gaming. Microsoft notes that advertising spending on Xbox Live has increased by 142 percent since 2010.
"With the growth of Xbox Live, advertisers no longer have to choose between digital and TV advertising - we're offering the impact of TV and the interactivity and addressability of digital in one platform," said Ross Honey, general manager of Xbox Live Entertainment and Advertising at Microsoft. "As more and more industry leaders like ESPN work with us to help monetize their content on Xbox Live, TV media buyers win with the ability to extend their standard TV spots to this highly engaged consumer audience."