Ittle Dew 2+ returns to Nintendo Switch
Update: Former publisher Nicalis denies allegations it attempted to re-publish title without permission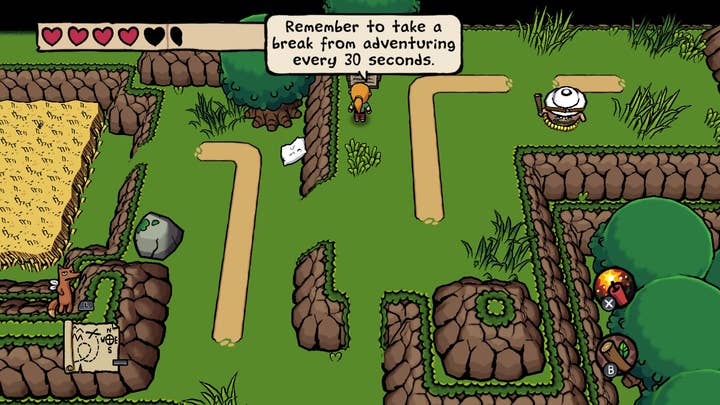 Original story: Ittle Dew 2+ will return to the Nintendo Switch eshop next week, following its delisting last year by former publisher Nicalis.
Though the game will be self-published by Ludosity upon its March 19 re-release, CEO Joel Nyström claimed in a tweet that Nicalis had recently tried to re-publish Ittle Dew 2 on console after it had been taken down from storefronts and the publisher had lost the rights.
Ittle Dew 2's troubles first came to light last September, when Nyström announced that Ludosity had terminated Nicalis' publishing license six months prior due to a breach of contract, and that Nicalis had agreed to transfer the game back to them on PS4, Xbox One, and Nintendo Switch storefronts.
However, he went on to accuse Nicalis of ghosting Ludosity for "a few weeks" before removing Ittle Dew 2 from all console storefronts entirely, without transferring the store pages back to the developer and effectively leaving the game's digital future in limbo until now.
Speaking to GamesIndustry.biz today, Nyström says that while Ludosity has had the rights to publish Ittle Dew 2 since Nicalis allegedly breached contract, it took some time to return the game to the Switch storefront.
"The issue was to then have a smooth transition for the players and transfer the ownership of the eshop entry to us," he says.
"While we had the option from day one to issue a takedown for Nicalis' entry and republish our own, we wanted to transition the same entry so we, for example, could provide updates to the game people bought on release.
"But for a transfer, it requires the transferers' (Nicalis) consent. And they just didn't bother replying to emails."
Nyström adds that Nintendo and other first-party partners had been "very accommodating and helpful" with the situation.
Last fall, a number of developers and Nicalis employees spoke to Kotaku about Nicalis' apparent history of communication problems, sudden termination of business relationships without warning, and president Tyrone Rodriguez's history of racist, antisemitic, ableist, and homophobic slurs.
Update, March 16, 2020: Nicalis has responded to a request for comment a statement denying that it attempted to republish Ittle Dew 2+ after its contract was terminated.
"In 2019 Nicalis and Ludosity terminated the publishing agreement for Ittle Dew 2+," the statement reads. "The game was then removed from all storefronts as quickly as reasonably possible.
"Nicalis has not attempted to re-publish Ittle Dew 2+ on any platform at any time since the agreement was terminated."