It's not the platform holder's job to make your game succeed - Robot
Patrick Hudson, CEO of Orcs Must Die! developer Robot Entertainment, discusses discoverability, managing studio growth and an uptick in paid games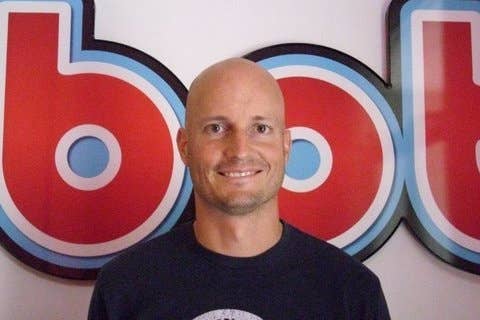 Orcs Must Die! Studio Robot Entertainment is a rare breed nowadays - in an age where you're either indie or AAA, the Plano, Texas-based company (one of several Texas developers that rose from the ashes of Age of Empires studio Ensemble) has managed to succeed as a mid-sized outfit. When Robot was formed in 2009, the company operated on a small scale, but things really changed when it landed a major investment from Chinese media giant Tencent in 2014. That enabled Robot to scale up and to benefit from Tencent's knowledge at the same time.
"We made the first Orcs Must Die! as a semi-indie studio. We were about 40-45 people. We're about twice that size now. And we were able to do Orcs Must Die! and Orcs Must Die! 2 with that. We kind of kept following the franchise and following what the fans were asking for in that game and we knew the next version was going to be bigger. We had to make a strategic decision - were we going to stay small and try to do another small version of that game or did we want to be ambitious and try to do something a little bit bigger? And that was going to necessitate a different type of arrangement for us to find financing. Because, you know, just selling a $15 or $20 game on Steam over and over is tough to support a studio to make a bigger game," Robot CEO Patrick Hudson told GamesIndustry.biz.
"We also did some licensing deals for this game. As an online game, we didn't necessarily have an ambition of setting up a European publishing office or an Asian publishing office. So we went to Europe and we partnered up with GameForge and licensed the rights for them to publish the game for us. And that comes with some advances and license fees, which help us make the game. We did the same thing with Tencent in China and that led to an investment. So we are in that mid-space. I think you're right that there are fewer people in that space right now. It would probably be harder for us to stay in that space if we didn't have really strong partnerships with folks like GameForge and Tencent."
"It's all in how you manage it. You're either afraid of that growth or you embrace it, put a process and structure in place to allow for that"
Investments and partnerships can clearly make a difference to any game company, but it's also easy to mismanage a studio's growth. Before you know it, one department doesn't know what the other is doing, and things spiral out of control.
"It's all in how you manage it. You're either afraid of that growth or you embrace it, put a process and structure in place to allow for that. There's no question we have to run our studio differently at 90 people than we did at 45. There's more structure in place, there are more layers of leadership to help the project along. We've done a decent job of managing the growth... We went through the same kind of growth curve at Ensemble and we actually spent a lot of time talking about what went well, what didn't go well, 'What did we learn from that experience that we could have managed the growth better, how do we apply that to Robot?' So we try to be a little bit smarter about that. Talking to other friendly studios [helps also] - 'Hey, what did you guys do through this kind of growth? What pains did you experience? What did you learn?' So we'll grow as much as it takes to support Orcs Must Die! or as little to support it," Hudson continued.
While everyone was devastated when Microsoft seemingly shut down a successful Ensemble Studios for no good reason, Hudson takes it as a learning experience.
In Ensemble's case, Hudson discovered that scale ultimately held back some of its better talent. "Age of Empires attracted a lot of really good game talent to the studio, either people who were starting fresh in the games industry and learned how to make great games inside of Ensemble or we recruited really talented people to Dallas to work on the Empires franchise and, ultimately, Halo Wars. So we had just a tremendous amount of pent up talent in what was not a huge studio. At its peak it was 120 people. So it was very densely populated with talent. When you're a studio that size, you have a lead structure within each department, but not everybody gets a chance to take those leadership positions and do their own games. Once Ensemble went away, you saw all these talented people go off in different places and show what they were capable of," he remarked.
Working at Ensemble instilled a certain level of dedication to quality in all the developers who worked there too. "We held ourselves to a really high standard of making games that everyone took with them to their next places. I would say, in addition to that... all of us worked for another six years for Microsoft post-acquisition, so we got to learn the industry as both indie developers and inside a publisher. We got to learn the entire space, how the whole ecosystem is close to the publishing side. So that was a very valuable experience that maybe a lot of other devs don't get," Hudson said.
There's no animosity or regret about Ensemble either, as far as Hudson is concerned: "Six years is a long time to be with a company post-acquisition. It was actually, for the most part, six good years. Microsoft treated us well. I think we worked well with the people we worked with at Microsoft. You do see some [studios] that get acquired and they're gone within a year or two. We didn't have that experience. I kind of view six years as a nice success."
Perhaps the greatest lesson that Hudson and Robot have learned, even before the rise of Kickstarter and Steam Early Access, is that listening and responding to a vibrant community is critical. Discoverability has become a nuisance to deal with, and you need the fans behind you in order to succeed. If you have expectations that a platform holder will feature you, your marketing strategy needs an overhaul.
"You're probably not going to be featured. Unless you're doing something really cool and innovative and very different that really shows off the platform"
"As some of those previous PC developers that came into mobile are now migrating back to PC, discoverability on PC has become not quite as bad as mobile, but it's not easy. There's a lot of content on Steam now. There's no easy space. Games is more competitive and a harder business than it's probably ever been. There's just a lot of great developers out there making a lot of great content and there's just no barriers to putting your content out there to players, and players move quickly from game to game. They're going to seek the best content," Hudson noted.
He continued, "When I talk to the Valve or Apple or Google folks, they know the problem. They see it. But it's an almost impossible problem to solve... Everyone wants to be featured, right? It's funny, when you talk to a new mobile developer and be like, 'Hey, we're gonna make this great game. We're gonna be featured.' Probably not. You're probably not going to be featured. Unless you're doing something really cool and innovative and very different that really shows off the platform.
"They all have different programs to try and help you get noticed but you can't make that the core of your strategy. It's really up to you to make a great game. If you don't have a marketing budget to cultivate a community, start with a small community, really cultivate it and listen to them and speak to them and let them organically grow. It's not the platform holder's job to make it successful."
Beyond building a robust community, selecting the right business model for your game is crucial. While free-to-play is almost the default option in today's market, Hudson said that premium games are coming back too.
"We really do think of it as a case-by-case. There are interesting trends in the market where you're seeing paid games come back in certain areas - even in China where we're seeing an uptick in paid games, customers in China buying paid games. [That's] never happened before. So it's really going to depend on the game, the needs of the game," he commented.
For Orcs Must Die! Unchained, which just entered an open beta about a month ago, free-to-play just made sense for Robot, as it's a big multiplayer MOBA-style tower defense game; Robot wants as many people online for matchmaking as possible. Hudson and Robot have tried free-to-play before with Hero Academy in 2012, but he fully admitted, "We made a ton of mistakes, we didn't really know what we were doing. It was a very successful game critically. It probably should've been a little more successful for us commercially, but we learned those lessons and hopefully we're applying some of those.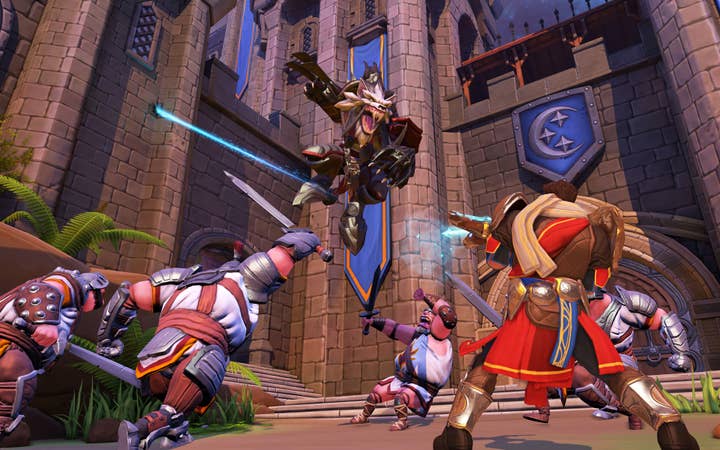 "[Unchained] will be our first big free-to-play PC title. And we get a lot out of our partners too. GameForge has been operating free-to-play titles forever. Tencent has been operating free-to-play titles forever and we really lean on their expertise and we ask them to be involved with us as we design the game. The nice thing about both of those partners is... monetization follows. They start with making a great game, get the players around, keep the players around, [and then] hopefully they'll pay you down the road. But don't solve for money up front. So we'll see. This will be our first foray into it. We'll make a few more mistakes I'm sure but hopefully we learn quickly."
Right now Robot remains 100 percent committed to Orcs Must Die! and the studio is bringing the game to PS4 later this year, but that doesn't mean it expects to be pigeonholed with that one franchise. Hudson said that Robot continues to brainstorm new IP ideas, but nothing has made it too far along in development to warrant a release. "We'll definitely do a new IP again. We started a couple of prototypes in the past few years that haven't panned out. It happens all the time, right?" he said, adding that the company also remains interested in mobile but is "very cautious."
"I think what's interesting about mobile over the last couple of years is how non-dynamic the market is as far as the top games. The games that have lived in the top charts have been there now for 2 or 3 years. They get there and they stay there and they're really good at staying there and it's hard to break in and become the new thing. There are some good case studies for that. Certainly not nearly as many as there are on PC," he said.
"For us to overinvest in a market where it's hard to know what the growth curve is going to be would be pretty risky at our size. We can't afford to be wrong on something this new and this different"

Hudson on VR
Likewise, virtual reality, although enticing, is just too risky for a studio like Robot, Hudson noted.
"It comes back to a company our size and where we sit. For us to overinvest in a market where it's hard to know what the growth curve is going to be would be pretty risky at our size. We can't afford to be wrong on something this new and this different... We love the options it provides for new and compelling experiences in games. We've brainstormed plenty of ideas for Orcs Must Die! in VR and we've got some pretty good ones, but it'll be a while before we seriously invest in it," he said.
Hudson joked that Robot is "living vicariously" though a couple of ex-Ensemble studios in Dallas that are working on VR now.
A conservative and cautious approach is probably one of the reasons Robot has managed to survive in an increasingly challenging environment. Even for eSports - an area of the industry that Orcs Must Die! clearly could excel in - Hudson isn't jumping in headfirst.
"We've let the game and the development process speak for itself. If it becomes an eSports thing, or it has an opportunity to be an eSports thing, then we'll pursue it. But we realized early on - we felt like we could make some bad decisions if we were trying to solve for eSports too early," he said.
That being said, Hudson is definitely optimistic about eSports as a sector. "I think it's going to become an increasingly large aspect of the industry. And there will be the games that work and the games that don't work for it. There will be a lot of companies chasing it and probably crash on the rocks trying to get there, but it's going to continue to grow. I think you'll see it across platforms too. I think you'll continue to see eSports be popular in mobile. It'll continue to grow there. You think of it as a PC thing now but it's not. I think it's going to encompass all aspects of games," he said.