Is CastAR poised to become the next Nintendo?
Technical Illusions' Jeri Ellsworth and Rick Johnson want to make AR gaming fun, social and affordable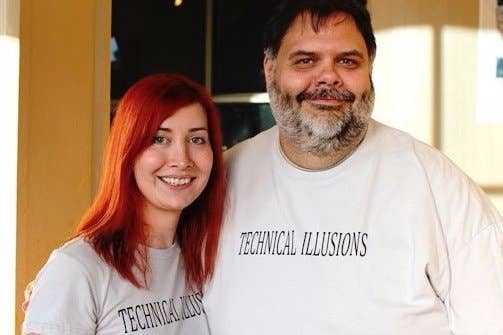 Nintendo, originally a playing cards company, is often compared (sometimes in a derogatory manner) to toy companies. Rather than pushing technological leaps in the last few console generations, Nintendo placed its emphasis on family friendly entertainment that's social and affordable. Indeed, Nintendo may have more in common with Hasbro and Mattel than Sony and Microsoft, and the same may be true of augmented reality startup CastAR. In an interview at GDC, former Valve hardware engineer Jeri Ellsworth and programmer Rick Johnson (who originally spent over a year together working on the project at Valve) talked to me about their vision for the future of augmented reality gaming, and my mind kept circling back to Nintendo.
"I think for us one of the guiding principles of our company is the word fun," Johnson says. "We make a lot of choices around hardware development and software development that, at the end of the day, is this choice going to be more fun for the consumer? And, really, AR offers so many unique ways that we can now engage the consumer in play, in what we show to them that we're trying to find developers that are very eager or excited [to join us]. Remember the first few days or first period around VR? It was all those one-off experiences... We want to find people that actually have true gameplay ideas to bring to life on this platform."
VR and AR are often talked about in one breath and even lumped together as similar technologies at conferences, but the two are fairly different and that's a point that CastAR loves to stress. VR, at a minimum, requires a thousand-dollar PC and then either $600 for the Oculus Rift or $800 for HTC's Vive; even Sony's headset will set consumers back $500 (for the bundle with camera and Move controllers) on top of the price of a PS4. CastAR is an all-in-one solution, so there's no other PC or device required.
"Our target is what you would consider paying for a console... The vision is people get this, open the game board, hit the power button, it'll be pre-loaded with games, and you will just play"

Jeri Ellsworth
"The VR systems, they're going for brute force. It's an arms race for the number of pixels. Like Rick said, we're about fun and part of the fun experience is that we can serve a large demographic and it's affordable. Our target is what you would consider paying for a console, not a $1,000 PC that you have to lug out to your living room," Ellsworth notes.
She adds, "The vision is people get this, open the game board, hit the power button, it'll be pre-loaded with games, and you will just play."
Speaking of coming with games, in another nod to Nintendo, CastAR recognizes the importance of having fun and social software that immediately shows off the capabilities of AR. Much like Nintendo's Wii Sports brilliantly demonstrated what motion gaming was all about, CastAR is thinking carefully about what types of content to include with its system.
"We're actively working on that," says Johnson, but he's also aware that Nintendo may have been hurt by its own pack-in being too strong.
"I think they were their own worst enemy," he says. "If you look at Wii Sports - fun, social game, emphasized everything they needed about what their hardware could do. It was the best game that came out for the Wii, so you didn't see people wanting to buy anything ever again. But, at the same time, they did an excellent job of figuring out the combination of those components and in the end it was a fun social experience."
That's what matters most to Ellsworth. Having a success on a scale with the Wii is certainly a fine goal to emulate. "I like Nintendo. They have their missteps along the way as every company does, but they've been consistent. They've stuck to their values about fun and social family type experiences and it's really served them well and I think it'll serve them well going into the future," she says.
She reminds me that her experience in the past at Mammoth Toys is definitely an asset for launching CastAR to a mass market. "My background is from the toy industry and they beat into my head all the years I worked 'How does it engage the user? How easy is it to use? Is it understandable within seconds?'"
CastAR is now on track for a commercial launch in 2017. "On the developer side, we're starting to have really great conversations and getting folks signed on for content," she says, and the AR glasses are getting a new and improved design as well.
"You watch a company in the game industry that hires 50 people and it can be the kiss of death because it's 50 people who don't know how to work together. So we have to make sure we hire smart people who get along who are excited about the journey"

Rick Johnson
"What's interesting is watching where the other guys are going. They're going towards really high end expensive stuff. We've been focused on low cost and have always been focused on that. So getting these relationships in place with manufacturing and going through all these phases... Our manufacturing has been really important for us. Getting the Kickstarter glasses out and getting feedback and getting that tied into the new industrial design, the new ergonomics... What you saw there are the early Kickstarter glasses. The next generation is quite different. The ergonomics are completely different. The feature sets are going to be really different from that feedback. So from the hardware side, we're feeling really good about it," she explains.
In some ways, coming off a hot Kickstarter and building an intriguing product as a scrappy startup, Technical Illusions has a lot in common with Oculus. Unlike Oculus, which was bought out by Facebook for $2 billion, CastAR has "only" managed to secure $15 million in funding from Playground Global, Android creator Andy Rubin's VC firm. But that deal is not just about the money. There's a wealth of knowledge that Rubin and his team can provide CastAR.
"You get an entire engineering team, industrial design, UX, and business guidance all under the same roof, so that's really accelerated us and gotten us on a track towards manufacturing and having a complete system, so that's huge for us. That's really set us up for success in 2017," Ellsworth comments.
Besides, CastAR seems to prefer being small and nimble. While a major acquisition would no doubt propel their AR efforts, Johnson is wary of what that would entail.
"You watch a company in the game industry that hires 50 people and it can be the kiss of death because it's 50 people who don't know how to work together. So we have to make sure we hire smart people who get along who are excited about the journey. So that's an ongoing challenge to hire effectively and hire smartly," he says.
"We're now starting the developer effort, which is why we're here at GDC to get people aware of what we're doing in the space, what we offer, the fact that we are going very much after the consumer market. We have a product that we think people are going to be super excited about so game developers are initially excited by the point we can start to really engage them and give them hardware that's representative of the final product. That's the path we're on right now."
CastAR should have an advantage in the burgeoning AR gaming space as well. "We already know that Microsoft is going to be very expensive. They've announced it. Magic Leap's going to be magical but it's pretty far out from what we understand. So in 2017 [what we offer] is possible and it's going to come out," Ellsworth says.
Magic Leap is a juggernaut, having secured $800 million in funding, but CastAR isn't concerned about the competition. "I think if you look at - there's obviously more information about HoloLens than Magic Leap but they're both going after different segments of the market. HoloLens, specifically, is going after more business. I think what we're going after is entertainment and the consumers, and again, our choices are focused around that. Competition is always good but I think we have a good foothold on where we want to be," Johnson adds.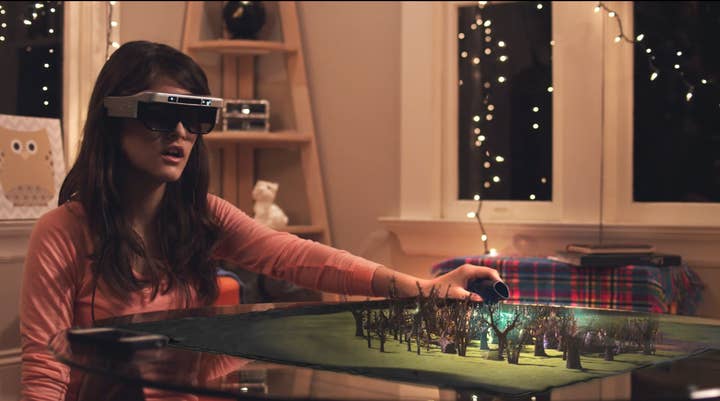 One of the big challenges for both VR and AR is marketing. CastAR will benefit from Andy Rubin's team on that front, says Ellsworth, but Johnson is also happy that VR is coming out first as AR firms can watch the marketing efforts closely.
"[The marketing discussion] started well before our Kickstarter meeting. It was like, 'How do we show this representatively to people?' ... But one of the fortunate advantages of us and AR in general coming out after VR is we can watch the VR market figure it out for the first year and then we can learn from their successes and mistakes and how they approach it too. Because without putting it on, it's still just a verbal or textual type description and that really doesn't do it justice," he notes.
One thing CastAR will no doubt be able to count on is its Kickstarter backers, who should remain evangelists for the product over the long haul, thanks to the company's good will.
"It was really important for us to respect the people that gave us money. We did the Kickstarter originally over 2.5 years ago and to just not deliver a product or to take their money interest free for 2 years just didn't seem right for us as a company," says Johnson. "So part of us respecting them and being honored by their original contribution was to refund them - we're going to be doing a product that's slightly different or slightly delayed from when they were originally expecting it - but also to offer up a free version of the final consumer product. It's like, thanks for the trust and the faith and your investment for us."
As CastAR prepares for launch sometime next year, it's critical that there's content not only at release but a steady flow afterwards as well. "We definitely want a pipeline going because that's going to be important. The momentum of the platform is that people have a continually refreshed catalog of experiences to get," says Ellsworth.
And while games will be the primary focus for CastAR, the company remains open to the possibility of all sorts of interesting entertainment content being designed for its AR platform.
"As the company grows and technology expands we can bring in more of those other entertainment experiences. It's going to be exciting. I can envision a number of different experiences," Ellsworth comments. "There's one I talked to my dad about and he would just flip out for - it's a Nascar app. He really wants to watch Nascar on the coffee table... Yeah, I know. It's kind of redneck. I come from rural Oregon, right? But he watches Nascar, he loves it. He watches every Sunday on the plasma TV but the announcer only talks about the lead car, not his favorite car necessarily. But all the cars are instrumented now. You can imagine a day in mixed reality where you have a hologram of all the cars going around and you can see your favorite car's oil pressure and speed and stats and have a very personalized entertainment experience and you could still be watching on the plasma TV and you could have this blending - that's just one example of it."
"VR is leading the step to getting consumers aware but I think in the end we're going to find that people are going to be craving AR and mixed reality"

Rick Johnson
CastAR's years-long journey is entering its final stages. As the buzz around VR reaches a crescendo, Ellsworth and Johnson believe more consumers will start to crave mixed reality experiences.
"Rick and I were involved with VR back at Valve in the early days and we got to see the whole progression from before the public even started to become aware of it and it was interesting. Our first thought was we're just going to take Left for Dead and put it into VR and it's going to be this amazing thing. Well, it turned out not to be amazing. We've seen the entire VR experience grow in the last four years or so - it's come full circle back to social tabletop game experiences, [which is] what we're offering it but in a more palatable mass market experience," says Ellsworth.
"VR is kind of the tip of the iceberg. Really the foundation's going to be all the mixed reality and AR-type experiences. I think that's really what the mass market's going to be interested in."
Johnson adds, "VR is leading the step to getting consumers aware but I think in the end we're going to find that people are going to be craving AR and mixed reality, that they want to work in the real world, they want to work socially and tangibly and all these other aspects; VR is ultimately a mask into a world and not something where you and I can look at each other and get real emotions and not an emoticon symbol above our heads."