Industry volatility has devs unsure of next steps - IGDA head
With the game business changing at a rapid pace, Kate Edwards explains why progress toward her group's goals has still been slow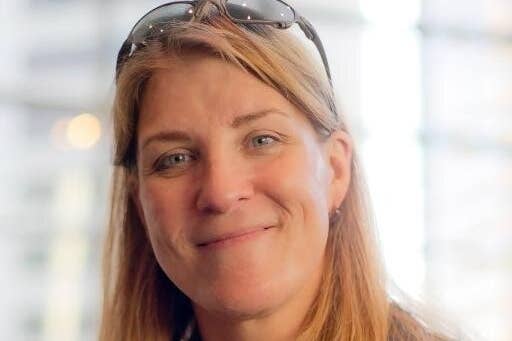 At the Game Developers Conference last month, International Game Developers Association founder Ernest Adams gave a talk reflecting on the group's 20-year history called "Herding Cats Doesn't Begin to Describe It." Kate Edwards has only been the head of the IGDA for a little over a year, but she told GamesIndustry International at the event that she had no problem relating to Adams' title.
"I've worked in the game industry for about 18 years now, so I know game developers pretty well," Edwards said. "I have a good understanding of what game developers are like. But especially doing this job, 'cat herding' is just such a gross understatement. It's more than that. But it's great because to me, every interaction I have with people is a chance to help."
With the industry changing as quickly as it is, there's no shortage of developers who need help from an organization like the IGDA. But one thing that Edwards has learned in her time at the top is that they can't always articulate what form that help should take.
"I don't know if people really know exactly what they want. I guess that's true of a lot of industries, but I mean this one in particular."
"I don't know if people really know exactly what they want," Edwards said. "I guess that's true of a lot of industries, but I mean this one in particular. And a lot of it to me is just because of the volatility of it. And I don't mean that in a negative way. It's just changing, and trying to get their fingers on it is tough. They know they want things to change, but they don't know what, exactly. Or they might know for their functional area or their specific company, but there doesn't seem to be an identifiable or over-arching, 'We think X should happen, period.'"
When Edwards took over the reins at the IGDA, there were a handful of specific X's she thought should happen. First, she wanted to emphasize the "international" aspects of the IGDA. Second, she wanted to push for credit standards on games.
Progress on those fronts has been slow. While the international focus is still on the agenda and Edwards has been a fair bit of globe-trotting in the past year to meet with developers and understand their markets, Edwards said the group's membership is still about 80 percent North American. Edwards said that's not surprising, but the IGDA will continue encouraging geographic diversity in the membership.
"When we add membership benefits these days, we're trying to make sure those are benefits that can be applicable worldwide," Edwards said. "I've been approached by some companies to provide tangible benefits but they were US only, so I denied it. We're not going to do that because we want to focus worldwide."
As for the other big push, the IGDA game credits special interest group is still working on a draft of standards that could be applied industry-wide, but Edwards said that goal has been extracted to a higher level, now just covering advocacy in general. Specifically, Edwards pointed to IGDA's actions in the wake of King's recent trademark maneuvers or the post-Newtown shooting furor over violent games.
"When the livelihood of a game developer is threatened, or if their ability to create freely is threatened, then we need to speak up," Edwards said.
Another aspect of the group's advocacy has been encouraging inclusion and diversity in the industry. That notion was challenged last year when Brenda Romero resigned as co-chair of the IGDA's Women in Games special interest group after the organization's official GDC party featured scantily clad female dancers. Edwards responded to that event saying the IGDA didn't condone the activity, and would be more vigilant on that front in the future. As for whether industry functions in general had grown any more inclusive since that incident, Edwards said the verdict is still out.
"[I]f anything positive came out of that event last year, it was an awareness of the fact that we do need to have more inclusive events."
"I wouldn't give an affirmative that they've definitely improved," Edwards said. "Part of what drives the mentality behind how certain parties are conducted is the company itself, and the kind of image they want to put out there at a given event. And if anything positive came out of that event last year, it was an awareness of the fact that we do need to have more inclusive events."
To that end, the IGDA has created a policy designed to tell anyone holding an event just what it means to be inclusive, from who attends to how models are used at the event. That policy is essentially finished, Edwards said, and just awaits IGDA board approval before being released.
One recurring theme in the discussion with Edwards is that progress toward the IGDA's goals has not been swift. Beyond the aforementioned endeavors, perhaps the biggest victory of Edwards' first year atop the organization was the long-awaited overhaul of its official website. As one might expect, some members hoped for more from the organization.
"There's a lot of other things we want to do," Edwards said. "I think a lot of the frustration comes from the timing. Why hasn't this happened yet? And I think sometimes people forget that there are two staff members in the IGDA. Everyone else is a volunteer...You have to respect the fact that they have their own time and we're leveraging what they're willing to give."
In order to better focus those resources around developers' needs, the IGDA is conducting a Developer Satisfaction Survey for members and non-members alike. The first of a planned annual series of surveys, the DSS gauges developers' feedback on a variety of quality of life issues, from crunch time to employer benefits and overall job happiness. The survey will run until April 28, with a reporting of results expected around the Electronic Entertainment Expo.