Hogwarts Legacy scores fifth No.1 as it surpasses Elden Ring's sales | UK Boxed Charts
Metroid Prime Remastered drops to No.4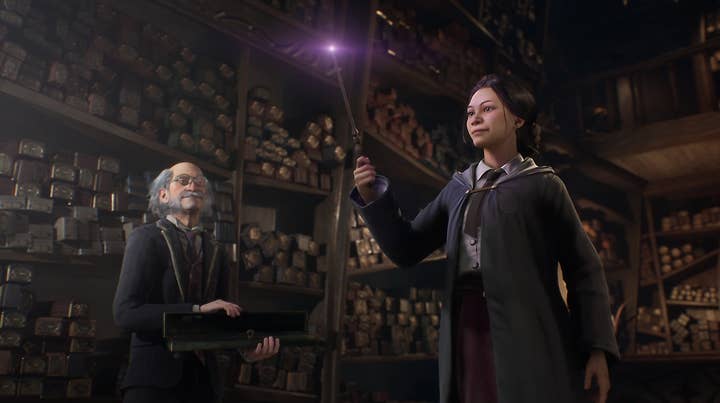 It's another week at the top of the UK boxed charts for Warner Bros' huge hit Hogwarts Legacy, despite sales dropping 31% week-on-week.
It has also been No.1 in the weekly digital data, too. In fact, after just five weeks, the game has now surpassed the lifetime sales of Elden Ring in the UK (digital and physical).
The reason for the comparison to Elden Ring is because the Bandai Namco game was last year's major breakout hit, with sales only surpassed by FIFA 23, Call of Duty: Modern Warfare 2, GTA 5 and LEGO Star Wars: The Skywalker Saga by the end of 2022. In fact, Hogwarts Legacy will have surpassed LEGO Star Wars by the time the digital data arrives later this week.
Hogwarts Legacy isn't done, with the game set to arrive on PS4, Xbox One and Nintendo Switch in May and June. So it could even catch the sales of Call of Duty.
It was a quiet seven days for new game releases. Last week's highest charting new title, Metroid Prime Remastered, drops from No.2 to No.4 with a hefty 79% fall in sales week-on-week. Metroid Prime Remastered was released initially on the Nintendo Eshop back in February, and as Nintendo doesn't share digital data, we won't know how the game truly performed in the UK (although hopefully we'll get some data during Nintendo's next set of financial results).
Other recent releases also slipped down the charts. Wo Long: Fallen Dynasty from Koei Tecmo is down from No.8 to No.33 with a 73% sales drop. Kirby's Return to Dream Land Deluxe is at No.11 after a 38% fall, Octopath Traveler 2 is at No.21 after a 49% stumble, and Atomic Heart is at No.38 due to a 43% decline week-on-week.
Promotions on Mario games during Mario day (March 10th, Or Mar10, as Nintendo has christened it) has seen the plumber's games rise up the charts. Mario Kart 8: Deluxe returns to the Top Three at No.3 after a 4% sales rise, Super Mario Odyssey is up 13 places to No.26 with a 55% sales jump and Super Maro 3D World + Bowser's Fury is up nine places to No.20 after a 13% sales increase.
Meanwhile, Mario + Rabbids: Sparks of Hope continues to stage a mini-comeback. The game has been promoted over the last few weeks via a new DLC expansion and a free demo. ThiS has caused the game's sales to rise steadily for three consecutive weeks. It's now at No.16 after a 16% improvement in sales week-on-week.
Here is the GfK UK Boxed Top Ten for the week ending March 11, 2023:
| Last Week | This Week | Title |
| --- | --- | --- |
| 1 | 1 | Hogwarts Legacy |
| 3 | 2 | FIFA 23 |
| 5 | 3 | Mario Kart 8 Deluxe |
| 2 | 4 | Metroid Prime Remastered |
| 4 | 5 | God of War: Ragnarok |
| 10 | 6 | Grand Theft Auto 5 |
| 9 | 7 | Minecraft: Switch Edition |
| 7 | 8 | Call of Duty: Modern Warfare 2 |
| 11 | 9 | Nintendo Switch Sports |
| 13 | 10 | Animal Crossing: New Horizons |