Hogwarts Legacy is Europe's fastest-selling game (that isn't FIFA) for a generation | European Monthly Charts
Launch sales are bigger than every Call of Duty game released in the last six years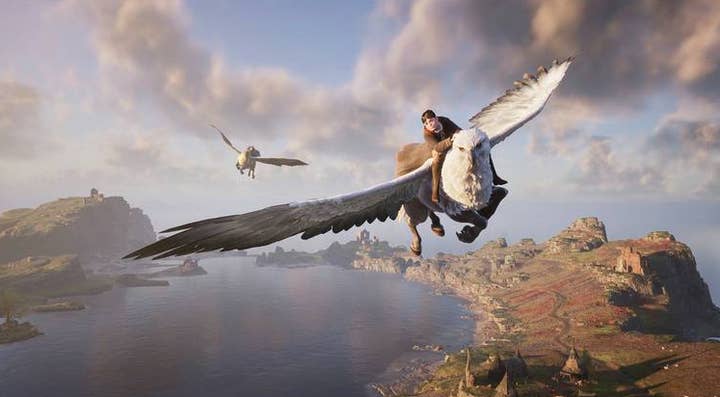 At a glance
Game sales down 10%, despite huge sales for Hogwarts Legacy
Its launch was bigger than Red Dead Redemption 2 and Call of Duty: Modern Warfare 2
PS5 sales up five times over last February, Xbox Series S and X up 13%
Switch sales are down 28% across Europe, mirroring a similar decline in the UK
Hogwarts Legacy had the sixth biggest launch for a video game since the European charts started six years ago.
The only games ahead of it are FIFA titles. That means Hogwarts Legacy had a bigger launch than every Call of Duty game released since 2017, plus other breakout hits such as Red Dead Redemption 2 and Elden Ring.
After just three weeks on sale, Hogwarts Legacy is already the fifth best-selling game of the last 12 months, behind FIFA 23, Call of Duty: Modern Warfare 2, Grand Theft Auto 5 and Elden Ring.
Yet despite the runaway success of Warner Bros title, game sales in February across Europe are down 10% compared with last February, with 12.9 million games sold.
This data is from GSD and includes physical game sales across most major European markets (including the UK, France, Germany, Spain, Italy and more). It also includes digital game sales from most major publishers across all European markets. Full details are at the bottom of the article.
The decline in game sales is due to fewer releases in February than the year before, which saw multiple big new titles including Elden Ring, Horizon: Forbidden West, Dying Light 2 and Total War: Warhammer 3. There was also strong second month sales for Pokémon Legends: Arceus.
Also, legacy titles didn't perform as strongly this year. GTA 5 sales are down 35% compared with February 2021, and Mario Kart 8: Deluxe sales are down 39%. Red Dead Redemption 2 is the notable exception, with sales up 6% over the year before.
The next highest-charting new release is war shooter Atomic Heart at No.9.
Elsewhere, The Last of Us Part 2 and The Last of Us Remastered both jumped up the charts, boosted by the HBO TV series based on the games. Part 2 sales were up 317% over February last year, while Remastered sales are up 285%.
Not all of February's big console and PC titles are included in this chart. Nintendo is the one major AAA games publisher that doesn't share its digital data, so its Metroid Prime Remastered game (which surprise launched on Nintendo Eshop in the middle of the month) is missing. Also, games from most smaller publishers are currently not included, so the much talked about survival game Sons of the Forest is also absent.
PS5 and Xbox see stronger February sales
In terms of consoles, PS5 saw a huge spike in sales across Europe last month, with sales up five times over February last year. The start of last year was extremely slow for PS5, due to severe stock shortages worldwide.
The hardware data from GSD covers multiple European markets, but it is missing two of the biggest territories: the UK and Germany. You can read the UK hardware report over here.
PS5 was comfortably the best-selling console across tracked European markets, with sales more than double Nintendo Switch in second place. Switch sales are down 28% across Europe, mirroring a similar decline in the UK. Nintendo's next big push around Switch is in the second quarter of the year, with activity planned around the new Zelda game and Mario movie.
Xbox Series S and X is in No.3 spot across Europe, but Microsoft saw a 13% sales increase compared with February last year.
Over in accessories, 1.27 million items were sold across European markets last month, a slight drop of 0.2%. This area has been boosted by the console market, with the PS5 DualSense controller continuing to see strong sales.
In terms of points and wallet sales, 1.15 million of these cards were sold across Europe, a drop of 8% year-on-year.
European GSD February 2023 Top 20 (Digital + Physical)
| Position | Title |
| --- | --- |
| 1 | Hogwarts Legacy (Warner Bros) |
| 2 | FIFA 23 (EA) |
| 3 | Grand Theft Auto 5 (Rockstar) |
| 4 | Call of Duty: Modern Warfare 2 (Activision Blizzard) |
| 5 | NBA 2K23 (2K Games) |
| 6 | Red Dead Redemption 2 (Rockstar) |
| 7 | The Last of Us: Part 2 (Sony) |
| 8 | God of War Ragnarok (Sony) |
| 9 | Atomic Heart (Focus Entertainment) |
| 10 | Mario Kart 8: Deluxe (Nintendo) * |
| 11 | Borderlands 3 (2K Games) |
| 12 | Dead Space (EA) |
| 13 | Assassin's Creed: Valhalla (Ubisoft) |
| 14 | It Takes Two (EA) |
| 15 | Nintendo Switch Sports (Nintendo) * |
| 16 | The Last of Us: Remastered (Sony) |
| 17 | WWE 2K22 (2K Games) |
| 18 | Sid Meier's Civilization 6 (2K Games) |
| 19 | Gran Turismo 7 (Sony) |
| 20 | Minecraft: Nintendo Switch Edition (Nintendo/Mojang)* |
* Digital data unavailable
GSD digital data includes games from participating companies sold via Steam, Xbox Live, PlayStation Network, Nintendo Eshop. Major participating companies are Activision Blizzard, Bandai Namco, Capcom, Codemasters, Electronic Arts, Embracer Group (including Gearbox, Koch Media, Sabre Interactive), Focus Entertainment, Konami, Marvellous Games, Microids, Microsoft (including Bethesda), Milestone, Nacon, Paradox Interactive, Quantic Dream, Sega, Sony, Square Enix, Take-Two, Ubisoft and Warner Bros. Nintendo and 505 Games are the notable absentees, alongside smaller studios.
Digital data includes games sold in Austria, Belgium, Bulgaria, Croatia, Cyprus, Czech Republic, Denmark, Finland, France, Germany, Greece, Hungary, Iceland, Ireland, Italy, Luxembourg, Malta, Netherlands, Norway, Poland, Portugal, Romania, Russia, Slovakia, Slovenia, Spain, Sweden, Switzerland, Turkey, Ukraine, and United Kingdom.
Physical data includes all games, but only those sold in Austria, Belgium, Denmark, Finland, France, Germany, Italy, Netherlands, Norway, Poland, Portugal, Spain, Sweden, Switzerland and United Kingdom.
Console hardware sales cover Belgium, Denmark, Finland, France, Italy, Portugal, Russia, Spain, Sweden and Switzerland. Accessories sales cover the same markets, but doesn't include Switzerland.