Halfbrick: Paying for mobile games isn't dead
Freemium may be the trend, but Australian studio will remain agile in changing markets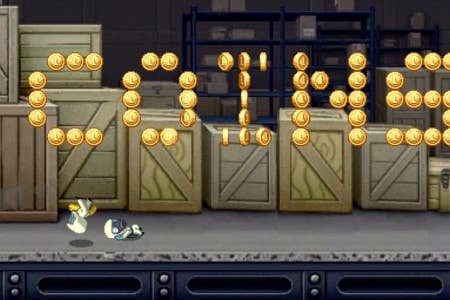 Fruit Ninja and Jetpack Joyride development house Halfbrick is confident that there's still a market for paid-for games in the mobile space, despite the rapid shift to freemium models.
Speaking to GamesIndustry International, Phil Larsen, chief marketing officer at the Australian studio said that Jetpack Joyride was a big success even before Halfbrick began offfering it for free.
"Last year everyone was talking about freemium games, make all your money selling content and ads. That's fine, but we had such success in paid games. Some people say paid is dead and that's wrong, it's not dead than all.
"Some people say paid is dead and that's wrong"

Phil Larsen, Halfbrick
"We made more money on paid than we ever have it's just that free is growing alongside it. At the time you're going to see that shift in balance and it's up to the consumers to see where that goes.
"Paid games do have a different perception on the App Store, they do have a higher perception of quality about them," he admitted. "99 cents for a game is cool, but people want to spend more if they like it. And we want to have that ability to let them spend more if they want to."
Jetpack Joyride racked up a million paid downloads at 99 cents quickly after release, but flipping to a freemium model saw downloads increase to 13 million.
"We had over a million paid downloads really quickly, it was top of the charts everywhere," said Larsen. "But overall it wasn't as universal as Fruit Ninja although it was constantly making money. We decided we wanted to learn more about how the free model works so we switched to free just before Christmas and basically we made more money as a free game than we did as paid, absolutely."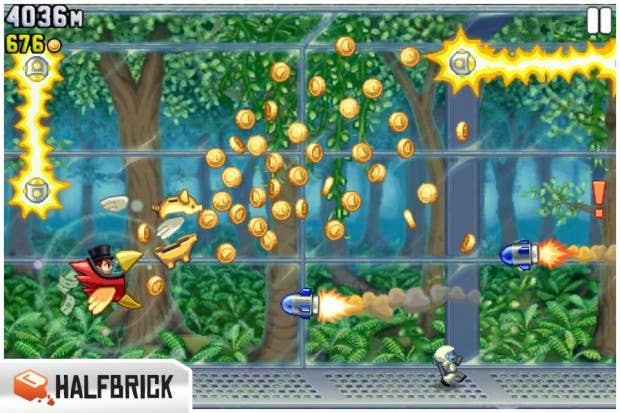 Free or paid, the company is still weighing up models for future products and will make final decisions based on the design of the game rather than the pressures of the market, said Larsen.
"There's no other way about it. We know what we're going to make and if a game that we're making is built around a paid design or a free design we'll decide. With Jetpack Joyride we gave it a lot of options. It had those legs to be able to change and adapt.
"I'm a big fan of paid content, but the free model has helped get more people into gaming and now they have been eased into it perhaps they will be enticed to pay for content. Then we need to market it correctly and explain why something is paid for and why we're asking for money upfront," he added.
Adapting quickly is something that Halfbrick does well. The Brisbane-based studio started out in 2001 handling ports of hit titles for DS and GBA, giving it a foothold in the soon-to-surge portable markets. As larger Australian developers working in the console space began to fold as that market contracted, Halfbrick emerged as a leading studio in the region.
"Brisbane in particular was the silicon valley of Australia, with Pandemic, Khrome, Fuzzy Eyes and bunch of guys who for the most part were doing high-end console stuff," recalls Larsen.
"Due to our company size we were a bit more agile and we were able to make decisions on what we were doing. While this was happening we set aside more time to dedicate to digital platforms and self-publish and we were able to weather the storm and come out with the right games for the right time. Unfortunately contracts dry up, there's a lot of talent in Australia, but things have to close and they were unable to adapt."
But Larsen predicted that Australia will get back on its feet, and like many regions the larger companies have seen talent spin off and set up smaller, more agile development teams.
"Most of them are under the radar right now. Halfbrick is such a flagship developer we don't want to repeat the same mistakes that the other guys have done. The talent is there, some people leave the industry, some come and work for us, but a lot of them want to start their own thing. It's the same situation it's just that Australia you could count the developers that were there on one hand and then most of them closed down. That was a few years ago now, it's on the upturn.
"We're flying the flag for Australia. It's important, we're always going to be an Australian company and we're proud of that."
"We could hire 100 guys tomorrow and have them working on updates for multiple platforms but that's boring and we don't want people to work like that"
He added that "business is booming" for Halfbrick, but right now the 60-man studio is cautious of growing just for the sake of it. "We could hire 100 guys tomorrow and have them working on updates for multiple platforms but that's boring and we don't want people to work like that. People are surprised because [our headcount] seems so little for the amount of work we do. You look at companies like Gameloft and Zynga, Rovio, and they have so many hundreds of people and we're all in the same space."
Now Halfbrick no longer has to rely on ports it intends to continue to focus on a steady release of owned intellectual property while continuing to support titles already released.
"Mobile is interesting because you're successful and with that comes great responsibility and people expect ongoing updates and support. We're happy to do it, we like doing it."
"We need to keep a quality bar and you won't see new games every quarter, not new IP, but if we do at least one a year that's good."