GungHo shares slump on decline of Puzzle & Dragons
Q2 results show falling revenue and profits as flagship game shows signs of age
GungHo Online Entertainment's second quarter results triggered a sharp decline in its share price, which has dropped by 14 per cent since last Friday.
In the three-month period ended June 30, 2018, GungHo Online Entertainment earned 20.8 billion in revenue, down 11 per cent year-on-year. Net profit for the quarter was 3.5 billion, a 40 per cent decline over the previous year.
This decline was largely down to the decline of a single game: Puzzle & Dragons, which has now reached 49 million downloads in Japan alone. However, the number of MAUs has been in steady decline for several years, and that trend is clearly showing on GungHo's bottom line.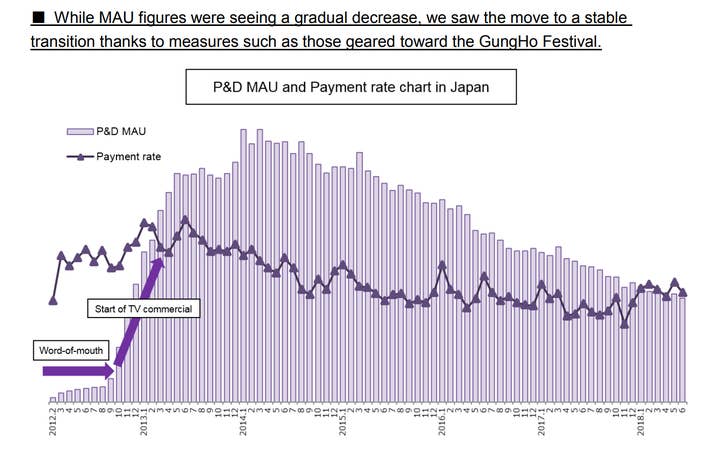 The Japanese publisher detailed a plan to rehabilitate its flagship game in February, and certain aspects of that plan were evident in Q2. A "GungHo Festival" toured Japan across April and May, which largely focused on promoting Puzzle & Dragons as an esport.
GungHo is also making strides towards diversifying its portfolio, and it may have released its next big hit already. Jointly developer with Level-5 Inc, Yo-Kai Watch World is a similar combination of a popular IP and real-world AR gaming that made Pokémon Go so successful. The game launched on June 27, and it had one million downloads by July 11.
It is also targeting the Nintendo Switch, announcing Ninjala at E3 and launching Galak-Z on July 11, just after the reporting period ended.