GTA V expected to generate $1 billion in first month
The newest epic from Rockstar is about to go on sale, and analyst Colin Sebastian expects it to be massive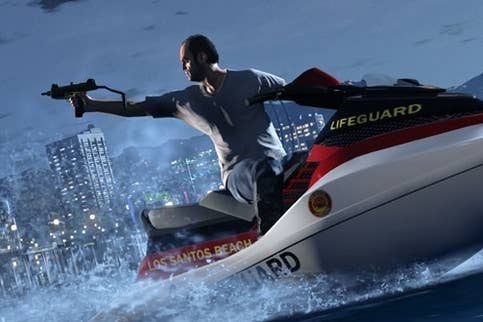 GTA V has "unprecedented pentup demand," says RW Baird analyst Colin Sebastian, and he expects the game to bring in a flood of revenue when it goes on sale at midnight tonight. In a note sent to investors today, Sebastian remarked that the game should generate over $1 billion in retail sales in its first month alone.
"To-date, Take Two has shipped roughly 25 million units worldwide of GTA IV, and our checks suggest an uptick in catalog sales in the weeks ahead of tonight's GTA V launch. Given the significantly higher installed base of relevant console platforms at launch, greater sales concentration among the top video game franchises, and unprecedented pentup demand, we expect GTA V to outpace GTA IV sales, and generate roughly $1 billion in retail sales during the first month," he said.
Sebastian is estimating that shipments of the game will hit about 12 million during the September quarter and should reach 20 million by the end of the fiscal year in March. "Given strong pre-order volumes, little direct competition in the launch window, and strong follow-on sales likely through the holiday period, we believe there is good visibility in Take Two hitting these GTA targets, and potentially exceeding our estimates," he added.
While many in the industry have been concerned about sluggish sales this year, GTA V could mark the beginning of a real uptick in overall sales. Sebastian believes that if Rockstar's game performs as well as most expect, it could have a domino effect of sorts for other AAA titles.
"We believe that consumer demand for GTA V is a useful yardstick to measure potential sales momentum for other key 2013 releases, most notably Call of Duty Ghosts (ATVI), Battlefield 4 (EA) and Assassin's Creed IV (UbiSoft). Our retail checks suggest that Activision and EA are both aggressively courting GTA buyers to pre-order titles," he said.