Gree closing Tellit messaging service
Japanese firm backs away from growing opportunity in mobile messaging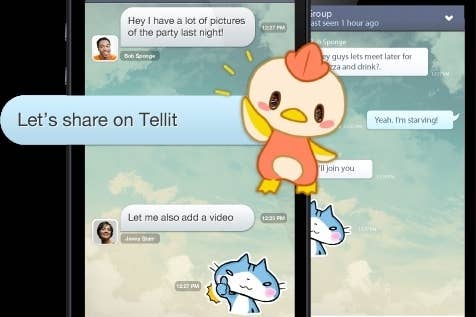 Gree is closing Tellit, the mobile messaging service it launched last year, as it continues to streamline costs in the face of fierce competition.
Gree issued a statement to Tellit users yesterday, announcing its plans to sunset the service at the start of September.
"We launched Tellit last year in an effort to make it easy for people to connect with their friends and share interesting content with each other," the statement read. "Although the product has seen steady usage and has loyal users, we are facing strong competition in other areas of our business."
Mobile messaging services have emerged as a surprisingly powerful lure for gaming in Asian markets: the Japanese company Line has had more than 100 million game downloads through its messaging app, while South Korea's KakaoTalk recently posted 6-month game revenues of more than $300 million.
It is not yet known if the closure of Tellit will cause any redundancies, but Gree confirmed to The Next Web that the move is part of its ongoing restructuring process.
"In recent weeks we have been optimizing our global operations and product lineup strategically based on a policy of selection and concentration," the spokesperson said. "As part of that process, we decided, after much deliberation, to close Tellit so that we can focus our efforts on other opportunities."
It's worth noting that the "optimization" process has led to a great many redundancies so far, including the teams at its Beijing and UK offices.