Global esports, game streaming markets to reach $3.5b by 2025 - Juniper
Research firm projects fields to grow from projected 2021 total of $2.1 billion; Asia Pacific region will account for half of viewers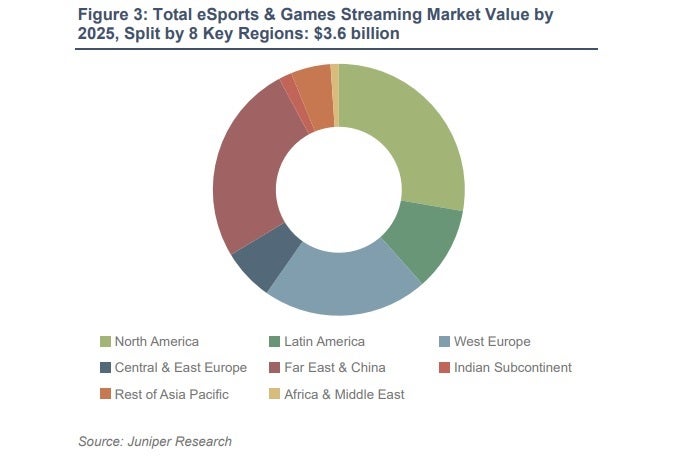 A new report from Juniper Research projects that esports and games streaming's worldwide revenues will rise 70% over the next four years.
The research firm is projecting those segments of the industry will bring in $2.1 billion this year, growing to north of $3.5 billion in 2025.
Those figures include advertising and subscription revenues of live streaming platforms like Twitch and Facebook Gaming, as well as esports broadcasting rights, live event ticket sales and sponsorship deals.
The audience for esports and game streaming won't grow at quite the same rate, according to Juniper. It believes 2021 will see 800 million people watching esports and game streaming content, with that number growing to 1 billion in 2025.
Compared to the projected revenue increases, that's a smaller 25% growth in audience over the four years, but Juniper says it will still amount to 1 out of every 9 people on the planet.
As for where the business will come from, Juniper believes the Asia Pacific region will account for more than half of the audience, but a smaller proportion of dollar sales.
The three largest markets on a revenue basis are projected to be North America, Far East/China, and Western Europe.