Gaming acquisitions in a "frenzy" for 2012
Mergers and acquisitions in the gaming space keep heating up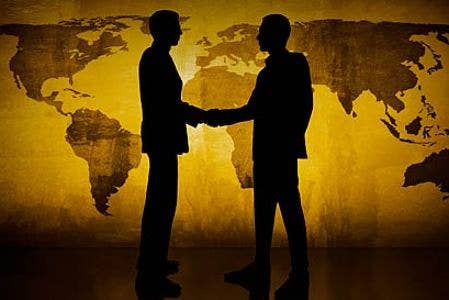 According to data from merger and acquisition services firm the Corum Group and Digi-Capital, acquisitions in the gaming market remain high in 2012. The information comes via a Casual Connect presentation by Corum regional director Jim Perkins and senior analyst Alina Soltys.
"Gambling and gaming has become a very important sector. Overall, M&A in gaming is a frenzy," said Perkins.
Larger purchases this year include Zynga's purchase of OMGPOP and Sony's recent purchase of cloud-streaming service Gaikai. Zynga is big on acquisitions, having acquired 13 companies in 2011. Digi-Capital's data reports that M&A deals came to $3.5 billion in 2011, more than double the $1.5 billion total in 2010. In the first half of 2012, 21 companies were acquired between seven firms: Zynga, Gree, WeMade, Tencent, IGT, Rovio, and Nexon.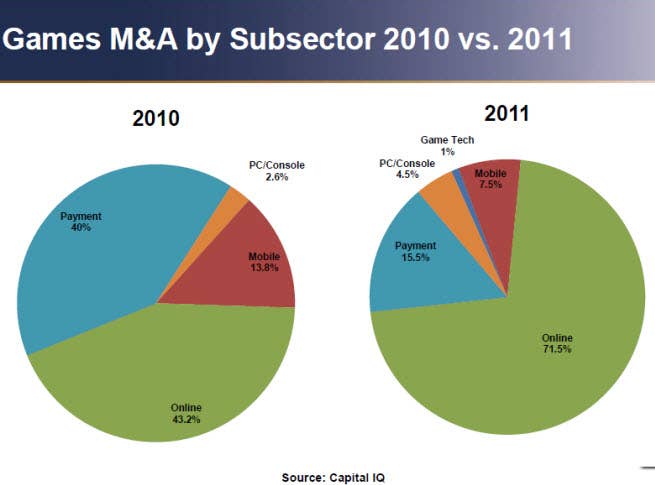 Online gaming was the big winner in acquisitions last year, jumping from 43.2 percent of all acquisition in 2010 to 71.5 percent of all acquisitions in 2011. In the first half of 2012, mobile jumped to 29.2 percent of acquisitions versus 7.5 percent in 2011, while online declined to 56.3 percent. Perkins predicts that mobile will account for 42 percent of all M&A deals in 2013, while online will account for 39 percent.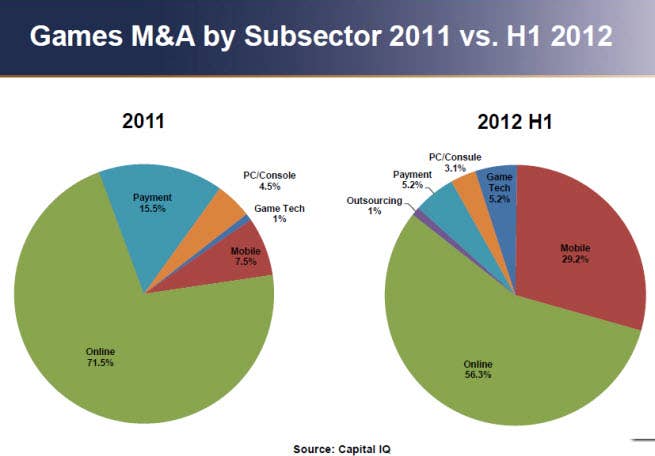 41 percent of deals take place in the United States, with South Korea falling into the runner-up position with 11 percent.
When it comes to investment, online leads with 44.8 percent of deals in the first half of 2012, down from 69.8 percent in 2011. Mobile accounts for 34.4 percent of investment deals, way up from 5.1 percent in 2011.
Profits in the social game industry have slowed and mobile platforms are seeing most of the growth in the industry. Perkins predicted that console market consolidation will continue and mobile being a big driver in 2013. He also said that most Asian game companies would be looking to acquire U.S. companies. A big quesiton mark still remains over whether the U.S. will legalize online gambling, and that speculation is driving social casino games.
"I think social casino games will keep on growing," Perkins said.
[Via VentureBeat]