GameStick: Smarter Than Smart TV
PlayJam CCO Charles Tigges demystifies the micro-console and describes its unique place in an increasingly crowded market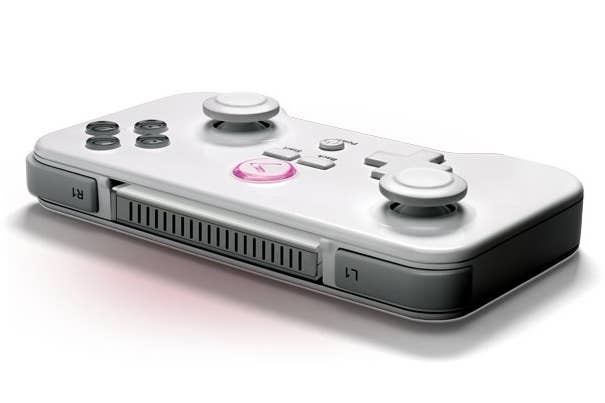 It will surprise nobody that the general discourse of the moment is dominated by the Xbox One. Ever since Microsoft clumsily unveiled its new entertainment solution to the world, the air has been thick with debate over mandatory online connections, used games and backwards compatibility - much of it negative, leaning towards the way things were than the way they might soon be. Many thought they wanted the future of games, but it all seems to be happening a little too fast.
If PlayJam's Charles Tigges has an opinion on the new wave of consoles, he's certainly not telling. As chief commercial officer of the company behind the GameStick, he can no doubt recall the point where, along with the Ouya, his micro-console was also the subject of impassioned debate and endless speculation. But that moment has passed, and the ambiguous reality of launch day now looms large; two months later than originally planned, in fact, putting PlayJam's ambitious new project on the wrong side of an E3 that will be weighed down with yet more reasons for the gaming world to argue about Microsoft and Sony.
"One developer, Tricycle, did a port of its game Edge in two hours. We gave them a dev stick at a trade show and they had something running by lunchtime"
According to Tigges, however, the GameStick needn't suffer in the shadow of super-powered hardware like Xbox One and PlayStation 4. Unlike its most obvious competitor, the Ouya, the GameStick is less motivated by a perceived problem with consoles than a perceived problem with the emerging market at which PlayJam has been chipping away for almost 15 years: Smart TV.
"One reason why this product exists is we were frustrated with what the user gets from a Smart TV," Tigges says, as he plugs the GameStick's HDMI dongle into a large flat-screen television at PlayJam's offices. "If you have a controller it's a TV remote that can't be used for games, or it doesn't work properly. And there is a totally shit discoverability of applications, because that isn't what a TV is designed for.
"So the centre of Game Stick is an application framework and a controller. And then there's the fact that it's Android as the platform, which is a more scalable solution than any of the Smart TVs that we've seen in the last five years."
The GameStick hardware is just as Tigges describes: a pleasingly retro pad that recalls the chunky ergonomics of the original NES controller, and a HDMI stick containing pretty much everything else. The player registers the stick online, plugs it into the nearest television with an HDMI port, and gains access to a gaming service stacked with the sort of titles normally found on smartphones, tablets and the online components of high-priced consoles. When the player is finished, the stick clips neatly into the base of the controller. The whole unit is about the size of half a paperback book, and not a great deal heavier. It is both cheaper and more portable than the Ouya, and Tigges believes it will provide at least the equivalent quality of games and service.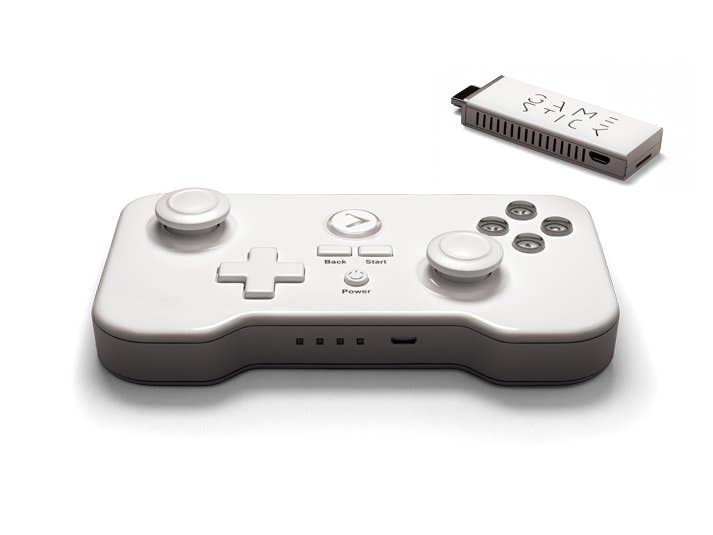 In terms of the interface, the GameStick is reminiscent of a pared back take on Xbox Live, but with the focus firmly and reassuringly on games. PlayJam has been taking notes as the PlayStation Network and Xbox Live have stumbled in their attempts to recalibrate, packing in more and more content and services, making it harder and harder for gamers to simply find what they want to play. Indeed, the service layer is perhaps the only area that PlayJam seems concerned about offering a similar proposition to Sony and Microsoft: it is offering a profile-based user system, various search filters for its store, achievements, leaderboards, tournaments, in-game purchasing, and multiplayer support for four controllers - that's the official number at any rate, though Tigges lets slip that they've had seven pads functioning simultaneously without a problem.
"We're not a lone fighter in this camp. Anyone developing for Ouya would be stupid not to publish on GameStick as well, because it's virtually no additional work"
On the build of GameStick I am shown, the store is relatively sparse, though Tigges assures me that is no reflection of what players can expect of the final product. PlayJam has been working hard to ensure that there will be a diverse catalogue of products ready for launch, with a strong mix of genres, functionality and price-points. Only the GameStick's "Media" section is still in flux: PlayJam has secured the support of XMBC, but it is currently in talks with a number of other companies, including Netflix, to bolster that aspect of the service.
"It's a natural addition," Tigges concedes, "but we haven't spent as much energy on these apps as we have on games. [The Media section is] expected to go out at launch, but that depends on what the line-up is. If we don't have an intelligent line-up at launch we might not do it then, but most likely it's going to be there. Typically with stuff like this, the answer is, 'come back when you've sold a million.' That's the standard answer, but beyond that they are all still interested to come on before launch."
The appeal for developers of Android games and entertainment apps is the minimal amount of effort required to port their products with the GameStick SDK. For games, in particular, Tigges has seen first versions of ports completed in a matter of days, even hours.
"One developer, Tricycle, did a port of its game Edge in two hours. We gave them a dev stick at a trade show and they had something running by lunchtime. We had a game like Smash Cops from Hutch, there was a first version - not optimised - running in three days. We gave them a stick on Thursday, they gave us a version on Sunday.
"The biggest chunk of work is controller-mapping - if it's a touch-screen game you normally need some kind of menu selection - and then some tweaks on optimising loading, performance and frame-rate. That can be very time intense if it's a particularly big or complex title, but they don't really suit the platform. Mostly, that's not what we're looking at. A port is between two hours and a week, roughly - that's what we've seen so far, for the whole thing."
"There's a limited interest span. If we go out there with a shitty product, then people don't have to look at it twice. That's my assumption"
And there has been no shortage of interest, even if PlayJam can't quite match the star power and oceans of funding behind Ouya. The GameStick was shown to developers for the first time at GDC in March, and since then the number of inbound requests has ballooned: the company gathered around 700 developers during its registration period, it has made contact with a further 500 in the last month alone, and it is also in "very advanced" discussions with an undisclosed number of AAA companies. In any case, whatever happens with the unit sales of the hardware, Tigges believes the volume of interested developers can only be good for both GameStick and its more prominent rival.
"All that confirms is that there will be a big market for this kind of thing," Tigges says. "We're not a lone fighter in this camp. That's definitely not the case. Anyone developing for Ouya, for example, would be stupid not to publish on GameStick as well, because it's virtually no additional work."
However, while Tigges may not see GameStick as a direct competitor to an Xbox One, he admits that there is a concern about whether the press and the public will see the matter in the same light. When an early version of the Ouya was delivered to its Kickstarter backers, a number of highly influential websites published scathing reviews of the technology. These reviews, Tigges believes, were not exactly fair in the swiftness of their judgement, but it made PlayJam realise the importance of hitting the market with a complete and polished product, regardless of the size of its price-tag. A few days after the reviews hit, the company announced a two-month delay on its launch date.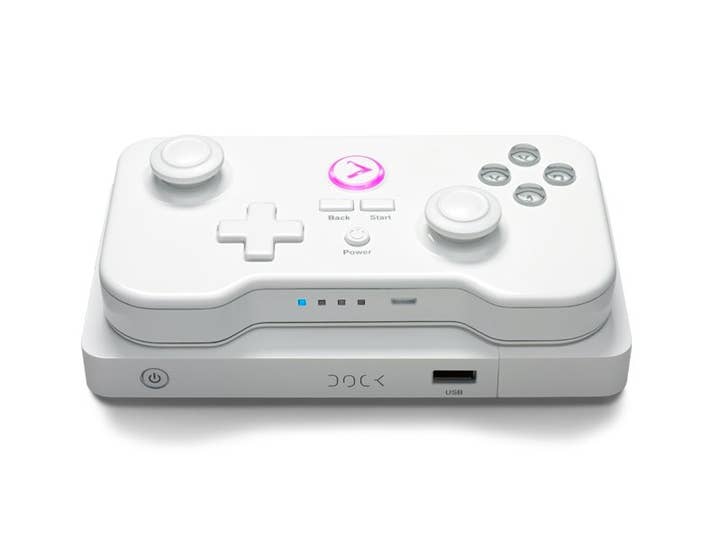 "There's a limited interest span," he says. "If we go out there with a shitty product, then people don't have to look at it twice. That's my assumption. But if you compare this with an actual console, whilst it's really fun, from a performance perspective it's not a PS3 or an Xbox, but nor is it an Xbox from an accessibility perspective and a pricing perspective. Especially in Ouya's case, it hasn't been fairly compared. That's a risk that exists for any of us."
It is easy to be sceptical about both the Ouya and the GameStick, but the hard fact is that it won't be simple for either device to find an audience. The Ouya may well succeed purely on the strength of its resources, but PlayJam has arguably made the smarter choices when it comes to the product and its intended market. Ouya feels like an indie-focused console-alternative targeted at gaming connoisseurs, but the GameStick, when you have it in your hands, seems to fall somewhere between a Game Boy and a smart solution for the surprisingly dumb world of Smart TV. Besides the usual crop of tech enthusiasts, PlayJam's first order of business is to speak to teenage girls and boys and their parents; families for whom a portable, TV-friendly casual gaming device for £80 will be an eminently affordable Christmas present.
"We're looking at a 2nd generation already. We're starting to see prototypes that are taking the concept of a very mobile, portable experience to the next level"
"This is like an impulse purchase," says Tigges. "Instead of two boxed games, you can buy the GameStick and get some pre-installed games.
"The fact that we have a very competitive price helps us, and the form-factor being very portable also gives us a natural closeness to the mobile environment in terms of user expectations, which might actually help our message as well. Being a fantastic mobile gaming device that works on a TV and has a full-screen experience - that's not the case with other products.
"Part of it will be retail, part of it will be the product and the price, and part of it will be the game line-up. If you look at the game line-up in comparison, I think we've got a pretty good picture compared with Ouya. There's no issue on that front for us, and we're holding some of the games back so we can give life to the product after launch."
I ask Tigges what else we can expect after launch, and it's clear that PlayJam has much it would like to tell, but so little it is ready to say. The company will launch a dock alongside the GameStick that will support a variety of peripherals - cameras, microphones, keyboards, all of which could hit the market within a year. It is currently discussing potential deals with television manufactures and retailers in burgeoning markets like China and Brazil, where the expense of console gaming has proved prohibitive, and the Smart TV concept is on the rise. And then there is the technology of the GameStick itself, which, with the right amount of customer support, could evolve at a similar pace to mobile hardware.
"The form factor and the whole design easily and seamlessly allows us to update - we can just replace the stick," Tigges says. "And we're definitely looking at a 2nd generation already... There will be a performance up, and we're looking at more features being included. I can't talk about it, but we're starting to see prototypes that are really taking the concept that we have now with a very mobile, portable experience to the next level.
"It could really inspire developers to create experiences that don't exist on any other platform."