GamesIndustry.biz presents… The Year in Numbers 2021
Check out the biggest selling games, most covered companies, top influencers, the global games market value and more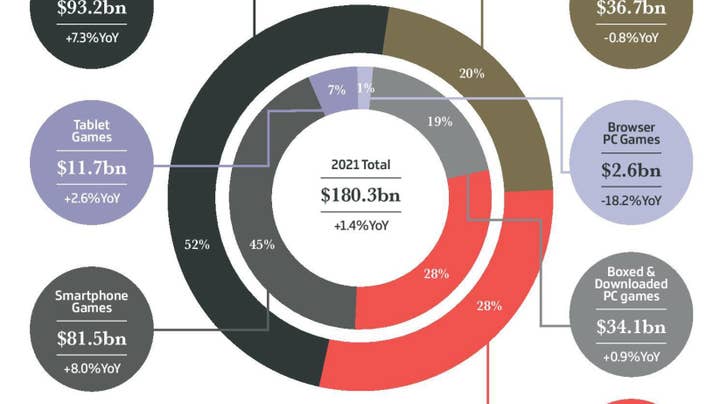 2021 draws to a close and, as has become tradition, we try to condense the past 12 months of this fast-paced, ever-changing business into a single infographic.
Yes, it's Year In Numbers time, so scroll down for a selection of graphs, charts and stats that aim to offer a summary of where the games industry stands after another eventful year.
We have the usual update on the global games market value, as well as insight into the top selling games from key territories, the big winners in mobile, the balance between new and established IP at the big six publishers and platform holders, plus some assorted figures we hope will be of interest.
Before we begin, we would like to thank the following for helping us to compile this year's infographic:
Newzoo, for the global games market value and boxed vs digital revenues
Sensor Tower, for the biggest mobile games, publishers and countries by revenue and downloads
GfK Entertainment, for the UK's best-selling boxed games of the year
Famitsu, for Japan's best-selling boxed console games of the year
ICO, for the most covered games and companies
Fancensus, for the biggest influencers, livestreams and most discussed games on Twitter
Okay, time to dive in. Here is the GamesIndustry.biz Year In Numbers 2021: