More than 2100 jobs, 277 stores axed at GAME
PwC confirms job losses, 15 to go from head office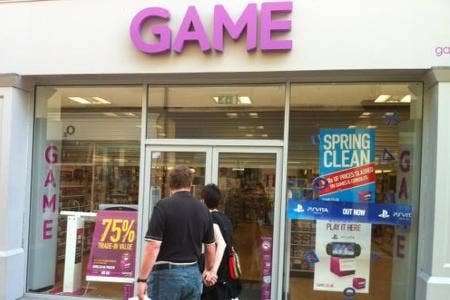 Update
The GAME Group has shut 277 stores today and axed 2,104 jobs. 15 of those jobs were from the company's head office.
Administrator PwC confirmed the news today, adding that the remaining 333 stores will remain open and continue to trade.
"Our priority is to continue trading the business as normal while we continue to pursue a sale," said administrator Mike Jervis.
"The recent job losses are regrettable but will place the company in a stronger position while we explore opportunities to conclude a sale. My team and I will be doing all we can to help the affected employees at this difficult time."
In an interview with the BBC, Jervis said PwC "really do regret" the job cuts, but that staff would be paid for the entirety of March, and were helping by "making sure stores are closed in an orderly manner."
He said PwC had been reviewing the business for weeks, and while the cuts seem brutal, reflected the fact that, in terms of store numbers, GAME had "too many to make it viable" as a business. On the subject of gift cards, Jervis said the suspension of these credits was planned as a temporary measure.
"We're hoping that that gets brought back online once we sell the business, hopefully in a couple of days."
Original story
The Game Group administrator PwC has taken the retailer's websites offline and begun to close stores around the country.
Both game.co.uk and gamestation.co.uk are down, stating the PricewaterHouseCooopers is "currently reviewing and processing orders" placed on the websites with the promise of being back up and running shortly.
On Facebook GAME addressed its customers in an official statement, confirming that all gift cards, GAMEWallet funds and Game Reward cards were suspended. Stores also won't accept hardware or software for trade-in.
On Twitter people are sharing updates and photographs of their local stores, tracking the closures across the country. Jordan Hicks in Plymouth reported his GAME is closed and tweeted an image of a sign in the window directing customers to GameStation, while others have reported shutters coming down in Birmingham, Bath, Liverpool, York, Stafford and more.
The sad wave of closures follow statements from PwC that it is still hopeful to find a buyer.
"The group has faced serious cashflow and profit issues over the recent past. It also has suffered from high fixed costs, an ambitious international roll-out and fluctuating working capital requirements," said Mike Jervis, joint administrator.
"Despite these challenges, we believe that there is room for a specialist game retailer in the territories in which it operates, including its biggest one, the UK. As a result we are hopeful that a going concern sale of the business is achievable."