Fortnite US July revenues down 52% year-over-year
Edison Trends looks at consumer spending trends for Epic's hit as well as Black Ops 4, Apex Legends, and PUBG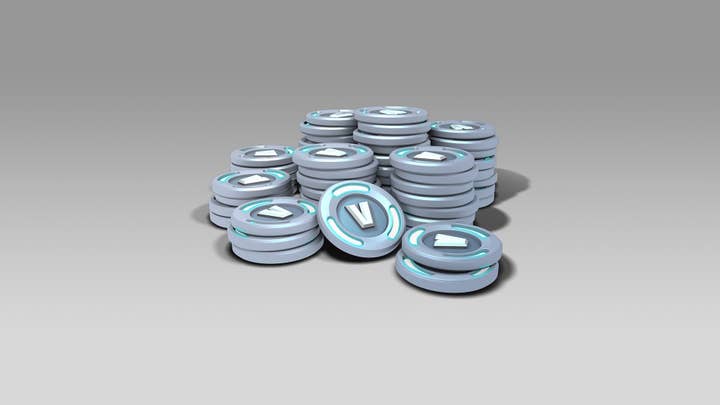 Fortnite still represents the gold standard for success in online battle royale games, but 2019 shows it on a downward trajectory according to a report by US market tracking firm Edison Trends.
Edison, which bases its research on emailed receipts sent to millions of US consumers who are part of its data panel, released a report today comparing two years of revenue generated by a quartet of successful games with battle royale components, including Fortnite, Call of Duty: Black Ops 4, Apex Legends, and PUBG.
Unsurprisingly, the company found Fortnite has been tremendously successful over the past two years, with its monthly revenues almost entirely unchallenged by any of the other games outside of Black Ops 4's launch-month surge in October of 2018. However, Edison's research also showed a downward trend for Fortnite this year, with the game ending July down near 75% from its December 2018 peak, and down 52% compared to the previous year's July.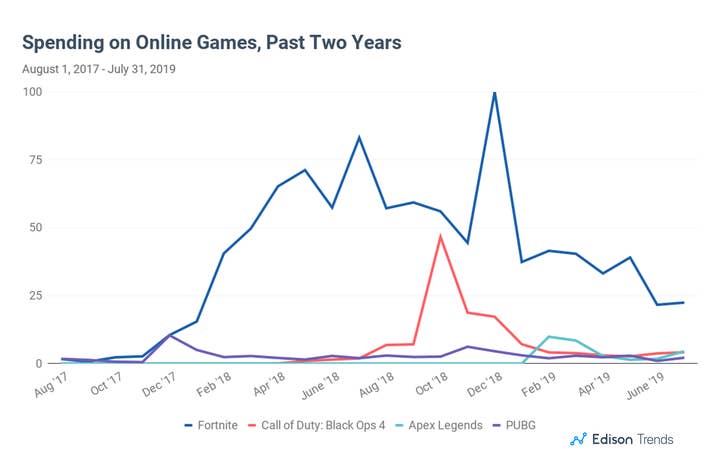 The firm also looked at specifically what consumers were spending their money on. In the free-to-play Apex Legends and Fortnite, the answer was overwhelmingly virtual currency. V-bucks accounted for 83% of money spent in Fortnite, while Apex Coins made up 96% of Apex Legends spending. The remaining amounts in each game were made up of packs, and in Fortnite's case, bundles and "other" offerings.
For PUBG and Call of Duty, the game itself accounted for most of the money brought in. PUBG's sticker price accounted for 94% of the revenue brought in, while G-coins (4%) and Packs (3%) made up the rest. Black Ops 4 was a little more diversified, with the game itself accounting for 69% of revenues, with another 19% from CoD points, 4% from Black Ops passes, and 8% from other add-on content.
Finally, Edison tracked customer "loyalty," seeing how many players who purchased something in-game in June made another purchase in July. Apex Legends had the strongest performance by that measure with 62% of June spenders spending again in July. It's worth noting this particular measurement may have been particularly flattering to Apex Legends as developer Respawn updates less frequently than something like Fortnite, and launched its big Season 2 update on July 2.
The remaining games sported repeat customer rates in July ranging from 49% (Fortnite) to 38% (PUBG).