FIFA 2014 starts year at number one
Top 7 all non-movers on the UK software chart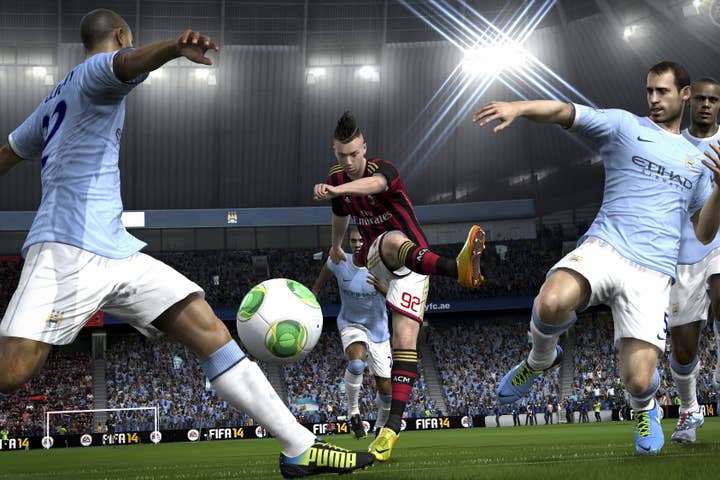 The first UK software chart of 2014 is one packed with non-movers, with the top seven titles all hanging on to their positions from last week and FIFA 2014 enjoying a 6th week at number one.
Grand Theft Auto V holds at 5, and is already the 4th biggest selling game ever on the UK, with GfK Chart-Track predicting it could become the top biggest within the next three months.
The bottom of the chart saw a number of re-entries sneak in, with Tomb Raider, Ryse and Saints Row IV all making it back into the top 20.
UKIE Games Charts courtesy of GfK Chart-Track
| Last Week | This Week | Title |
| --- | --- | --- |
| 1 | 1 | FIFA 14 |
| 2 | 2 | Call Of Duty: Ghosts |
| 3 | 3 | Assassin's Creed IV: Black Flag |
| 4 | 4 | Battlefield 4 |
| 5 | 5 | Grand Theft Auto V |
| 6 | 6 | Need For Speed: Rivals |
| 7 | 7 | LEGO Marvel Super Heroes |
| 9 | 8 | Minecraft: Xbox 360 Edition |
| 8 | 9 | Just Dance 2014 |
| 10 | 10 | Gran Turismo 6 |
| 13 | 11 | Forza Motorsport 5 |
| 11 | 12 | Batman: Arkham Origins |
| 19 | 13 | Dead Rising 3 |
| 12 | 14 | WWE 2K14 |
| 20 | 15 | Aliens: Colonial Marines |
| Re-entry | 16 | Saints Row IV |
| 17 | 17 | Football Manager 2014 |
| Re-entry | 18 | Ryse: Son Of Rome |
| Re-entry | 19 | Tomb Raider |
| 18 | 20 | Disney Infinity |