Facebook gives mobile apps a boost with its App Center
The social networking giant will improve mobile app discovery by binding apps to its platform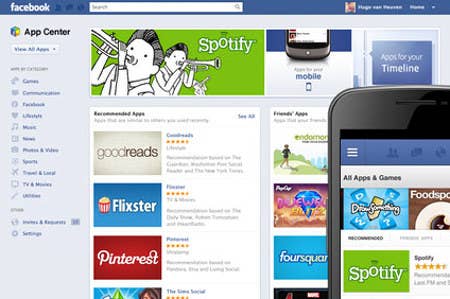 With its possible IPO looming, Facebook has announced the launch of the App Center, a new platform to improve the discovery of mobile apps and games. Facebook software engineer Aaron Brady explained the App Center in a post on the Facebook Developer Blog. The center will serve up mobile and web apps that follow Facebook's guidelines.
"In the coming weeks, people will be able to access the App Center on the web and in the iOS and Android Facebook apps. All canvas, mobile and web apps that follow the guidelines can be listed," explained Brady.
"For the over 900 million people that use Facebook, the App Center will become the new, central place to find great apps like Draw Something, Pinterest, Spotify, Battle Pirates, Viddy, and Bubble Witch Saga."
Each app on the App Center needs to use Facebook's login system. Users can view each app's detail page, and if the app requires installation, users will be sent to the Apple App Store or Google Play for the download.
"All developers should create an app detail page. The page is required for being listed in the App Center, and it will also become the new destination when non-users search for your app on Facebook," said Brady.
Facebook will allow paid apps and offer Insights, an app metric system for developers. Facebook will be using the same metrics internally to decide which apps get listed in the App Center, with poorly-received apps getting the axe. The social network will be giving priority to apps submitted before May 18.