EA: Console transition to "determine market leadership for rest of decade"
[UPDATED] EA stock jumps over 14% on forecast. We examine EA's strategy for the next year as it looks to ramp up efforts for the next-gen consoles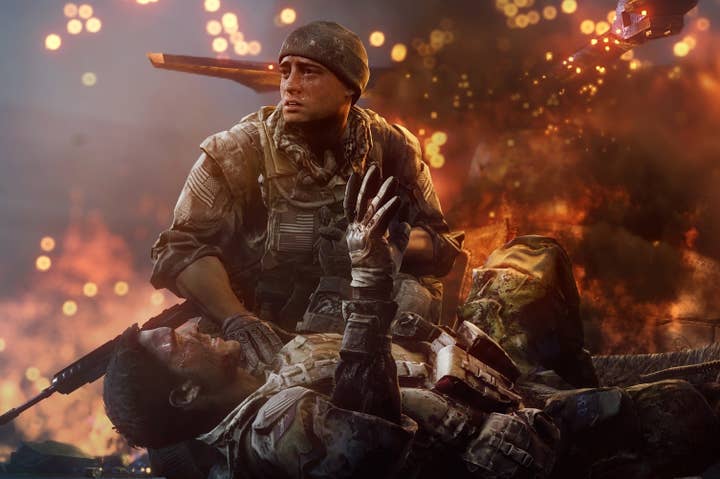 Update: EA stock has jumped over 14 percent to a 52-week high of over $21 per share in early trading today as the market responds to a better-than-expected FY14 forecast. The fact that EA will be able to hold costs down and keep revenues up in the face of the console transition has apparently impressed investors.
Original story:
Electronic Arts had its first post-Riccitiello earnings call, and the news was... rather boring, actually. As had been telegraphed, revenue came in a the low end of guidance for the quarter, and earnings were slightly below. GAAP revenue was down for the quarter compared to the same quarter last year, though if you look at EA's non-GAAP revenue it looked better. For the full fiscal year 2013, GAAP revenue dropped by about $350 million, and net income went up slightly.
The earnings call seemed designed to reassure investors after a slew of negative stories (the SimCity launch debacle, CEO Riccitiello leaving, layoffs, reorganization) that everything is fine, the reactor core is locked down, nothing to see here. We're fine, we're all fine. Oh, and did we mention Star Wars? EA has signed a license with Disney for Star Wars on all platforms (including mobile), though we won't be seeing any products from that for more than a year. Clearly, EA is betting that the new Star Wars movies are going to do well in the future. Probably not coincidentally, EA also noted that Star Wars: The Old Republic picked up more than 1.7 million new players after the switch to free-to-play, and subscribers held steady at just under half a million. That Star Wars title is already making money for EA, at least.
Interim CEO (and executive chairman) Larry Probst was calm and methodical as he noted the company's strong points. "With world-class games, a rapidly growing digital business, and top-notch creative talent, we are excited about EA's strategy for FY 2014 and beyond," said Probst. He left it to CFO Blake Jorgenson to note that the company had reduced headcount by 10 percent, which is about 900 jobs. EA has reorganized, focusing on console, PC, mobile and digital revenues. Social games are already dead and buried.
"The interesting subtext with the reorganization and the still-in-process CEO search is it implies that EA is content with its strategy"
Probst also mentioned that the CEO search is still underway, and "both internal and external candidates are being considered," which is not a surprise given that a new CEO isn't already in place; if the board wasn't going to look at external candidates the decision would have been made by now. This doesn't mean an internal candidate won't be selected, but finding and vetting the high-level external candidates EA would be looking for takes time, especially when you have to maintain secrecy.
The interesting subtext with the reorganization and the still-in-process CEO search is it implies that EA is content with its strategy. Sure, some refinements were needed; hence the ditching of social games, cutting EA Partners, and moving EA Sports boss Andrew Wilson to head up Origin. Overall, though, this shows EA feels Riccitiello's shortfall was in execution, not in strategy. The fact that the reorganization has already taken place implies that EA's board won't be looking for a CEO with a bold new vision of taking the company in a different direction. The likely candidate will be someone the board feels will be exceptional at execution: Making sure the games that come out are top sellers, and they ship on time, and that costs stay under control.
Meanwhile, EA is sharpening its focus on the top performing brands: FIFA, Battlefield, Madden, Need For Speed, and bringing back NBA Live. Details of upcoming releases are being held until E3, which makes sense. That's the place to get consumers excited about new games, not an earnings call. Interestingly, Respawn wasn't mentioned at all, though EA had signed a deal with the former Infinity Ward key players. Respawn will have a booth at E3, though, so perhaps there will be more info there; still, if EA was incredibly excited about the Respawn deal for the near term it probably would have been mentioned during the call.
Looking ahead to the coming year, EA is forecasting GAAP revenue of $3.5 billion, and non-GAAP revenue of $4 billion, which is down from the current fiscal year. The company expects to lose $0.97 per share in GAAP revenue, though by non-GAAP measures EA will turn a $1.20 per share profit. COO Peter Moore noted that the company was "bullish" on current-gen consoles, and not really expecting next-gen consoles to be a substantial revenue generator immediately for EA.
Where does EA stand, then? The company is profitable; it has $1.68 billion in cash in the bank with positive cash flow. The recent reorganization and layoffs will keep its overhead down while it figures out how to profit from the next generation of consoles. EA mentioned repeatedly that it will keep R&D spending flat during this year of console transition, and it's never done that before in its 31-year history. Of course, the company has been aided and abetted in that by Sony and Microsoft deciding to use essentially a PC architecture for both next-gen consoles. That means the Frostbite engine, developed to a fine degree on the PC, will be easily used on the PS4 and the next Xbox. Sadly, the Wii U will be left behind, as we've learned the Frostbite engine doesn't work well on that console.
"This transition will determine market leadership for the rest of the decade, and we intend to win over consumers with world-class entertainment experiences"

Larry Probst
EA plans to release 11 new titles in FY 2014 for consoles, PC, and digital, with 15 titles for mobile. Investors looking for huge upside potential won't find it in the plans discussed today. EA is focused on getting its execution humming, making sure the Origin platform is the best it can be, and generally getting the company ready for the future when next-gen consoles have a large installed base, mobile is more stable, and digital distribution accounts for the majority of revenue.
Probst summed up the key points for EA: "Most important is to ensure EA is well positioned to deliver the best games and services on the next-generation consoles. Over the years we've learned how great games, delivered early in the cycle of a new platform, can build strong and enduring relationships with our audience. This transition will determine market leadership for the rest of the decade, and we intend to win over consumers with world-class entertainment experiences. We have a saying at EA: 'Transition is our friend.' This is the time when we tighten our belts and position the company for future growth and success."
Investors looking for rapid growth need to look elsewhere than the game publishing giants like EA and Activision. These behemoths are so large that massive growth is unlikely. Instead, investors are likely looking for predictable, steady revenue and earnings; so far the response has been positive to this earnings call, with EA stock up nearly 8 percent in after-hours trading. Investors want to see EA avoid major clunkers and generate some more hits on mobile, in digital and other areas. EA's hoping that its current course will bring it to that place, with the right new CEO at the helm to guide the company through the inevitable surprises. At least, we know the Force will be with them.