EA removes new in-game ads from UFC 4 after player complaints
Publisher patched in promos that flashed on screen during action replays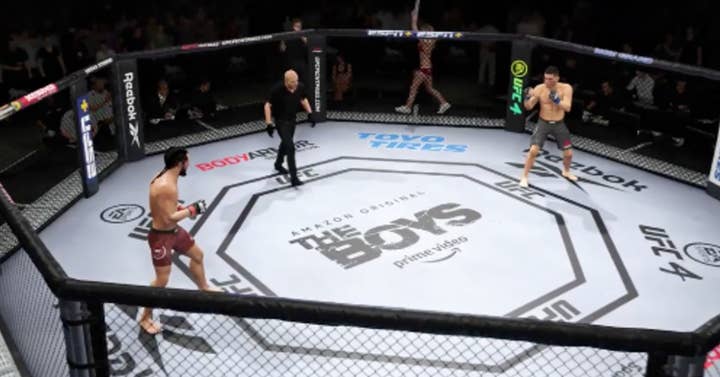 Electronic Arts has come under fire for adding more adverts into its latest fighting game after complaints that they interrupted gameplay sessions.
Three weeks after its release, EA Sports UFC 4 began displaying brief ads during action replays.
One particularly prominent example was shared by Reddit user Ydino, whose video shows an ad for Amazon Prime Video series The Boys flashing up on screen in the middle of a replay. The show's logo also appears on the floor of the octagon fighting ring.
The clip provoked complaints against EA -- including the accusation that these ads were patched in after the game's launch in order to prevent them affecting review scores.
Responding on Reddit, a member of the EA community management team under the handle 'CoreySA' confirmed that mid-replay ad placements had been activated but have now been removed.
He added this type of advertising was "not new to the UFC franchise" but admits that ads are typically reserved for main menu and octagon placements.
"It is abundantly clear from your feedback that integrating ads into the replay and overlay experience is not welcome," the statement continued. "The advertisements have been dsiabled by the team and we apologise for any disruption to gameplay that players may have experienced.
"We realise that this should have been communicated with players ahead of time and that's on us. We want to make sure our players have the best possible experience playing EA Sports UFC 4, so ad integration in the replay and overlay experience will not be reappearing in the future."
Later responding to user suggestions as to how this could have been better handled, CoreySA replied: "100% valid feedback and we should have been more clear about it ahead of time and our intentions. We've tried to listen and address the feedback as quickly as possible, but players were right to call this addition, and lack of an update on it, out."