EA covers all bases with big name conference at Gamescom
New Bioware title is only fresh IP for publisher in Cologne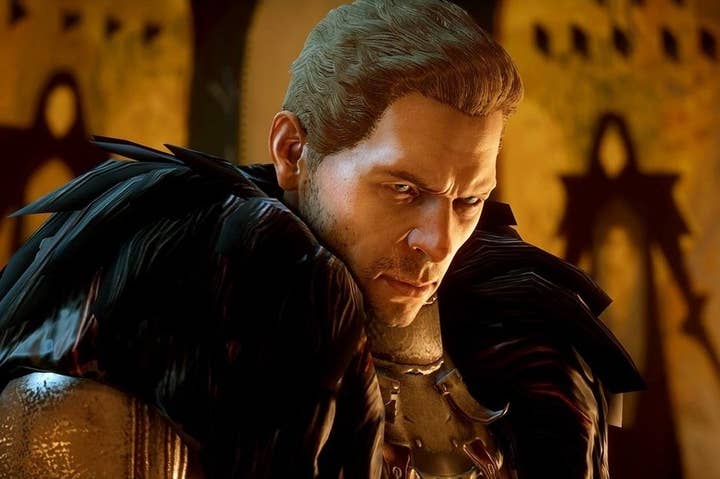 Electronic Arts has shown the breadth of its catalogue in a genre-spanning press conference at Gamescom, rolling out a collection of chart-topping IP which impressed, yet held few surprises.
Opening the show was Bioware's Aaryn Flynn, presenting fantasy epic Dragon Age: Inquisition, which he called the "biggest and most ambitious game we've ever built." The onstage demo showed the player character assaulting a ruined castle full of undead along with three companions, mixing up martial strength and the occult to storm the fort. Both tactical and action-based gameplay were demonstrated, with a boss fight rounding off the mission before another CG trailer.
Abbie Heppe was next on stage, listing off some new features for Respawn's Titanfall. New map packs, mechanics, burn cards, modes and the Black Market are all on their way to the mech-based shooter, which surely has at least one unblinking mechanical eye on the approaching silhouette of Destiny.
NHL was given a decent slot, with EA well aware of hockey's popularity in many European territories. This will be the 24th instalment of EA's take on this frankly bewildering sport, so I'm assuming others are better informed about its rules than I am. It certainly looks impressive, with a new stick-control system as well as the all-important fight mode.
Becoming the meat in a sports sandwich was Maxis' Sims 4, which recently disappointed fans with the omission of both swimming pools and toddlers. Peter Moore trotted out to play a live demo of the title, using his dance skills to encourage a pancake-obsessed sim into social interaction as his wife played virtual reality Tetris. Mr Moore was later eaten by a large carnivorous plant dressed as a cow, so maybe fans will forgive the lack of children and pool parties. The create-a-sim demo for the Sims 4 is live now.
FIFA quickly reinstated the locker room atmosphere, with FIFA World taking the warm-up slot before the hugely successful annualised FIFA was introduced by Dave Rutter to strut its glossy stuff. This year, focus is on the improved goalkeeping system, turning the spotlight on the man between the sticks.
The Old Republic, a game which never quite fulfilled the hype it was inevitably shouldered with, is still getting attention. New DLC is on the way to the free-to-play MMO, along with a few other polishes. Could we see a reboot on the horizon as JJ Abrams' new films take gradual shape?
MOBA Dawngate then took its turn, with a beta sign up now open as EA looks to try and nose its way into an incredibly popular and lucrative genre. Nonetheless, with uninspiring character designs and only a thin veneer of charm, Dawngate has a long way to go if it wants to establish itself as a player in a hotly contested space.
Bioware returned to the stage following Dawngate's beta announcement, announcing the first and only new IP of the morning's conference: Shadow Realms. Jeff Hickman, Bioware's head of online, spoke of "dynamic, co-operative 4 vs 1 gameplay," whilst a trailer of mystical warriors fighting magical beasts in a modern city setting played in the background. The game will be episodic, "playing out over time like a great TV series," and will hit PC late next year. Alpha sign ups are live now.
Finally, EA closed the show with yet another household name, DICE's Battlefield series. After a successful beta phase following the game's E3 announcement, the importance of which Patrick Soderland made much of, DICE was ready to show off the game's single-player campaign. In the brief demo, main character Nick Mendoza and his sidekick Boomer were captured by a larger-than-life right wing survivalist, having to escape their captor's compound with a mixture of stealth, gunplay and gadgetry which marked a very different pace to Battlefield's usual full-scale warfare branding.
Today's schedule marked the last of the main press conferences, but also the opening of Gamescom proper. Expect more news from the show as it continues.