Cuphead dev: "We didn't go from zero to hero"
StudioMDHR talks about its challenges and rise to success with the ID@Xbox title during a MIGS 2017 keynote
It's been a big year for StudioMDHR. The Canadian developer finally launched its first game, the vintage cartoon-inspired 2D action platformer Cuphead, after years of anticipation and remortgaging their homes.
The gamble appears to have paid off, as Cuphead drew rave reviews and topped 1 million sales in its first month. The family at the heart of StudioMDHR--Chad, Jared, and Maja Moldenhauer--reflected on the busy year, and the long stretch leading up to it, in a 'fireside chat' keynote session at MIGS 2017 today.
"The commercial success really just means we get to keep making games for hopefully as long as we live, and that is the best part of it," Chad said.
If they can do that, it will be a far cry from their previous careers. A few years ago, Jared was working in construction at their father's business, squirrelling away money with the idea of some day making a game. Maja stressed they were "just a couple of dorks in our basement trying to make a game," not going to conferences or engaging in the local dev scene. She'd been working on software for TD Bank, and it was while on maternity leave that she had decided she wanted to go full-time on dev. Chad had also been in construction at one time, but left in the early 2000s to start his own web design firm, where he'd been working until they opted to fully pursue the game development dream.
"I think it's really important not to romance things. We didn't go from zero to hero. We did things in chunks"
Talking about the game's art style, it came partly from necessity, and partly from inspiration. Chad was not a trained animator, but decided to mock up a game using the vintage cartoon characters the siblings were familiar with from their childhood collection of VHS cartoon compilations because it was something he felt he could handle. He tried a number of different styles afterward, but kept gravitating back to the mock up they had using old Popeye and Mickey Mouse characters. Obviously without the ability to use those characters, they opted to embrace the style, but with original characters.
"It was much easier when we started, because we had a massive dream scope which is 99% of what you see today," Chad said.
In the interest of getting the game done in their spare time, they originally scoped the game back to just a handful of boss fights. The team could have gone through with the game like that, but once Microsoft picked up the game and showed it at E3 2014, the response gave them the confidence to get more serious about it. By 2015, they remortgaged their homes and were all in on the game.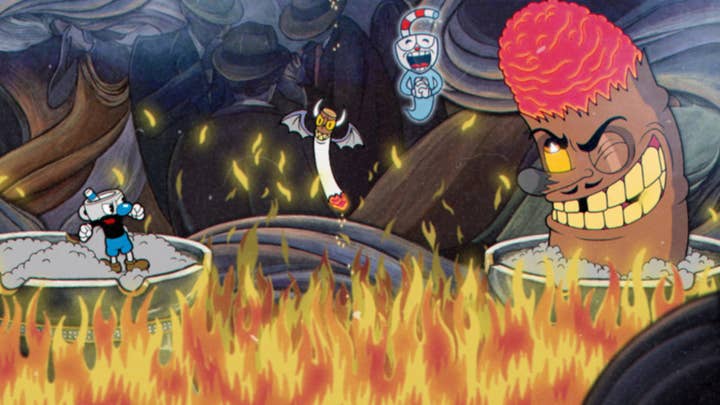 Maja hadn't been involved at first, but saw that the brothers needed a producer with business acumen. Having worked in downtown Toronto, she said she had seen everyone in the financial district marching to the same beat, heads down, never taking risks or standing out. If her brothers were eager to do something different, go out on a limb and take a risk like jumping into game development, she felt compelled to support them in that effort. That said, she emphasized that it wasn't a reckless jump into the unknown.
"I think it's really important not to romance things," Maja said. "We didn't go from zero to hero. We did things in chunks."
Much has been made of the difficulty in Cuphead, but Jared said the concern over that has been a bit overblown.
"This game would have been proper cruel if you had three men and three continues," Jared said. "But we wanted to bring that feeling back. I wasn't certain we were going to make games in the future, so if I'm only going to make one, I wanted it to be in the way of the games that I love and I was raised on."
Ultimately, Jared said Cuphead is probably about as hard as Super Mario Bros., which simply isn't the standard for today's games. That said, he doesn't think it's limiting to a fanbase or a player, and doesn't think every game needs to be beatable for someone to enjoy it.
On the marketing side of things, Maja said they didn't have any kind of marketing plan or strategy.
"Disney called early on, but it wasn't for any crazy reasons, reaching out, touching base. Maybe in the future there's some project we might be able to work on"
"I can't even sugarcoat it, really, aside from some social posts and trying to [leverage] some major beats during the years at conferences" Maja said. "But this is where Microsoft was instrumental for us."
They had considered hiring a PR firm, but quickly realized that it would have been way out of their budget. When they confessed to Microsoft that they had no such support, Maja said the platform holder was ecstatic, but not for any sort of nefarious reasons of leverage.
"I think they just didn't realize how desperate we were," Maja said. "There's no percentage or ownership in the company or anything like that. I think it was just to grow that ID@Xbox brand."
Since launch, the Moldenhauers said they've been overwhelmed by the response from fans, whether it's fan art or fully voiced animations. (Chad particularly enjoyed a Dark Souls-Cuphead crossover video). In fact, the game's fandom began long before it ever launched.
"I think we've seen eight tattoos, but the most wild one was after E3 2014, somebody asked if we could send a picture of something in the game," Chad said, adding, "Two weeks later, he sent us a picture of his tattoo. Before anyone had even played the game or knew that it was a game. But we just thought if someone's crazy enough to get a tattoo at this stage, we'll just let them do it."
For the most part, the Moldenhauers have been thrilled with the fan art, and said they weren't about to take a super-protective Disney-style approach to cracking down on how fans use their intellectual property. However, it's possible Disney's reputation may be slightly overblown on the subject, at least according to Chad's experience.
"Disney called early on, but it wasn't for any crazy reasons, reaching out, touching base," Chad said. "Maybe in the future there's some project we might be able to work on."
Disclosure: MIGS has a media partnership with GamesIndustry.biz, and is paying for our travel and accommodation during the event.