Could Microsoft sell off the Xbox?
And if it makes sense for Microsoft, is Amazon in the market to buy?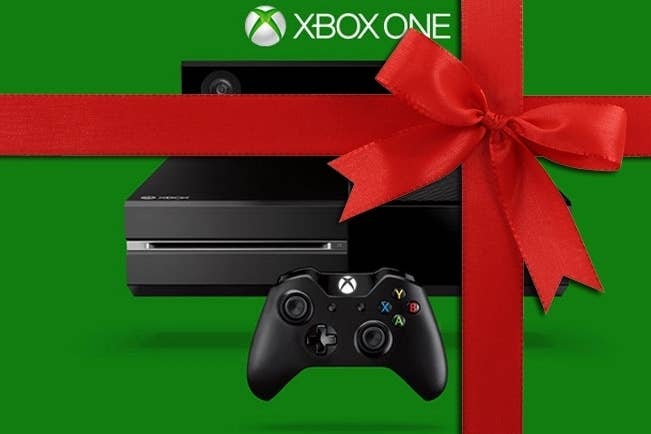 It is, for the moment, just a conspiracy theory, and it goes something like this: Microsoft wants to get out of the games console business. It's planning to package up the Xbox part of the Devices & Studios division and separate it off from the rest of the company, so it can be sold as a going concern. Who's buying? Amazon, which views acquiring Xbox as a step towards dominance of the living room. If there's anything to this theory at all, the coming year or two could see the end of Microsoft Xbox and a warm welcome for Amazon Xbox.
Let's lay all the cards on the table. The evidence is sketchy and circumstantial. We know that Microsoft is looking at some pretty major strategic changes in the wake of the appointment of new CEO Satya Nadella. Nadella's focus throughout his career has been on the business end of Microsoft - servers, cloud services and enterprise tools - which remains in robust health compared to the troubled state of the firm's consumer divisions. Choosing him as CEO could suggest that the company is aiming for a future focused on enterprise tools and platforms, not consumer products.
Then there's the man who wasn't chosen as CEO, Stephen Elop. Elop used to work at Microsoft, then became CEO of Nokia. Now that Nokia is selling its mobile phone division to Microsoft, Elop is back where he started. Moreover, he saw himself as a strong candidate for the CEO job when Steve Ballmer resigned. With Nadella in the CEO's chair, Elop's consolation prize is that he's taking over as head of Devices & Studios. That's a logical choice, since Devices & Studios will include Nokia under its umbrella, at least to some extent, so Elop will continue running his old Nokia team alongside the Xbox and Surface teams at Microsoft.
Given that, it would perhaps be more surprising if Elop wasn't put in charge of Devices & Studios. His presence ought to ease the transition as Nokia is absorbed into Microsoft, a major acquisition that's likely to cause some indigestion along the way. However, during the CEO selection process, while Elop was still in the running, Bloomberg reported that he had some very interesting plans for the company if he was running it. The reported plans included, notably, a willingness to sell off business units Elop viewed as distractions from Microsoft's main goals - business units including the Bing search engine and the Xbox. As logical as his new job at Devices & Studios may seem, you can't blame people for raising an eyebrow when a man who supposedly wanted to sell off the Xbox division is put in charge of the Xbox division.
"given the plethora of Android consoles currently underwhelming the market and failing to gain a foothold, it's not unreasonable to suggest that Amazon would want to make a much bolder move into the console space"
It takes two to tango, so how about the Amazon side of the deal? Well, whispers of Amazon's keen interest in the games market have flown around for months now, including rumours that the company has discreetly hired a number of veterans from the games industry while keeping their involvement quiet - for now. Last month, Amazon bought games studio Double Helix, fresh from working closely with Microsoft to prepare Killer Instinct as a launch title for Xbox One. Something is afoot. Occam's Razor suggests a "Kindle" console, an Ouya-style box under the TV linked to Amazon's digital content platform, but given the plethora of Android consoles currently underwhelming the market and failing to gain a foothold, it's not unreasonable to suggest that Amazon would want to make a much bolder move into the console space. Plus, Amazon certainly isn't scared of making big acquisitions when it wants to open up a new market opportunity for itself - it's hard to conceive of a cash value for Xbox, not least given how obfuscated the financials of the console business are, but I don't doubt that Amazon could afford it if it really wanted to.
That's it - that's the conspiracy theory. I don't deny for a second that the evidence, if you can call it that, is pretty thin. Microsoft is probably going to refocus on enterprise; a guy who wanted to sell Xbox is the new boss of that division, but he's also the most logical choice for the job. Amazon is setting itself up for a big move into the games space and may (or may not) have hired some senior games people on the down-low. That's the sum total of the evidence, and we should all bear that in mind. Even this article exists not to promote this theory, which I view as interesting but unsupported by the available information, but rather to evaluate, hypothetically, whether there is any real possibility of an Xbox spin-off and sale. In short, there's no real evidence that Microsoft is going to do this thing, but it's an interesting academic exercise to evaluate whether they could do it if they wanted, and whether a motivation to do so might exist.
So how hard, in theory, would it be to spin off and sell Xbox? The answer to that depends on what exactly Microsoft is proposing to sell. Xbox, as mentioned earlier, is part of the Devices & Studios division, which also houses Surface and will shortly be joined by Nokia. Some other odd things are rolled into this division, apparently. It was claimed last year that the patents which force Android device makers to cough up a fee to Microsoft for every handset they sell are held, for financial purposes, in Devices & Studios, thus accounting for a big chunk of the division's revenue.
"it's plausible that Microsoft could sell the entire Devices & Studios operation, thus putting itself out of the hardware business entirely"
If Microsoft's new management had come to view Xbox as a distraction that doesn't fit with their new enterprise focus, one might reasonably ask if they'll take the same view of Surface. That product which hasn't performed well and has reportedly soured relationships between Microsoft and other hardware vendors, who aren't terribly happy with the company from whom they license the Windows operating system suddenly being in direct competition with them. The company wouldn't be happy about losing the patents related to Android, not least since Windows and Windows Phone presumably use the technology described by those patents as well, so that probably wouldn't be included in any sale, but aside from that it's plausible that Microsoft could sell the entire Devices & Studios operation, thus putting itself out of the hardware business entirely.
Alternatively, Microsoft could decide to hold on to Surface and simply divest itself of Xbox and the various Microsoft Game Studios operations. Surface would then be joined by Nokia in the much-reduced Devices division (no more studios!), which would be entirely focused on tablets and smartphones without the "distraction" of games. Such a disentanglement wouldn't be terribly difficult, either. Xbox is actually fairly well divorced from the rest of Microsoft's operations. Its operating system shares a visual language with the "Metro" interface of Windows 8 and Windows Phone, while various game-related elements of Microsoft's other operating systems have also been given the "Xbox" and "Live" monikers. Bing, of course, runs on the Xbox dashboard. By and large, though, the technology and services which drive Xbox are divorced from the rest of Microsoft - although it's worth noting that the much-vaunted Cloud functionality of Xbox One relies in part on Azure, Microsoft's cloud services platform. Any buyout of Xbox would include various contracts ensuring that any Microsoft technologies or services upon which the console relies would continue to be provided to the new owner, so this would not be a major stumbling block.
A bigger question might be, would Microsoft even want to do this? That really depends how seriously you take the idea of "distraction". Xbox One has had its thunder stolen by PS4, but is still selling well - and Xbox 360 was a major success. In fact, it's the only success Microsoft has ever had in the consumer hardware space. Xbox proved Microsoft's ability to create a great consumer brand and sell hardware to people. It's a real bright spot in a few tough years for the company - especially compared to everything else it has attempted in the consumer space, from Zune and Surface to its latest operating system, Windows 8.
Why would you get rid of that? Well, you probably wouldn't - but let's brainstorm a motive. You could argue that Xbox is a bright spot that doesn't have any real relevance to the rest of the company. Microsoft in the early 2000s wanted to reinvent itself as a consumer-facing company, but with Xbox being the only success in a small sea of failures, Satya Nadella is likely to try to bring the firm back to focusing on the enterprise market. As the oil tanker slowly turns around to head into more corporate seas, Xbox will be more and more at odds with the culture and mission of the rest of the company. It will arguably be a distraction both internally, where it won't fit with Microsoft's culture, and externally, where it will detract from a brand message that promotes Microsoft as a serious, corporate, business-focused partner for enterprise (as distinct from the more consumer-led branding of rivals Apple and Google). Selling off Xbox would generate cash (not that Microsoft needs it), streamline the company and start the new CEO's tenure with a dramatic gesture that sets out his vision more clearly than any speech or press release.
"Plenty of pundits seem to expect that PS4 and XB1 will be the last generation of consoles. Would a company as smart as Amazon get sucked into a market that's about to collapse?"
In short, Microsoft could do this and, if we assume that upper management take the notion of "distraction" seriously and are genuinely willing to abandon the firm's ambitions in the consumer devices space, there's a motive for doing it. How about Amazon's side of the table? This deal would cost billions; would Amazon stand to gain enough to justify that kind of outlay? After all, aren't consoles a dying space? Plenty of pundits seem to expect that PS4 and XB1 will be the last generation of consoles. Would a company as smart as Amazon get sucked into a market that's about to collapse?
Amazon, like Microsoft a decade ago, has major ambitions in the consumer devices space. The company built itself on the back of selling physical goods but has neatly sidestepped the so-called "innovator's dilemma" by being more than willing to disrupt its own business. The world's biggest seller of physical books became the world's biggest promoter of ebook readers. Music downloads, streaming video, cloud services; Amazon has taken an active and enthusiastic interest in every field that might disrupt its existing businesses, seeking not to shut down threats but to be the biggest player in whatever comes next. It supplemented the Kindle e-reader with Kindle tablet devices whose market performance is largely unknown, but is thought by analysts to be one of the only genuine competitors to the iPad's sales dominance. Anyone who owns a Kindle device knows that they are designed from the ground up to be a great interface to accessing and buying content from Amazon's ecosystem. That's Amazon's play; own the media ecosystem, building the devices themselves if that's what it takes.
That ambition is a pretty solid fit for the console business. Moreover, it can't have escaped Amazon's notice that Steam, PlayStation Network and Xbox Live together make up a big area of digital content provision in which it has no involvement right now. Amazon will also be paying careful attention to the interest around set-top boxes (like AppleTV and Google's TV efforts) and Smart TVs. Here there's huge potential for consumers to be accessing media ecosystems directly from their TVs and connected devices - again, a game in which Amazon has no skin. For Amazon, the ideal would be that when you want to watch or play something on your TV, you do so through Kindle interface that links right into Amazon's digital library, just like the Kindle tablets work. Of course, an Android microconsole would achieve that goal, but it wouldn't be of much interest to gamers - at best, it would capture a fringe of the market who engage with Kindle tablets.
Is appealing to gamers important? This comes back to the question of whether consoles are really dying - and honestly, who knows better about that question than Amazon? Amazon is the largest retailer in many countries. Not only does it see how many consoles and console games are sold, it also sees loads of connected information which is hidden from even game publishers. It knows how high-spending gamers are in other areas - whether they're likely to buy a lot of gadgets, a lot of books, a lot of movies or albums. It knows how much they engage with the brands they love, whether they cross-promote to friends resulting in more sales, whether they leave reviews and promote products on social media. Amazon can make an estimation of the actual value of the core gamer market more accurately than any other company.
What is that estimate looking like? I don't know, of course, but Amazon's actions in the coming months are going to tell us a lot about it. Regardless of whether the Xbox conspiracy theory pans out, Amazon is going to make some kind of game-related move relatively soon. It will be interesting to see how much importance and focus the company places on the games space at that time.
Until we see more evidence, though, it's impossible to construct a fully credible argument which places the future of Xbox anywhere but Microsoft. There's simply not enough information out there to support that kind of conclusion. That said, there is a possible motive to sell on the part of Microsoft, and a possible motive to buy for Amazon. If I had to pin my colours to a mast on this, I'd say Microsoft is probably discussing a sale with interested parties, including Amazon, but hasn't made a final decision on whether to start sale proceedings as yet. I also wouldn't read too much into that, given that it's the responsibility of management to consider such possibilities as part of their duty to the shareholders. Then again, under Microsoft's new management, perhaps such things are being considered rather more seriously than before.