Check out the GI Live: Best Places To Work Awards 2020 line-up
Talks on diversity, coronavirus and management, as well as the ceremony itself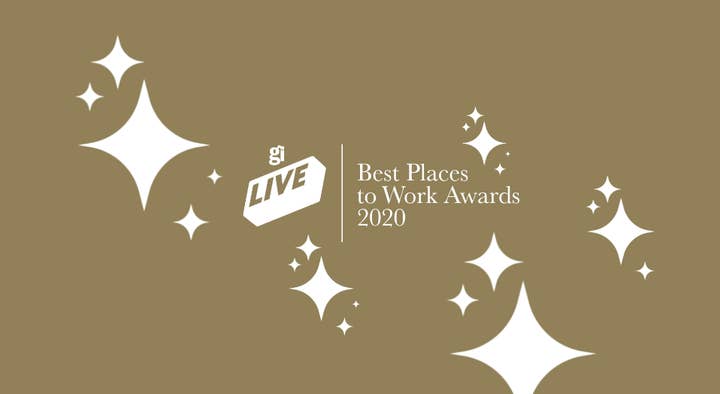 The Best Places To Work Awards 2020 returns on Friday, with a full afternoon of talks before our winners ceremony.
We have talks on the role education can play in transforming industry diversity, a detailed panel to come up with practical steps on improving equality and inclusion, plus an extensive look at how coronavirus may change the workplace for the games industry in the future.
We also have a 60-minute interview with Siobhan Reddy, the studio director of Media Molecule and 2019's Best Boss winner.
Then at 4pm, we enter awards territory. To start, we will reveal the recipient of the Putting G Into Gaming Award, a special award for an individual who has done wonderful work to improve the diversity of the business.
And that's all before our full awards ceremony, where we will reveal the 15 Best Places To Work, plus the winners of our nine special trophies.
The whole event is completely free to watch. Simply sign-up through here for your free ticket. A ticket will also give you access to that week's Games Industry Gathering, a casual networking Zoom event that features games industry professionals from around the world.
The event is presented by recruitment specialist Amiqus. The awards ceremony itself is also sponsored by awards partner Playground Games.
After the awards have finished, attendees will receive a free pass to the Games Industry Gathering. A series of special networking events that we have been running throughout the GI Live season.
"It's been incredibly difficult to connect with our peers during the pandemic, but the Games Industry Gathering has been unexpectedly successful at it," says GIG founder Guy Blomberg.
Partnering with the esteemed GamesIndustry.biz LIVE events and providing an environment where event attendees and speakers can socialize with each other as well as the broader global games industry just makes sense, and I'm excited to see people mingle once again - albeit in a virtual setting!"
Here is the full line-up for Friday, September 18th:
12pm (UK): Supporting games industry diversity through education - Shahneila Saeed, Ukie/Digital Schoolhouse
The programme director of Digital Schoolhouse discusses the things the industry can do with education that can transform the talent pipeline for game makers in the UK.
1pm: #RaiseTheGame - Practical steps for improving equality, diversity and inclusion across the games industry - Host: Dr Jo Twist (Ukie), Panel: Liz Prince (Amiqus), Cinzia Musio (Splash Damage), Nida Ahmad (Netspeak Games/POC In Play), Suneet Sharma (Sega Europe/Out Making Games)
UKIE's Dr Jo Twist leads a panel of experts to discuss how games companies can achieve meaningful cultural and behavioural change, whatever the size of the business.
2pm: How might the pandemic change how we work - Host: Matthew Handrahan (GamesIndustry.biz) Panel: Emma Thompson (Unit 2 Games), Kate Lindsay (Splash Damage), David Bowman (Creative Assembly)
Overnight, the games industry has learnt to work from home. And most of the participants in the Best Places To Work Awards say that they'll adopt a hybrid model where more staff can work from home. What will this mean for game development? We ask our panel of experts.
3pm: Secrets from the Best Boss: Fireside chat with Media Molecule's Siobhan Reddy - Siobhan Reddy (Media Molecule), Christopher Dring (GamesIndustry.biz)
Media Molecule studio director Siobhan Reddy answers questions about her career, her inspiration and management style, which saw her win last year's UK Best Boss Award.
4pm: The Putting The G Into Gaming Award
Liz Prince, founder of Putting The G Into Gaming and business manager of Amiqus, reveals the winner of this year's special women in games award.
4:30pm: The Best Places To Work Awards 2020
The ceremony itself! Find out who are 2020's best UK games companies to work for.
The Best Places To Work Awards 2020 is the concluding part of our GI Live series of events, which began with State of Games at the end of July, a data event on the state of the video games industry (you can watch the talks back here). Then we ran a show on the cross-over between TV, games, film and books called Changing Channels in mid-August, and again the conference is free to view via here.
And then there's our latest GamesIndustry.biz Investment Summit, which is running right now and you can see the latest talks through here.