Can Zynga be saved?
Swapping Mattrick for Pincus is just executive musical chairs; Zynga is still in serious trouble if it can't find a bona fide mobile hit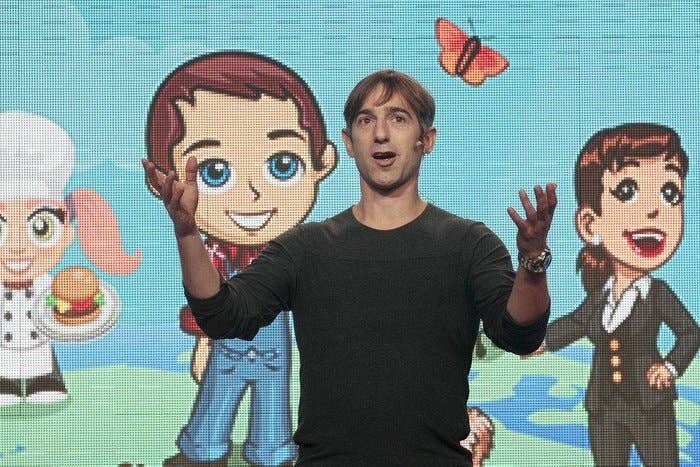 After less than two years at the helm of Zynga, Don Mattrick is on the move again. He's picking up the best part of $20 million on his way out the revolving door, so don't feel too bad for him, but after his catastrophic mis-management of the Xbox One's development and launch, his failure to lift Zynga out of its post-IPO slump looks like yet another blot on the extremely expensive copybook of the former Microsoft executive.
There will be plenty of I-told-you-so's over this news, but in truth, it wasn't so predictable. Mattrick always looked like a better fit for Zynga than he was at Microsoft; the balls-up he made of the Xbox One could be attributed, if we're feeling charitable, to having sensibilities far more in-tune with a broad mass-market than with the core audience a launching console needs to please. As such, the social- and (latterly) mobile-focused Zynga should have been a more suitable challenge for him; and indeed, while the company's performance under his tenure hasn't exactly been good, or even mediocre, there have been some important bright spots, most notably the (clever) acquisition of mobile specialists NaturalMotion, and the (achingly slow, but getting there) transition away from browser-based games to mobile platforms.
"For a CEO to depart after a short and unfruitful period, only to be replaced instantly by the company founder whom they replaced in the role, strongly suggests that the company founder never actually took their fingers out of the pie"
That the company's performance in terms of finances and share price alike failed to pick up under Mattrick's tenure, though, is something easily presented as an outright failure; and after the mess he made at Microsoft, it would be straightforward to roll our eyes at the spectacle of yet another overpaid exec with bugger all knowledge about games being given an enormous sack full of $100 bills with which to break his falls after a gentle defenestration from his latest failure. That's not entirely an unfair characterisation, but not entirely fair either, I suspect, because no sooner was Mattrick out of the CEO's chair than Zynga founder and former CEO Mark Pincus had his backside back in the seat - and that, to me, sets off all sorts of alarm bells.
For a CEO to depart and to be instantly replaced is not entirely unusual, but it does raise some eyebrows; for a CEO to depart after a short and unfruitful period, only to be replaced instantly by the company founder whom they replaced in the role, strongly suggests that the company founder never actually took their fingers out of the pie. The reasons for Pincus leaving the CEO's role were pretty clear; he was broadly seen by investors as a millstone around the company's neck, his dictatorial nature, inflexibility and tendency to make stupid, inflammatory statements in public being pretty damaging to a firm struggling to recover from an overheated IPO. That he's been waiting in the wings for Mattrick to depart raises troubling questions over just who has actually been running Zynga for the past two years; it's not hard to imagine Mattrick finding his hands tied by the presence of a highly opinionated and influential founder who never actually wanted to let go of the reins in the first place, something which might explain a good deal about the tardy pace of Zynga's turnaround.
The markets, unsurprisingly, reacted to the news by dumping Zynga stock; the founder who was doing a miserable job of being CEO has stepped back up to replace the new guy who was also doing a poor (but better) job of being CEO? It's a net negative, not merely because for all his faults Mattrick was broadly considered a better CEO than Pincus, but because it suggests that the upper echelons of Zynga's management are in absolute disarray.
Still, though; even this latest dump of Zynga's stock is only going to bring the company back to depths it already plumbed back in February... and in December... oh, and last October, too. Zynga is bumping along the bottom, and has been since mid-2012, in share price terms. It looked like it might climb off the floor around the start of 2014, but since the middle of last year it's traded at around $3 and under; frankly, the depths to which it can fall off the back of this executive-revolving-door farce are severely limited by the fact that it's already at rock bottom. That's because Zynga's real problems, although they may well start from its dysfunctional management, are much more deeply rooted. The company hasn't had a hit in years - even more problematically, it has never had a bona fide, honest to god hit on a mobile platform. It bought some smaller developers with mobile hits, and then failed to grow or develop them (in some embarrassing cases, they flopped almost immediately after being purchased). FarmVille, a game franchise whose existence you had entirely forgotten until I just mentioned its name at the start of this sentence, remains the jewel in Zynga's crown. The "Games" section on Zynga's website reads embarrassingly like a blow-by-blow account of games everyone seemed to be into for a few months, years ago.
"The fate of a company is a big thing to rest on one development team, no matter how talented"
There might - might - be light at the end of the tunnel. It would be easy to dismiss Zynga's new Great Hope, the action strategy title Dawn of Titans, as absolute folly; the "Clash of Clans" market, so utterly saturated that top games in the category have ended up spending millions on Superbowl commercials to try and soak up the last remaining dregs of the market, is a horrible place to be launching a new product. Dawn of Titans, though, is just branded and presented a little like Clash of Clans; the game itself looks quite different, and most of all, it's from the genuinely brilliant NaturalMotion. If I were to pick the most likely source of a Zynga renewal, it would be NaturalMotion; one can only hope that, in a similar manner to the Activision / Blizard relationship, Zynga's management has the good sense to let NaturalMotion do their jobs and keep their paws off to the greatest extent possible.
Still; the fate of a company is a big thing to rest on one development team, no matter how talented. What Zynga needs is a hit, undoubtedly. What it really, really needs is hits - plural. Once upon a time, there was a formula for social gaming success, based on just the right balance of compelling game design (yes, Farmville really was compelling in its own way), pulling the right social levers, monetising intelligently and with a light touch, and spreading through some fairly nakedly unpleasant viral approaches on Facebook. Mark Pincus got that formula down perfectly; that is, thus far, the only thing that Zynga has ever executed perfectly. That formula, of course, is part of the history books now; it doesn't work any more and never will again.
The new formula that Zynga needs to discover is actually a much trickier one, one which game companies have struggled with for decades; the formula for making great games people actually want to play and actually want to recommend to their friends. The CEO who could potentially turn Zynga into a company where that happens would have to create an environment of intense creativity and freedom, utilising the short development cycles, rapid prototyping and start-up style Minimum Viable Product soft-launching strategies enabled by mobile platforms to let creators exercise their imaginations and try many different ideas in search of the hits; a CEO who truly valued creativity and understood how to let it thrive. Mark Pincus wasn't that CEO first time around. He's going to have to work hard to prove that Pincus 2.0 is any better.