Bungie speaks up | This Week in Business
With Roe v. Wade under the axe, the Destiny developer takes a stand for its employees' rights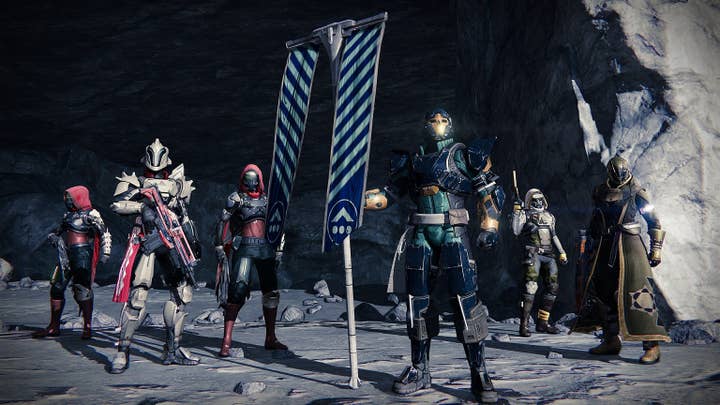 Historically speaking, the games industry hates politics.
It didn't even bother to establish a US trade group until the end of the 16-bit era, and even then, it had to be compelled into establishing one by Congressional hearings because major players like Nintendo and Sega were too busy trading petty barbs to worry about presenting a united front to save the industry from heavy-handed regulation.
And as much as game companies have always loved a good "ripped from today's headlines" marketing hook, they have usually loved disavowing any kind of political meaning or message just a little bit more.
But things are changing over time.
Bungie this week published a blog post expressing its dismay over a leaked US Supreme Court draft decision that would overturn Roe v. Wade, the 1973 ruling protecting a woman's right to an abortion in the country.
QUOTE | "At Bungie we believe that everyone has a right to choose their own path and that freedom is expressed across all facets of life. The leaked draft decision by the U.S. Supreme Court to overturn Roe v. Wade represents a blow to freedom in America and is a direct attack on human rights." - Bungie, in its blog post.
The interesting thing here is that this was a proactive statement on a hot-button political issue. (Although maybe not as hot a button as it used to be; an ABC News/Washington Post poll found Americans want the court to uphold Roe v. Wade 54% to 28%, while 70% believe the decision to abort should be left to the woman and her doctor compared to just 24% who believe it should be determined by the law.)
When the draft leaked, I don't know if anyone in the press' first thought was to fire off an email to Bungie's PR representatives for comment. But the people at Bungie felt compelled to volunteer a statement about a political third-rail issue. They also explained why in the statement.
QUOTE | "Bungie is committed to safeguarding the freedom and privacy of its employees and providing support to all employees affected by this decision."
The cynical could look at this as a studio recently accused of sexism trying to reform its image and make itself more appealing to women candidates in a competitive job market. But even if you question the motives, the argument Bungie is making is a solid one.
The overturning of Roe v. Wade would be bad for the freedom and privacy of women in the US, but it by no means stops there. In the draft decision, Justice Samuel Alito criticized other previous Supreme Court rulings involving:
The right to marry a person of a different race
The right to marry while in prison
The right to obtain contraceptives
The right to reside with relatives
The right to make decisions about the education of one's children
The right not to be sterilized without consent
The right to engage in private, consensual sexual acts
The right to marry a person of the same sex
QUOTE | "These attempts to justify abortion through appeals to a broader right to autonomy and to define one's 'concept of existence' prove too much. Those criteria, at a high level of generality, could license fundamental rights to illicit drug use, prostitution, and the like. None of these rights has any claim to being deeply rooted in history." - Justice Alito, in his draft decision.
While Alito specifically says Roe v. Wade has a moral component those other rulings were lacking because they involve something that could possibly become a baby, his decision is still opening up an avenue to attack and overturn all those rights. And today's Republican Party will absolutely take advantage of that.
QUOTE | "When you want that diversity to shine within our federal system, there are going to be rules, and proceedings, that are going to be out of sync with maybe what other states would do. That's the beauty of the system." - Republican Senator Mike Braun of Indiana in March, invoking diversity when saying that states should be able to ban interracial marriage.
QUOTE | "I think we will resurrect that case and challenge this issue again, because the expenses are extraordinary and the times are different than when Plyler versus Doe was issued many decades ago." - Texas Governor Greg Abbott, in the wake of the Supreme Court's Roe decision leaking, saying the state will likely challenge a 1982 ruling requiring states to offer free public education to all children, including those of undocumented immigrants.
And we don't have the time or space to detail all the state-level efforts to disenfranchise minority voters or hurt trans children.
The destruction of reproductive rights, the return to segregation, the dehumanization of LGBTQ people, and the undermining of any kind of universal public good are bad for everyone not directly making the calls on who gets rights today and who doesn't. Bungie employees are a subset of that group, as is essentially everyone in the US games industry, and the country for that matter.
And even if Bungie is headquartered in a consistently blue state in Washington, its new remote work policy means employees may be living in Florida, Texas, and other red states most likely to roll back any and all civil rights gains of the past 70 years. (To say nothing of the federal scenarios in which Republicans regain the White House and Congress to accompany the current Supreme Court.)
It also hurts the company's efforts to attract top talent in a seller's market. There's a lot of development talent outside the US, but how many of them are going to have second thoughts about taking a job in a foreign country that not only seems to be increasingly xenophobic, but is racing backwards on questions about the basic humanity of women and minorities?
As real as the pragmatic concerns are, they aren't the real reason to speak up here. Bungie is right to take a stand on this because these issues are far too important to treat as open to debate, because the ongoing right-wing attack on civil rights needs to be undone before it goes any further, and because what happens in the US rarely stays confined to the US.
Hinterland, the Canadian studio behind The Long Dark, said as much in following Bungie's lead.
QUOTE | "This is a direct attack on women's rights, the rights of people who can become pregnant, and is yet one more step in the general erosion of human rights we see sweeping across the conservative US and Canada." - Hinterland, in its own statement.
ArenaNet was next to weigh in on the issue.
QUOTE | "Your body. Your right." - ArenaNet's Twitter account on Thursday night.
Each of these statements was met with applause, but also recrimination, as Twitter replies bemoaned the companies taking sides, increasing discord and polarization, or getting involved in politics.
I'm sure these companies would love nothing more than to just keep their heads down and make games. After all, games are not a place where political statements are typically expected, or often welcomed. But the people behind these statements see what's happening and realize this is not business as usual. Offering an escape from the real world is a significant part of their business, but they recognize there are things we can't -- or at least shouldn't -- try to shut out, things that have to be dealt with head on. Even the ringmasters know we need more than bread and circuses.
You might suggest that a more appropriate course of action for these people would be to vote, in which case I would first point to years of Republican voter suppression efforts and the insurrection at the US Capitol in which Republican leaders egged on a mob to overturn election results. But even in the absence of those, I would point to a system where Democrats have won the popular vote seven of the last eight presidential elections, but Democratic presidents have only appointed three of the nine justices currently on the Supreme Court.
Clearly, voting is not an answer in and of itself, and other avenues must also be pursued. So I applaud those individuals at Bungie, Hinterland, and ArenaNet trying to pursue those avenues and applying their values toward the slice of the world over which they have influence. I hope to see more people throughout this industry doing the same.
The games industry has spent years telling women and marginalized people that there are places for them in gaming, and that they will be welcomed and cared for here. Now would be a good time to show it.
The rest of the week in review
QUOTE | "We won't be commenting on confidential personnel issues, especially complaints made by anonymous individuals who feel they were misclassified in their employment status." - A TSM and Blitz spokesperson responds to The Washington Post's reporting on co-founder Andy Dinh being called an abusive bully and legal experts who think their contractors should probably be full-timers under California law.
QUOTE | "The Board believes that, rather than diverting energy and resources toward creating yet another report, we should continue to directly respond to employee concerns. Focusing all our attention on these concerns is the best way quickly and effectively to create genuine change in our workplace." -Activision Blizzard responds to an investor proposal that it tally up all the sexual harassment claims and settlements it deals with each year.
I have to say, Activision Blizzard saying it shouldn't report on how many sexual harassment incidents it has to deal with each year because that sounds like a lot of work doesn't instill give me much faith in their whole "Trying to not be a dirtbag company" push.
QUOTE | "Given Kotick's personal responsibility and liability for Activision's broken workplace, it should have been clear to the Board that he was unfit to negotiate a sale of the Company." - A complaint filed by the New York City Employees' Retirement System, which owns shares in Activision Blizzard and is accusing Bobby Kotick of rushing the sale and accepting a lower bid than the company was worth because he wanted to escape consequences for the publisher's scandals.
QUOTE | "We are extremely, extremely, extremely effective in ensuring that our community has their voice, from all marginalized identities and perspectives. We have so many different diversity initiatives within the organization itself." - IGDA interim head Jakin Vela is perhaps too eager to hang the "mission accomplished" banner on the association's redemption arc after our February investigation into its mishandling of harassment and misconduct reports.
After all, one of those diversity initiatives Vela referred to was the Next Gen Leaders program for developers from underrepresented backgrounds, which honored Jennifer Scheurle in 2019, the year after a group of people first reported problems with her conduct to IGDA leadership. The IGDA also had a zero tolerance policy in place at the time, but it still ignored those reports -- and subsequent formal complaints in 2019 and 2020 -- until people went public with accusations against Scheurle in September 2021 and she voluntarily resigned. But hey, I extremely, extremely, extremely trust that the IGDA has its act sorted now.
STAT | $300 million - The amount Embracer Group is paying for Crystal Dynamics, Eidos Montreal, Square Enix Montreal, and a bunch of valuable IP like Tomb Raider, Deus Ex, Thief, Legacy of Kain, and their related back catalog titles.
STAT | $1.3 billion - The amount Embracer Group paid for Gearbox Entertainment last year. Granted, only $363 million of that was guaranteed and the rest is contingent on performance and it was nearly half paid for with Embracer shares instead of cash, but $300 million for Square Enix's assortment of Western studios and IP seems laughably low, particularly in the current rush of consolidation at sky-high valuations.
QUOTE | "With Square Enix offloading a chunk of its operations to Embracer Group, it seems the existential crisis Japanese publishers had about whether there was an international audience for Japanese-developed games has well and truly passed." - My assessment of the deal and how it plays into a larger trend in the Japanese game industry over the past 15 or so years.
STAT | $3 billion - Lifetime worldwide consumer spending on Genshin Impact across Google Play and the App Store, according to Sensor Tower.
QUOTE | "We loved working there, we were just being so exploited. We didn't really realize it until we left...At Nintendo I did it out of passion and a love of the product, and they know that there's a line out the door of people who will do exactly that for dog food. And that's the sad part. They know that if you complain and you don't want to be there, they can let you go and hire the next Jenn. And that's what frustrated me in the end. I didn't know I was on death planet until I left death planet." - A former Nintendo contractor named Jenn, talking with IGN about how the company exploits the passion of its fanbase to cheap out on paying people.
QUOTE | "I've read the same stories, this division between contract and full-time employee. All I can say is that is not at all the culture that I left as I retired from Nintendo." Former Nintendo of America president Reggie Fils-Aimé responds to reporting about the company's treatment of contract employees.
QUOTE | "When I first got there, they were trying to get rid of people. You could tell because they wanted people to retire, they were getting lots of benefits, so they could get new people in. They kind of gave up on that. Now they're just terrified to hire people." - A contractor describes the state of the company, which apparently grew considerably worse for contractors beginning with the dual failures of the 3DS launch and the Wii U in 2011 and 2012, long before Fils-Aimé announced his retirement in 2019.
QUOTE | "This decision is an important step and the team, building upon the work achieved by Ubisoft Pune and Ubisoft Mumbai, will now take the time they need to regroup on the scope of the game to deliver you the best experienced for this remake of an all-time classic, when it's ready." - Ubisoft announces another pivot for the Prince of Persia: The Sands of Time Remake, one that is apparently pushing it out of its 2022 launch window and probably bumping it up from a $40 budget title to a frontline release. What I want to know is how they though they were four months away from release when they originally announced the game in September of 2020.
QUOTE | "We believe the overall semiconductor shortage will now drift into 2024, from our earlier estimates in 2023, just because the shortages have now hit equipment and some of those factory ramps will be more challenged." - Intel head Pat Gelsinger says the global chip shortage is even worse than previously thought.