"Bumper year" for games M&A activity continues in 2012
$3bn raised in first six months of 2012 is 88% of total raised in 2011, although investment has slowed this year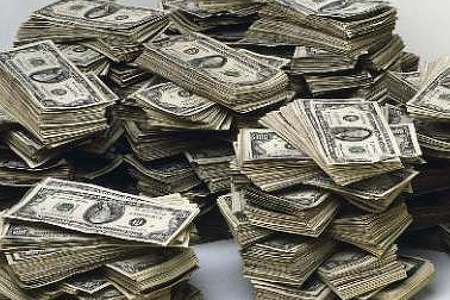 2012 is turning into a bumper year for mergers and acquisitions in the global video games business, reaching 88 per cent of the transaction value of all of 2011 in just six months.
In 2011, 113 transactions generated $3.4 billion at an average transaction value of $30 million. For the first six months of 2012, 51 transactions have generated $3 billion at an average of $59 million, according to data from Digi-Capital.
The run-rate for M&A activity during the second quarter of 2012 is 76 per cent higher by value but 10 per cent lower by volume than 2012 because of fewer, larger transactions, said the report.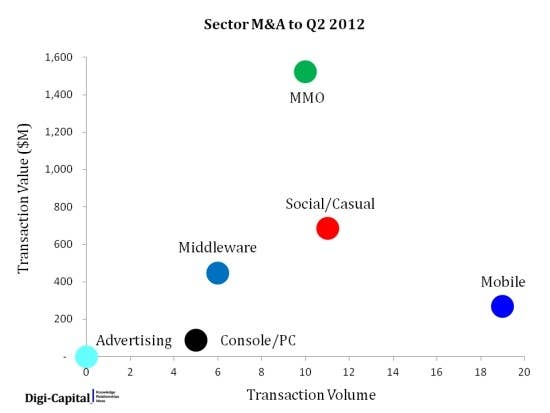 A record year in 2011 also saw games investment rise to 152 transactions generating $2 billion at an average of 13 million. However, in the first six months of 2012 investment transactions have generated $481 million at an average of $7 million.
Compared to the average run rate of games investment in 2011, to the second quarter in 2012 transaction volume is down 4 per cent and value down 51 per cent.
In both investment and M&A activity, MMO, mobile, social and middleware sectors have dominated.
Mobile games investment accounted for 31 per cent of transaction value and 49 per cent of volume so far in 2012. Middleware generated 33 per cent of value and 18 per cent of volume. And free-to-play is credited with driving investment 22 per cent by value and 12 per cent by volume.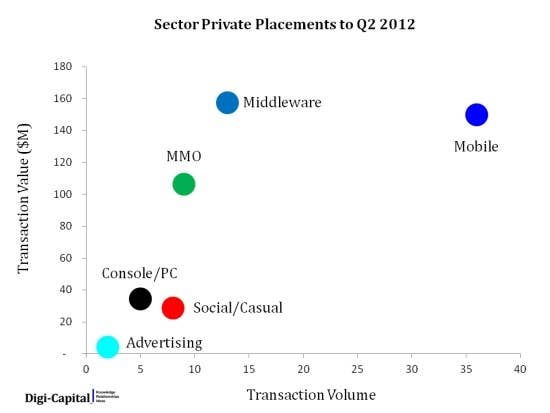 Chinese, Japanese and South Korean acquisition and investment continues apace in mobile, mobile-social and free-to-play MMO both domestically and internationally, and we anticipate dealflow to increasingly originate from these markets," said the company in the report.
Digi-Capital noted that mobile and tablet companies are concentrating on fundraising this year, while social companies are looking towards mergers and acquisitions.
The full report is available here.