Blood Sail: The Assassin's Creed game you won't get to play
CMGE's Ringo Zhu details the company's plan to make Chinese games using Western IP like Assassin's Creed and The Walking Dead
China Mobile Games and Entertainment Group knows there's an appetite for Western brands in the Chinese mobile market, but the way it's looking to meet that appetite is evolving.
After publishing Gameloft's Minion Rush and Disney's Star Wars Commander, CMGE is trying a different approach. It recently signed deals with Ubisoft and Skybound Entertainment to make original mobile games based on their hit franchises, Assassin's Creed and The Walking Dead, respectively.
Assassin's Creed: Blood Sail will be a mobile 3D action RPG that CMGE will publish in Greater China. As can be seen from the promo art below, it will boast a very different look from previous entries in the series. As for The Walking Dead game, it will be a mobile shooter that CMGE will publish globally.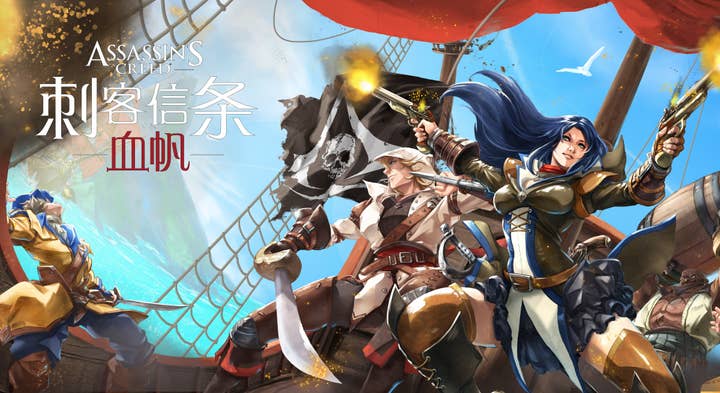 At last month's Montreal International Game Summit, CMGE director of business development for North America Ringo Zhu sat down with GamesIndustry.biz to talk about the company's plans and why they decided it was better to create new games for those IP than to repurpose existing titles.
"From a Chinese publisher's perspective, some Western titles can work very well in China, but some others may not," Zhu said. "For the Chinese market, we want to build up something tailored for the local market and audiences."
A look at what's worked best in China provides some insight as to why CMGE might prefer making their own games using licensed IP as opposed to importing existing titles.
"If you compare the iOS top grossing chart in China with the one in the US, you can see it's very different," Zhu said. In China's top 10 or 20, the big winners are MMORPG and card games. Those account for about 70% of the top 20 chart, and all of those are developed by Chinese companies. The only exception is Hearthstone from Blizzard... If you look into the US charts, it's much more diversified. You can see match three games, strategy games, and slot games. There's AR like Pokemon Go, and CCG like Clash Royale, sports games, fighting games like Marvel: Contest of Champions and things like that.
"I think for mid-core and hardcore games, Chinese local games really dominate the market, because Chinese companies have a deeper and better understanding of the Chinese market and the player. This is very important for the midcore/hardcore market. They can tailor the games for the Chinese in terms of gameplay, art style, and monetization."
Sometimes, it might be technical reasons that keep a game from being a good candidate for localization, as Zhu noted titles requiring a large download of 1.5GB or more wouldn't work well for the Chinese market. Other times it's a matter of local aesthetics.
"If you play a Chinese RPG game, it looks so different from a Western game," Zhu said. "The figures and characters are slimmer, and the faces are so beautiful. That's the Chinese taste. It's not a realistic style; it's more of a fantasy style, but the Chinese love that."
Monetizaton is also more complex and comprehensive in successful Chinese games, Zhu said, with games often building multiple systems around in-game items that can be collected, leveled up, forged, inlayed with gems or runes. Layer that on top of monthly VIP payment schemes and the rest of the hooks common among even Western midcore games and Zhu said, "Once you get in, it's really hard to get out."
Even if the top performing games in China tend to be made by and for that market, the growing appeal of Western brands is working in CMGE's favor.
"I think Western brands, especially American brands, play a very big role in the Chinese market," Zhu said. "Because China is more and more open, and the economy is continuously booming up, the Chinese definitely have a very strong and bigger and bigger appetite for Western content."
Zhu said the US is culturally upstream of China, something made evident by the growing success of American movies, music, TV dramas, and comics in the country. He pointed to China's outsized representation in the box office returns for recent movies in The Fast and The Furious and Captain America franchises as examples. (And while Zhu didn't mention it, Warcraft may be the clearest recent example of the trend.)
CMGE's plans to publish its game based on The Walking Dead around the world could provide an interesting litmus test about how well content created for the Chinese market can perform internationally. Zhu admits that bringing games that were successful in China to the West has been a difficult task in the past--he pointed to Tencent's WeFire and Netease's Journey to the West as two previous attempts that might not have paid off as hoped--but it's still the goal.
"Our philosophy is we are looking for games that can be successful in both the West and the East, not just for one specific territory. But if we tailor that to the Chinese market, can the game go back to the Western countries? I think we're still in the process of finding the best balance and solutions."
While CMGE is building its own Assassin's Creed and Walking Dead games for the Chinese market, it's by no means ruling out the possibility of Western-developed titles succeeding there. Zhu said he's actively looking for high quality mobile, VR, and HTML5 games from the West to publish in the Chinese market. He acknowledged that HTML5 doesn't have the same buzz it had a couple years ago, but said CMGE has a simple reason for pursuing it.
"It's profitable," Zhu said. "In China we also have many studios doing VR, but how's the quality, and how's the product they have? Probably not very good, but they can attract investment," Zhu said. "I think VR still has quite a long way to go to be profitable. Right now, the developer can get compensation from the platform holder, but how many end users are willing to pay for the download or in-game purchases? Not many, not many. But HTML5 games are profitable already. The situation for HTML5 is very similar to mobile games, but I think the hurdle is even lower. The cost to make an HTML5 game is cheaper than a mobile game."
CMGE published its first Chinese HTML5 game--an MMORPG, naturally--a few months ago, and Zhu said it has already grossed more than $3 million.
"It's not as high as a [hit] MMORPG in China on a mobile platform, but it's not bad," Zhu said. "So I think it will boom up and in 2017, it'll be even better. That's why we're looking for HTML5 games from Western studios."