Best Buy sees revenue rise for Q1
But US retailer reveals game sales have declined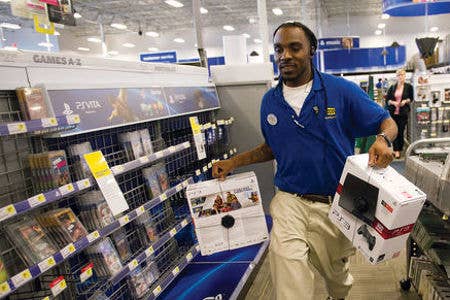 Retailer Best Buy has reported revenue of $11. billion for the three months ended May 5, a rise of 2.1 per cent compared to the same period last year.
The results also revealed that it had seen a decline in revenue for games in its entertainment category.
Gross profit was also up 4 per cent for the retailer's domestic operations, but down by 13 per cent internationally, with the total for the period standing at $2.91 billion.
"Best Buy is in a turnaround, and the strategic priorities we laid out at the beginning of the year are just the first phase of the changes to come," said interim CEO Mike Mikan.
"We know we have to better adapt to the new realities of the marketplace, and we are creating a long-term plan designed to make Best Buy more relevant with customers and position the company for sustained, profitable returns in the years ahead. First quarter results were in-line with our expectations, and we are reaffirming our previously provided annual guidance for fiscal 2013."