Bandai Namco had a bumper week in Japan
Publisher launched the three best-selling new releases, all into the top five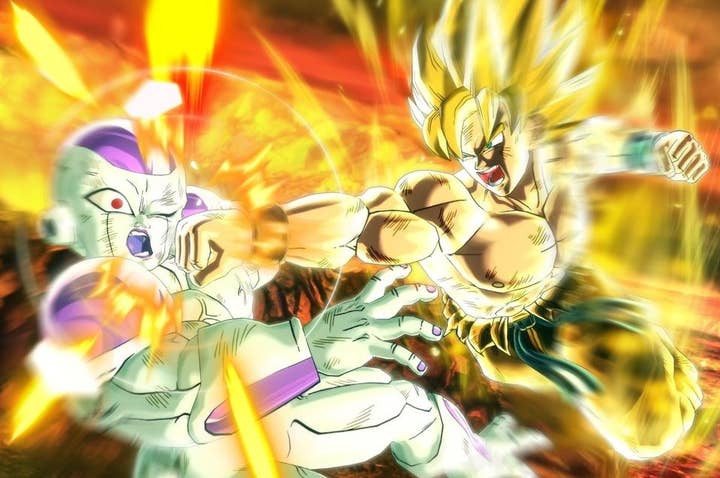 Bandai Namco's Dragon Ball Xenoverse was the best-selling game in Japan by a wide margin last week, shifting almost 80,000 units across all platform.s
PlayStation 3 was the console of choice for Dragon Ball fans, representing 44,000 sales. The remaining 35,000 units were sold on PlayStation 4, which is still far more on its own than the next most popular game.
But that game was another from Bandai Namco: Lost Heroes 2, which sold 20,000 copies on 3DS. The only other new entry in the top ten was Kadokawa Games' Ebikore Photo Kano Kiss, with 9,500 sales.
The Media Create software and hardware charts are below, via Gematsu.
1.[PS3] Dragon Ball Xenoverse (Bandai Namco, 01/29/15) - 44,221 (New)
2.[PS4] Dragon Ball Xenoverse (Bandai Namco, 01/29/15) - 34,690 (New)
3.[3DS] Yokai Watch 2: Shinuchi (Level-5, 12/14/14) - 24,068 (2,455,880)
4.[3DS] Lost Heroes 2 (Bandai Namco, 01/29/15) - 20,691 (New)
5.[3DS] Pokemon Omega Ruby / Alpha Sapphire (Pokemon, 11/21/14) - 12,234 (2,501,000)
6.[PS4] Far Cry 4 (Ubisoft, 01/29/15) - 9,790 (46,029)
7.[3DS] Monster Hunter 4 Ultimate (Capcom, 10/11/14) - 9,715 (2,460,920)
8.[PSV] Ebikore Photo Kano Kiss (Kadokawa Games, 02/05/15) - 9,512 (New)
9.[3DS] Shin Megami Tensei Devil Survivor 2: Record Breaker (Atlus, 01/29/15) - 9,240 (62,505)
10.[3DS] Super Smash Bros. for Nintendo 3DS (Nintendo, 09/13/14) - 8,950 (2,140,261)
1.New 3DS LL - 21,650 (21,880)
2.PlayStation 4 - 18,758 (17,392)
3.PlayStation Vita - 10,013 (11,871)
4.New 3DS - 7,916 (7,700)
5.Wii U - 6,517 (6,807)
6.PlayStation 3 - 6,426 (7,211)
7.3DS LL - 3,084 (3,641)
8.3DS - 2,642 (3,187)
9.PlayStation Vita TV - 560 (521)
10.Xbox One - 238 (222)